CHICAGO — From the time buses full of migrants began arriving in Chicago last summer, city officials scrambled to find them places to stay. And even when they did, officials often failed to communicate their plans to alderpeople, advocates or other community residents.
Yet as the pace of arrivals built into a humanitarian crisis, the City Council committee responsible for overseeing immigration issues didn't ask questions or propose solutions.
In fact, for more than a year, the council's Committee on Immigrant and Refugee Rights didn't meet once, though it is tasked with making sure immigrants are treated humanely.
By the time the committee finally convened in late April, the migrant crisis was overwhelming Chicago's social service systems. With nowhere else to go, families ended up sleeping on police station floors. City officials have turned shuttered schools and park field houses into makeshift shelters, and more migrants are on the way from border states.
But the committee still didn't take any action.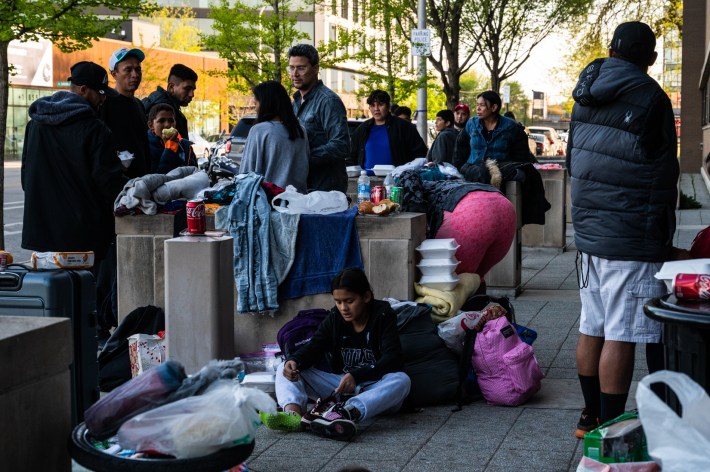 It was just the latest example of how the City Council has often failed to respond to a critical problem impacting the safety and livelihoods of people across the city.
The council's legislative committee system is at the center of those failures. Under Chicago's municipal code and the council's own rules, the 19 committees have jurisdiction over city policies and practices, with the power to shape local laws and advance them to the full council for passage.
In practice, the committees have for years been set up to protect fiefdoms, dispense political favors and silence opposition. Even the best-run committees have largely been used to advance the agenda of whoever is mayor. Sometimes that's meant killing proposals the mayor doesn't like. Other times it has required rubber-stamping routine bureaucratic matters — while ignoring or barely reacting to more pressing issues.
For example, as crime rose during the pandemic, the council's Committee on Public Safety took little concrete action to address it.
And although Chicago Transit Authority riders have been forced to deal with buses and trains that are unreliable and unsafe, the council's Committee on Transportation hasn't held agency leaders accountable.
The council's legislative and oversight process is "dysfunctional," said Roderick Sawyer, who retired earlier this month after 12 years as 6th Ward alderman, including four as chairman of the Committee on Health and Human Relations.
Sawyer said the current committee system was created to enable mayors and their council allies to hand out patronage jobs to loyal political workers. Most of the patronage jobs are gone now, he said, but many of the committees remain designed for favor trading rather than effective government.
"We're still operating in old-school political ways," Sawyer said. "We have to blow it up."
Newly inaugurated Mayor Brandon Johnson has vowed to bring progressive policies and a more transparent government to City Hall.
Like his predecessors, though, Johnson is maneuvering to install allies in top committee posts and oust others who didn't signal their allegiance. The council is scheduled to vote on that plan at the first meeting of its new term Wednesday.
If Johnson's plan holds, Chicago's alderpeople will continue the long tradition of letting the mayor pick their leaders for them. Rather than ensuring an independent system of checks and balances, they have effectively given the mayor control over the city's legislative body.
Rewarding Loyalty
The inaction of the Immigrant and Refugee Rights committee shows how a previous promise of reform turned into a continuation of the old favor-trading system — and contributed to the city's growing migrant crisis.
During his tenure from 2011 to 2019, former Mayor Rahm Emanuel continued the long tradition of picking loyalists to serve as chairs of City Council committees.
In return for advancing his agenda, the chairs were largely allowed to use committee staff and budgets as they wished. For example, committee funds were spent on PR consultants, staffers with no clear duties, new office furniture and payments on an SUV. From 2015 to 2018, the council's budget committee — with jurisdiction over the city's entire budgeting process — spent $1 million more than its own budget.
In January 2019, former Ald. Ed Burke (14th), the longtime chair of the council's Committee on Finance, was charged with bribery. Vowing to clean up City Hall, Lori Lightfoot was elected mayor that April.
A report prepared that spring by her transition team promised "a more accountable and representative city government" that, among other reforms, would eliminate "fiefdoms," reduce the number of council committees and set term limits for committee chairs. 
Those reforms were never enacted.
Like Emanuel before her, Lightfoot took control of the council and installed allies in the most important committee posts. At the top of her list was Ald. Scott Waguespack (32nd). After spending the previous 12 years fighting for reforms, he had been one of the first elected officials to endorse Lightfoot.
"I'm not gonna forget that," Lightfoot told the Sun-Times.
She named Waguespack chair of the council's powerful Finance Committee. Waguespack brought new transparency to the committee and reduced its spending and staffing. At the same time, it mostly advanced proposals introduced by the mayor.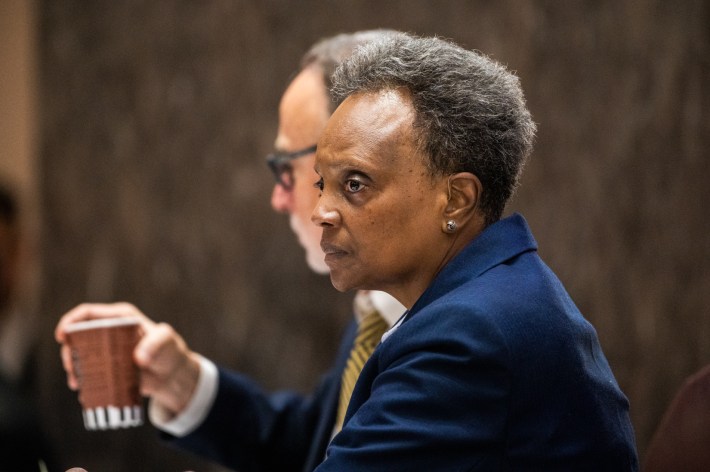 Many of Lightfoot's other handpicked chairs were veterans who would have been term-limited if she had followed through on her transition proposals. Others had no particular interest or expertise in their committee's subject area. For example, she tapped Ald. Harry Osterman (48th) to chair the council's Committee on Housing and Real Estate though it had not been a focus of his.
"I had not thought about the housing committee," said Osterman, who retired from the council this month at the end of its four-year term. "I was not on it before."
Lightfoot also dumped several chairs. That included Ald. Ariel Reboyras (30th), the council veteran who led the Committee on Public Safety. For years the committee had delayed or killed proposals to strengthen police accountability — even after Emanuel was widely condemned for trying to block the release of the video showing the police murder of Laquan McDonald.
But Reboyras was soon recognized as another reliable ally for Lightfoot. A former high school teacher and city truck driver, Reboyras was first elected 30th Ward alderperson in 2003, when then-Mayor Richard M. Daley anointed him after the Northwest Side ward shifted from predominantly Polish to Hispanic. Affable, well liked and unassuming, Reboyras was long known as a mayoral loyalist, no matter who the mayor was.
A few months after taking office, Lightfoot created a new committee for Reboyras to lead: the Special Legislative Committee on the Census. Critics said other committees were already overseeing the city's census efforts, but Lightfoot pressed ahead.
The census committee conducted briefings behind closed doors, but it never held an official public meeting, according to other alderpeople and council records. Still, it spent about $147,000 on staff salaries.
'It Didn't Do Anything'
In 2021, after the census was done, Lightfoot engineered the creation of the Committee on Immigrant and Refugee Rights. The committee was given jurisdiction over "all matters" related to "the security and stability" of immigrants and refugees. The mayor named Reboyras its chairman, and the full council voted to approve the moves.
In a written statement, a representative for Lightfoot said the committee was one of several initiatives she launched to help vulnerable newcomers, from "standing up to the Trump administration's xenophobia" to strengthening local protections for immigrants and refugees.
"In creating the first of its kind Committee on Immigrant and Refugee Rights, Mayor Lightfoot intended to forge a specific venue in City Council to address pressing policy issues of concern to those populations," the statement said.
But immigration advocates in the City Council suspected the committee also existed so the mayor could reward her ally.
"At the beginning we said we didn't need the committee," said Ald. Rossana Rodriguez Sanchez (33rd). "Then we decided it could be an important way to advocate for immigrant and refugee rights. But then it didn't do anything."
Reboyras held a meeting of the committee soon after he became its first chairman. The top item on its agenda was a Lightfoot-backed expansion of Chicago's Welcoming City Ordinance, which offers protections to immigrants and refugees. The updated version of the law prohibited city officials from participating in federal immigration enforcement. 
"With passage of this ordinance, our immigrant families will be able to breathe just a little bit easier," said Ald. Carlos Ramirez-Rosa (35th), urging his colleagues to back the measure.
The committee signed off on the ordinance without opposition. The full council passed it a week later by a 41-8 vote and Lightfoot signed it into law.
It was the only law the committee has ever passed.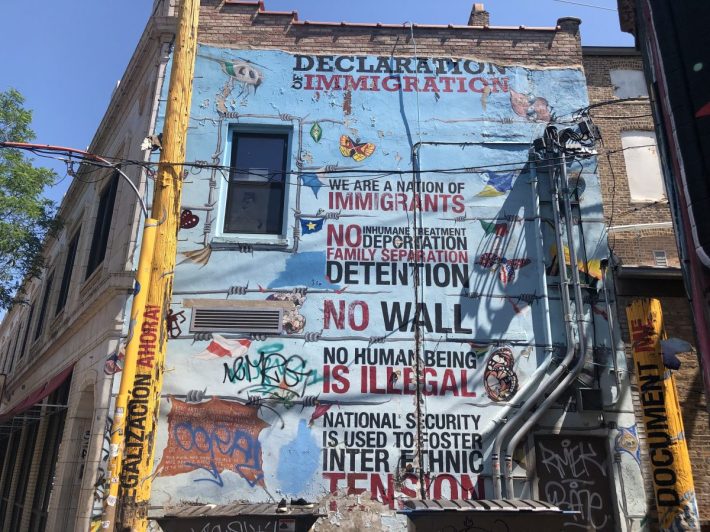 That summer, Reboyras scheduled four more meetings of the Immigrant and Refugee Rights Committee, only to cancel them all. Finally, in September 2021, the committee met to discuss a resolution sponsored by Lightfoot that condemned gender-based violence in Afghanistan following the U.S. withdrawal there. As a resolution, it was nonbinding, meaning that it was essentially a symbolic statement that didn't carry any weight.
Alderpeople expressed their support for the resolution. Several also raised concerns about the treatment of families arriving in Chicago from other places, including Central and South America. Ald. Raymond Lopez (15th) urged his colleagues to press Lightfoot for a plan to help the new arrivals.
Reboyras agreed that the city should be ready to welcome refugees. "We need to be doing something and we need to follow up on it," he said.
The item passed unanimously. Then the committee went dark for the next year and a half.
In 2021 and 2022, the committee spent $196,000 on staff salaries. Reboyras met with other city officials and some alderpeople in private briefings, he and others said. But the committee didn't hold any public meetings, even as the city strained to follow through on its vows to welcome newcomers.
Reboyras said the committee employees answered phones and stayed busy — but usually not on immigration committee work. Instead, when they didn't have anything else to do, he deployed them to address issues back in his Northwest Side ward, he said.
He pointed out that other committee chairs also deploy staff for non-committee work. He was right. In a 2021 report, the city's inspector general found that committee chairs routinely assigned their employees to non-committee tasks. The report concluded that using committee employees for ward work is an illegal violation of the city's budgeting process.
And the report determined that the extra employees are an unfair reward from the mayor to loyal alderpeople.
'Has It Been That Long Already?'
Last summer, Texas Gov. Greg Abbott began shipping migrants on buses to Chicago, starting with a group of 60 who arrived on Aug. 31. Hundreds of others arrived within weeks.
Emphasizing that Chicago considered itself a "sanctuary city," Lightfoot welcomed the newcomers while blasting Abbott for using them in a political stunt.
RELATED: After The Buses: Meet The Migrants At The Center Of Texas' Manufactured Crisis
But as the migrants kept coming, the Lightfoot administration didn't know where to house them. By fall, city officials were asking alderpeople if they had empty warehouses or other buildings in their wards that could be used as shelters. 
In some cases, communities resisted these slapped-together plans. Ald. Jeanette Taylor (20th) ripped the Lightfoot administration for failing to communicate with her or her constituents about a proposal to use a shuttered Woodlawn school to house migrants. City officials backed away from the plan.
Reboyras made news for a different reason: He announced that he would not run for reelection.
The council's Immigrant and Refugee Rights Committee still didn't meet.
And the committee remained quiet a few weeks later, when the city reversed its earlier announcement and began placing migrant families in the Woodlawn school.
In January, Reboyras expressed surprise when he was asked why the committee had not met in almost a year and a half.
"Has it been that long already?" he said. "More than a year?"
Reboyras said he discussed the migrant arrivals with Lightfoot's aides, but they did not ask him to convene a public meeting. Nor had other members of the committee, he said. 
"I'm happy to meet more," he said, but "no one calls a meeting."
But the power to call a committee meeting rests with its chair — in this case, Reboyras himself.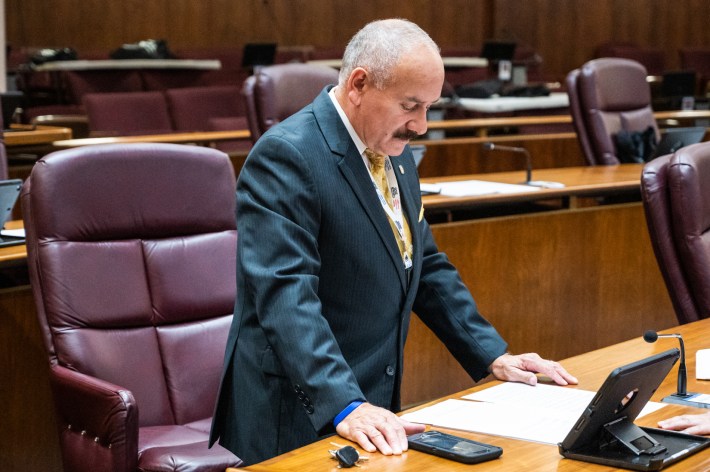 After two more months passed, several of his colleagues demanded that he convene the committee.
By then, more than 5,000 migrants had ended up in Chicago, most in need of food, housing and other services. Residents in Woodlawn and other neighborhoods were pooling their own resources to try to assist the migrants. And Lightfoot budget officials asked the council to approve the use of $20 million in state funds to support the arriving families.
Before signing off, alderpeople used that occasion to criticize Lightfoot's team for poor communication.
That's when several alderpeople asked why the Immigrant and Refugee Rights Committee had not led the discussions — or why it had not done anything at all.
"What the hell is the point of a committee that does no work?" Lopez asked.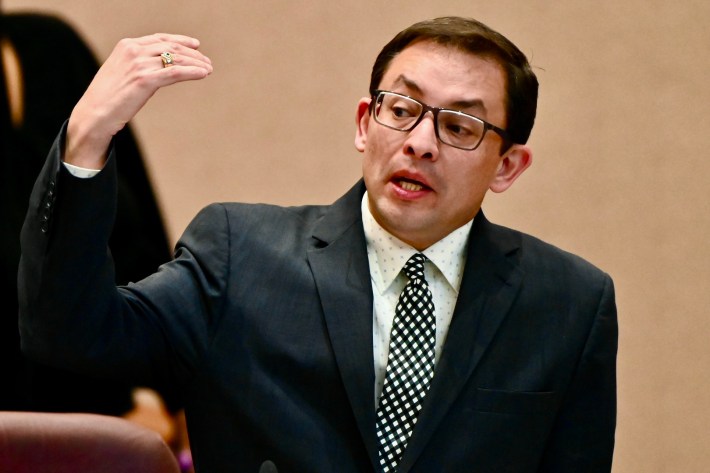 Others agreed. Finally, Reboyras responded.
"You are all correct," he said. "We hope to have a meeting soon."
Weeks passed. More migrant families were sent to Chicago. The committee still didn't hold a meeting.
Council Deals
The council's business was overshadowed by the city elections. Lightfoot lost her reelection bid as Johnson and Paul Vallas advanced to the mayoral runoff. Then, on March 30, the council met to vote on a sort of declaration of independence: a plan for alderpeople to pick their own committee chairs without interference from whoever would be elected mayor.
To get enough alderpeople on board, the plan called for creating nine new council committees, or 28 total, ensuring that a majority of the council would get one of the plum posts. Critics charged that it was the result of backroom deals. Still, the plan was approved by a 33-11 vote.
But after Johnson was elected the following week, he began making his own calls. A new plan emerged. Instead of 28 committees, the council would have 20, one more than it had under Lightfoot. And Waguespack and several other veterans would be deposed in favor of self-described "progressives" allied with Johnson.
To replace Reboyras as chair of the immigrant rights committee, Johnson picked second-term Ald. Andre Vasquez (40th), who endorsed him in the runoff. As the committee was inactive, Vasquez worked with several council colleagues to coordinate assistance for migrants.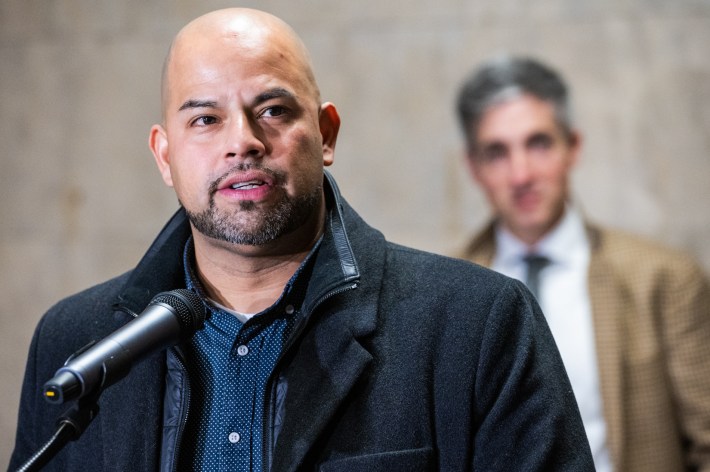 The Committee Finally Meets
By April 28, when the Immigrant and Refugee Rights Committee finally held a meeting, Lightfoot and Reboyras were both a couple of weeks from leaving office. And migrant families were sleeping on the floor of police stations across the city. Officials didn't know where else to put them.
The meeting was held jointly with the council's budget committee, whose chair at that time, Pat Dowell (3rd), announced at the opening that it was a "subject matter hearing." That meant it was simply an informational discussion and the committee would take no formal action.
City officials told the 18 alderpeople who joined the meeting that they had expected a new surge of migrants but not so soon. While hundreds of people were arriving in the city each week, most of its emergency shelters were already at capacity and struggling to address the city's spike in homelessness. 
The city was looking for more funding from the state and federal governments, since the cost of assisting migrant families was expected to climb to $125 million just through June. Altogether, more than 8,000 migrants had come to Chicago since August.
"We are using every tool in our toolbox to meet this growing crisis," said Brandie Knazze, commissioner of the Department of Family and Support Services.
Many of the alderpeople said the city needed a better plan far earlier.
"We should have seen it coming, and we should have prepared," said Ald. Maria Hadden (49th). "But we didn't, and we're here now."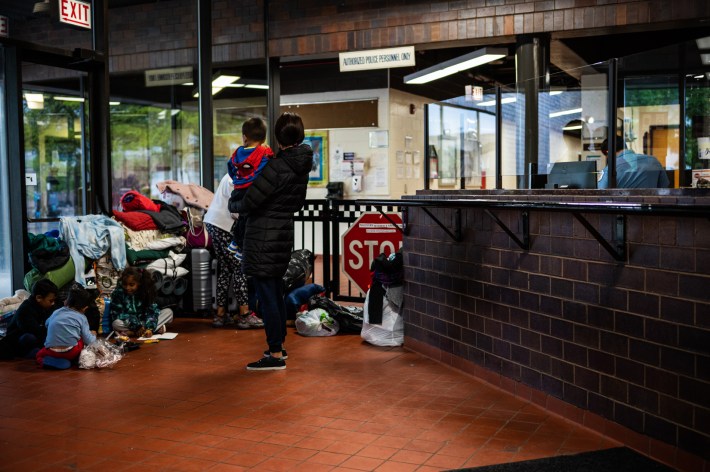 Hadden volunteered to help start a "working group" of alderpeople and city officials that met regularly.
No one stated the obvious: That's what the council's Committee on Immigrant and Refugee Rights could have been doing all along.
After three hours, Reboyras indicated it was time to end the meeting. "I think this is a good discussion, but there's more to cover," he said. "This is not a city crisis. This is a federal crisis."
Alluding to his coming retirement, Reboyras reminded his colleagues that this would be his last council meeting. 
"I want to thank you all for letting me be part of this committee the last two years," he said.
Over the following two weeks, migrants kept coming, bringing the total close to 9,000. Even the police stations started running out of room. In May, less than a week before leaving office, Lightfoot declared a state of emergency over the escalating crisis, giving city officials new authority to spend money and seek assistance from the national guard.
Then she handed the crisis to Johnson and his team.
In his inauguration speech, the new mayor promised to help migrant families, saying, "There is enough room for everyone in the city of Chicago." But Johnson has not yet offered a specific plan. Spokespeople for the mayor did not answer questions about the immigrant rights committee.
And Vasquez declined to comment on his potential leadership of the committee, stressing that the council would not formally select its new leaders until its Wednesday meeting.
"There are a lot of continuing conversations about what our path forward is," he said.
Meanwhile, migrants — including children — are still staying in police stations and other makeshift shelters.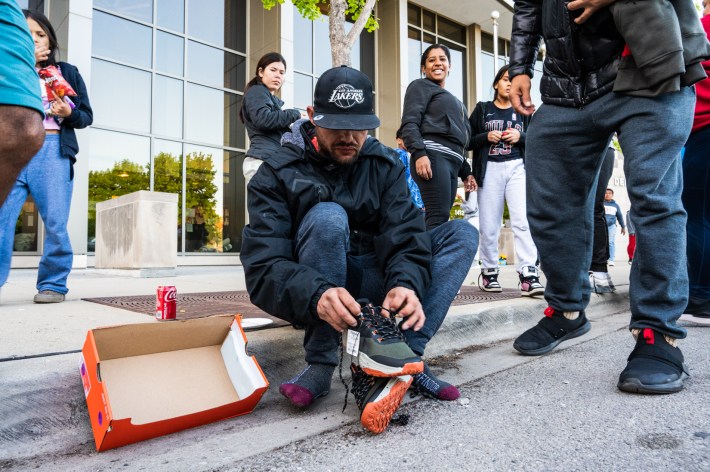 Franyunior Malave, who traveled to Chicago from Venezuela, said he was thankful for all the people who have helped him since he arrived. 
But he was worried that he and other migrants could get sick from sleeping on the floor of the 12th District police station on the Near West Side.
"The children feel the cold in their lungs, and we adults feel it," he said. "Imagine the babies."
Block Club Chicago's Madison Savedra, Colin Boyle, Melody Mercado and Quinn Myers contributed.
TOMORROW: Investigations Editor Mick Dumke takes a closer look at the council committees that spent your money but didn't do much at blockclubchi.org.  
Read all of our migrant coverage here.
Subscribe to Block Club Chicago, an independent, 501(c)(3), journalist-run newsroom. Every dime we make funds reporting from Chicago's neighborhoods.
Click here to support Block Club with a tax-deductible donation. 
Thanks for subscribing to Block Club Chicago, an independent, 501(c)(3), journalist-run newsroom. Every dime we make funds reporting from Chicago's neighborhoods. Click here to support Block Club with a tax-deductible donation.