AUBURN GRESHAM — The ousted principal of a South Side high school is firing back against Chicago Public Schools, saying his abrupt dismissal was part of a months-long "witch hunt" as some former students and parents demand he be reinstated. 
Supporters of former Principal Abdul Muhammad packed into a town hall Thursday at St. Sabina Church, 1210 W. 78th Place, to discuss the administrator's departure from Lindblom Math and Science Academy, 6130 S. Wolcott Ave.
Muhammad was removed from the school in March following an "investigation that substantiated findings" against the principal, district officials said. 
CPS has not shared details about the investigation or the allegations, but the district previously confirmed Muhammad's removal wasn't related to rumors of Lindblom teachers chaperoning students to vote at a Lindblom Park polling place ahead of the mayoral election. 
Muhammad was reassigned to the Network 16 office. Everett Edwards became Lindblom's administrator-in-charge April 10.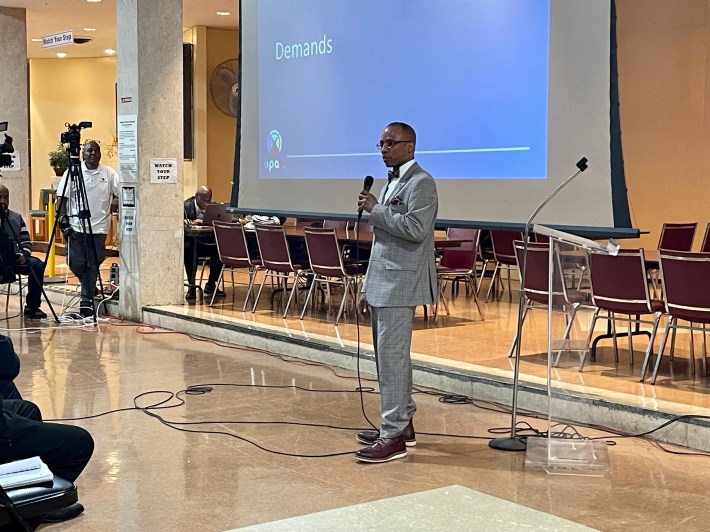 Muhammad said Thursday he faced "stumbling blocks thrown my way" since he was hired at the beginning of the 2022-'23 school year to replace longtime Principal Wayne Bevis.
Muhammad said his short time at Lindblom was filled with "microaggressions" and pushback from "trivial and trifling" faculty and district leaders. "False claims" led to his removal, Muhammad said.
"I did not do anything wrong," Muhammad said. "From the day I walked into Lindblom … it's been a witch hunt against me."
A CPS spokesperson did not address Muhammad's claims, citing confidentiality for "personnel matters or ongoing investigations."
"The district has procedures in place to investigate allegations of staff misconduct, give proper due process to its employees and make fair employment decisions. We are confident in the decisions made by the leaders of our District," a spokesperson said in a statement.
Investigations into allegations of misconduct take time, and the district is committed to "allowing an investigation to proceed without disruption," the spokesperson said.
"As a district, we remain committed to our core values, which include creating and maintaining a safe, equitable work environment, free of harassment, bias, or harm of any kind," the CPS spokesperson said in the statement. "Speculation and finger pointing about a personnel matter undermines District processes and the integrity of team members dedicated to the well-being and success of our CPS students, families, and colleagues."
At a recent Chicago Board of Education meeting, CPS CEO Pedro Martinez doubled down on the district's message and said Muhammad "had to be pulled" from Lindblom "for multiple reasons," WTTW reported.
"We never pull an employee unless it's something serious," Martinez said.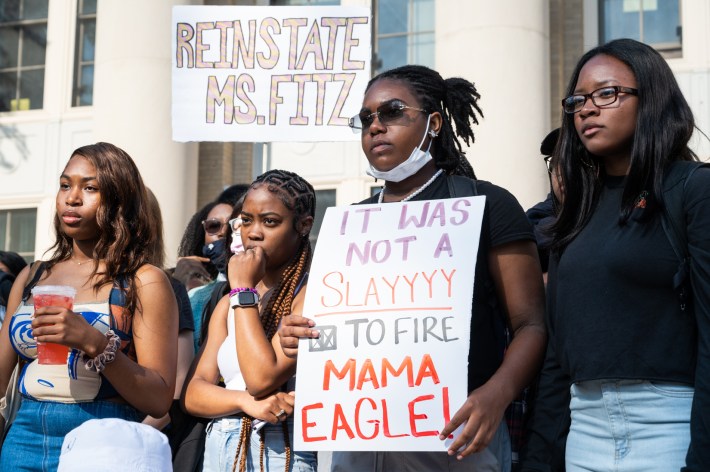 Muhammad's tenure at Lindblom was rocky from the start.
Muhammad faced pushback from hundreds of students and alumni in August when he fired Karen Fitzpatrick Carpenter, known to students as Ms. Fitz or "Mama Eagle."
At the time, several students and faculty said Carpenter largely filled the principal role after Bevis left and before Muhammad was brought on board. Muhammad hired two new assistant principals to replace Carpenter. 
Following the protests, Muhammad worked to "build a relationship" with alumni and neighbors, he said. 
Muhammad met with Ald. Stephanie Coleman (16th), whose ward includes the school, and hosted an "alumni breakfast" with those who disagreed with his hiring, he said. Those meetings made "a lot of progress," Muhammad said. 
But moments with select faculty were tense, Muhammad said.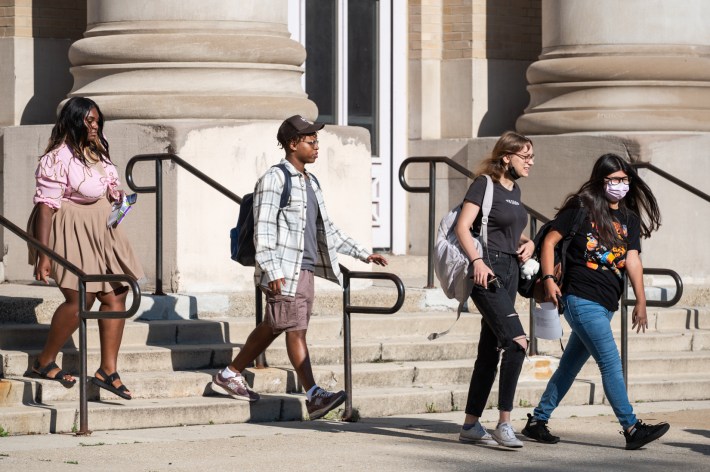 At the meeting, Muhammad said he received a report from the district's law department detailing the allegations against him.
Muhammad said he found more than 80 "false claims" from faculty and district leaders in the report, many of which he can disprove with "documented evidence."
Block Club has not been able to review the report to verify the claims.
One claim is Muhammad bought himself a Mac computer and two printers before buying supplies for the counseling department, Muhammad said. Another faculty member said he "mismanaged money" and made "strange purchases" for a school pep rally when he ordered balloons, a DJ and a photo booth, Muhammad said. 
The "documented report" also said Muhammad took a student to a Citgo gas station, arrived late at Lindblom on a snowy day and did not do "anything to help cover the classes and the school," Muhammad said.
The CPS legal department "didn't vet complaints" and "brought these false charges" to remove Muhammad, he said. 
"They took what these people said, all of these false statements, and wove them into a case against somebody who, from the day I got to Lindblom, I've been putting in work," Muhammad said. 
Some Lindblom parents and Muhammad's former students said at the meeting they were angry about his firing. A petition shared at the meeting in support of Muhammad has nearly 300 signatures. 
But at the school board meeting, Lindblom parent Quentin Arnold said families have received "disturbing" emails with hopes they might give testimonies against certain teachers in the "public lynching" of Muhammad.
"The vacuum of information is igniting conspiracy theories," Arnold said, according to WTTW. "I call on you, the board, and anyone listening to put in place leadership — temporary or permanent — that would allow the teachers the room to operate free from this acrimony because they are the holders of Lindblom's history and they will guide it to a continued future of excellence."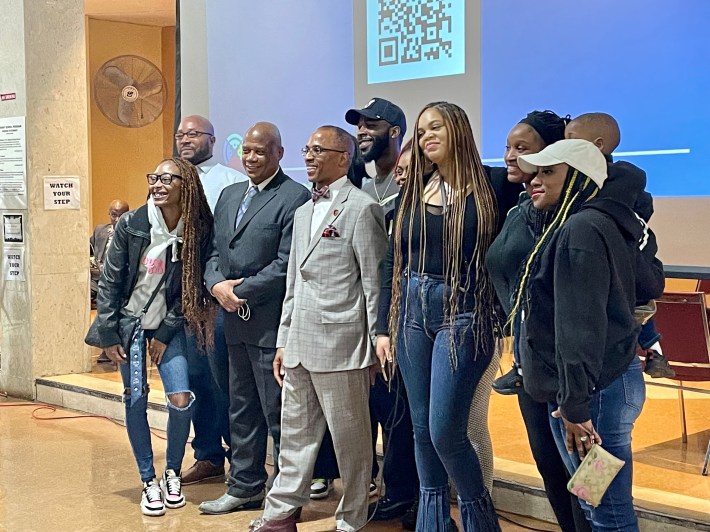 Troy LaRaviere, president of the Chicago Principals and Administrators Association, shared a list of demands for the Chicago Board of Education and Mayor Brandon Johnson.
At the top of the list is Muhammad's reinstatement at Lindblom with a four-year contract, LaRaviere said. The board of education postponed a vote to approve a four-year contract for Muhammad in August and again in December, The TRiiBE previously reported.  
"Not only do we have to come to the defense of Brother Muhammad, we have to go on the offense to make sure that, not only does he return, but that the people who did this to him are terminated …," LaRaviere said. 
Listen to "It's All Good: A Block Club Chicago Podcast":