WOODLAWN — The city's opening of a shelter for hundreds of migrants at a closed school in a predominantly Black South Side neighborhood has sowed confusion, outraged residents who felt blindsided and exposed racial tensions.
But those frustrations with the city's rollout don't tell the full story, as Woodlawn residents and faith leaders have for weeks been working on plans to help their new neighbors.
The Chicago 4 All initiative will offer resources in Spanish and English to migrants living in the former Wadsworth Elementary School, 6420 S. University Ave.
The initiative will also offer community tours to migrants, get them involved with volunteer projects and change the narrative around Woodlawn's newest neighbors through media campaigns.
Chicago 4 All organizers will formally kick off the program at noon Saturday with an inaugural bilingual service at Concord Missionary Baptist Church, 6319 S. Kimbark Ave. Yolanda Cruz, pastor of Fathers Heart Church in Belmont Cragin, will serve as a Spanish interpreter.
"From our perspective, it's pretty simple and basic: They're here. They need help. They're hurting, and they're human," said the Rev. Kenneth Phelps, of Concord.
Alongside the bilingual services, Phelps and other neighborhood leaders are preparing to open the Home Away From Home Center at Concord Missionary Baptist Church.
The center will offer English as a second language classes, an internet café and a community kitchen for the migrants to "prepare their authentic dishes and serve them to themselves and/or to the community," Phelps said this week.
Future plans for Chicago 4 All include meditation, yoga, soccer games and other activities, while prayer sessions will be held in Spanish at 7 p.m. daily at Light of the World Church, 840 E. 65th St.
Organizers are seeking donations of food, hygiene products and other supplies for care packages as they roll out the program. To get involved with Chicago 4 All, neighbors can call Concord Missionary Baptist Church at 773-363-1377 or email info@chicago4all.org.
"If you're curious to learn who your neighbors are in this temporary residence, I encourage you to come out," Paula Gean, a Woodlawn resident and Chicago 4 All organizer, said at a community meeting Thursday.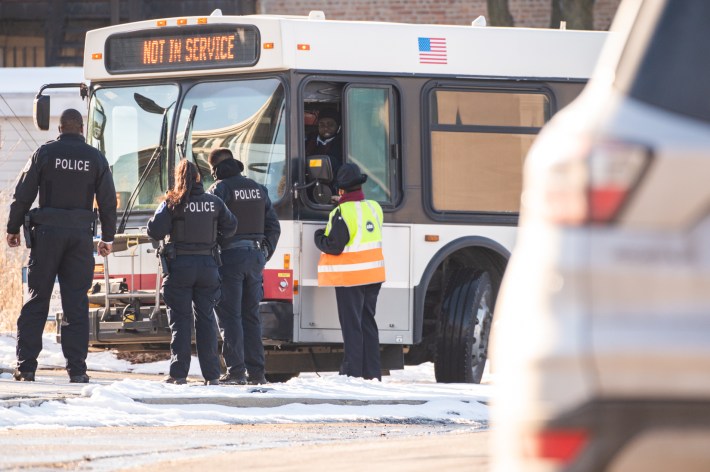 Mayor Lori Lightfoot's administration planned to house hundreds of migrants at the former Wadsworth building for months before the shelter opened Feb. 2, despite her office's previous denials and a confusing rollout process for which a city commissioner has apologized.
Neighbors have criticized the city for sharing details only once the shelter was a "done deal." They've also taken issue with the city's move to renovate the former school into a shelter after letting the property sit vacant for years despite desires to bring the space back into use.
The rollout has sparked severe pushback from Ald. Jeanette Taylor (20th) and Woodlawn residents who have protested and spoken en masse at tense public meetings. Several people attempted to stop buses from dropping off migrants and were arrested for trespassing at the shelter site in separate incidents earlier this month.
"Homelessness, mental health concerns, communication, lack of involvement in planning — the list goes on" as to how city officials have "dropped the ball" in meeting Woodlawn residents' needs, Phelps said.
Despite those failures, the Mayor's Office of Community Engagement has been integral to the launch of Chicago 4 All, organizers said. Phelps is encouraged by the city's willingness to partner with Woodlawn residents on the service program, he said.
"It's definitely a partnership and an ongoing dialogue," Phelps said. "I think we need to learn from our mistakes and make sure history doesn't repeat itself."
The Chicago 4 All model is designed to be scaled up, Phelps said. If successful in Woodlawn, he hopes to see it applied in other neighborhoods and to assist migrants and Chicagoans alike, he said.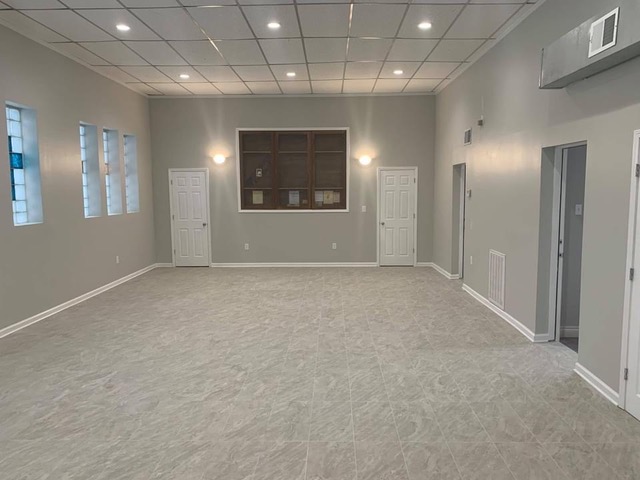 As neighbors prepare to launch Chicago 4 All, other efforts to bridge racial divides and secure services for Woodlawn residents old and new have sprung up in response to the Wadsworth shelter's opening.
The Illinois Department of Human Services started enrolling Wadsworth residents in a state benefits program for asylum seekers this week, officials said. Shelter staff have been transporting migrants to county health clinics, while Heartland Alliance Health will provide COVID-19 testing and vaccinations at the shelter.
One resident at Thursday's meeting encouraged the city to offer free Spanish education courses to English-speaking Woodlawn neighbors, while city officials praised the Chicago 4 All organizers for working to support the temporary shelter residents.
Southside Together Organizing for Power, a group which organizes working-class Black South Siders around human rights issues, helped to launch the #SanctuaryForAll campaign last month.
The effort is backed by community organizations including Not Me We, Black Youth Project 100, the Brighton Park Neighborhood Council and others. The Chicago Teachers Union is circulating a petition in support of the campaign.
#SanctuaryForAll organizers are demanding the $1.5 million the city used to renovate the old Wadsworth school into a shelter "be the start of turning the space into a community resource that can be used after the asylum seekers leave."
Organizers also want the city to fund economic development, affordable housing, multilingual education and other programs in Woodlawn, as the Wadsworth shelter rollout "proves that Mayor Lightfoot has the resources to house, feed, and care for all of Chicago's residents," they said.
"We will not be used as political pawns, and we will not see the same done to our allies seeking asylum," Southside Together Organizing for Power members said in a statement. "There are more than enough resources to support and protect all Chicagoans, but they will only be made available when we demand them together, united."
Taylor has made numerous demands of the city relating to housing, immigration, economic development and other issues in response to the city's plans for Wadsworth. They include a $5 million fund to help community organizations in the ward develop long-term plans for helping shelter residents.
The alderperson also demanded an increased police presence for the shelter not lead to more tickets or traffic stops in the community, and she called for city officials to commit to a community-led process for renovating other vacant schools in the ward, among other points.
Latino organizers across the South Side have shown solidarity with their mostly Black neighbors in Woodlawn in recent weeks, while encouraging Woodlawn residents to see the common threads between their neighborhood's struggles and the migrants' plights.
"There's no crime against seeking a better life," Baltazar Enriquez, president of the Little Village Community Council, said at a community protest last week. "When the brothers used the word 'illegal' — illegal is not a word for us. We're human just like you."
Listen to "It's All Good: A Block Club Chicago Podcast":