SOUTH SHORE — A group of South Side residents who have been without heat and forced out of their homes for weeks are pushing their landlord to fix the problems — or help them move to new apartments.
Fifteen tenants living in Catalyst Realty buildings, 6725-6733 S. Paxton Ave., lost heat and hot water in their units Dec. 31. The hot water was turned back on shortly after, but many residents stayed in unheated apartments before moving to hotel rooms in late January, they said at a news conference Saturday.
Catalyst Realty has paid for their hotel rooms thus far, residents said. A temporary boiler was scheduled to be installed Monday, but neighbors said they were concerned the fix might not fully restore the heat.
Now, the displaced tenants want Catalyst Realty to relocate neighbors to a reasonably priced, properly maintained building free of pests and mold without forcing them to sign new leases or raising the rent for at least a year, according to a news release. 
If residents choose to stay in their current units once management makes the repairs, they want their January and February rent to be waived. All of the residents are asking for $1,500, a month's worth of rent, reimbursement for the essentials they've bought while displaced and compensation for the suffering they've experienced. 
Catalyst Realty didn't respond to requests for comment. 
City records show the buildings failed two inspections in January.
The owners were cited for a non-functioning boiler in the 6731 S. Paxton Ave. building, failing to provide hot water to a second-floor unit and allowing a stove and electric heaters to be used to heat.
In the 6725 S. Paxton Ave. building, city inspectors also found a non-working boiler and one unit using a gas stove for heat. The temperatures inside two first-floor units fell to 59 and 49 degrees, with one unit using electric heaters, records show.
Minister Sivi Miles, who's lived in the building since 2019, said his family was forced to go without hot water and heat for days before they were able to move into the hotel. The space heater Catalyst Realty provided blew the fuse in his apartment, so there were also a few days when they had no electricity at all, Miles said.
"This whole experience has been very traumatic, in the sense that it's brought my wife and I both to tears," Miles said. "My children have been sick. I have a newborn, who they seem to care nothing about, who recently got diagnosed with RSV.
"This is an emergency situation. We're not asking for much. We just need a comfortable placement." 
Miles said the management company changed the locks on their old units last week, preventing them from returning to grab their belongings. 
"It's been so stressful — missing out on work and a lot of other things, having to pay for expenses while we're in hotel rooms," Miles said. "We have refrigerators full of food at home that we can't cook because we're living in a hotel room." 
Catalyst Reality offered the displaced tenants units in other buildings that were full of animal feces and mold and otherwise in disrepair, residents said. They were told they should move into the units as they were and submit work requests for any repairs, neighbors said. 
"They showed me a place that was just totally unlivable and told me I would have to move in that way," said Lin Daradenton, who's lived in the building for nine years. "I wouldn't ask any living thing to stay in that place. Why would you send us somewhere with mold and cracked floors, with the door looking like it'd been broken into?" 
Some of the units also cost more than what tenants had been paying in their original apartments and would require them to sign new leases or pay additional fees, they said. 
"We didn't put ourselves in this situation," Miles said. "Our rent was already at a certain price, and if we can't live in our apartments any longer, how can you charge us more money when you're the ones kicking us out? That's not right."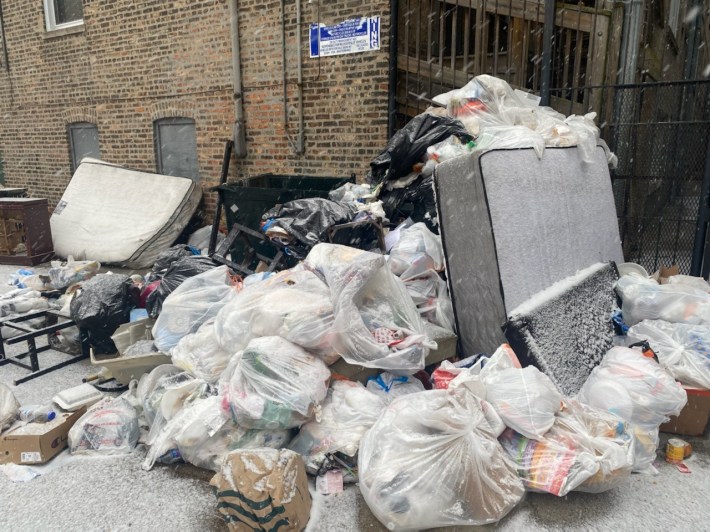 Daradenton said there hasn't been enough communication from Catalyst Realty and she's struggled to get in contact with it when trying to secure a new apartment.
"We have to hear everything through word of mouth or call each other to figure out where we're sleeping tonight because we have nowhere to go," Daradenton said. "I can't even get into my unit to get my medication and other belongings, so it's unacceptable." 
Multiple residents said they think Catalyst Realty is trying to force them out of the building so it can charge new tenants a higher rent once the Obama Presidential Center, 1516 E. 63rd St., is completed just a few blocks away.  
"I understand this is a business and they'll do what they want to do, but there's a better way to do it without putting people at risk," Miles said. 
Residents want Catalyst Realty to continue paying for their hotel rooms until there's a permanent solution. 
"If you want people to leave, there's a safer way to do it," Miles said. "If you're trying to push us out, just give us a decent place to stay, that's all we're asking." 
The heat was back on in at least part of the building as of Monday evening, Block Club confirmed.
But resident Andre Murray said he was still waiting on Catalyst staff to put new locks on his unit. He doesn't feel safe staying with all his possessions, as most of his front door locks were removed but not immediately replaced and the metal frame to his unit is loose, he said.
Monday was the last day Catalyst covered Murray's hotel stay, so he'll look to move in with loved ones or friends for a while before permanently relocating to a new apartment, he said. But that search has been problematic, as he noticed a strong odor and suspected it was mold during a visit to another Catalyst property Monday in South Shore, he said.
"They don't care nothing about us," Murray said. "I guess they feel I can sleep in my car."
Murray plans to take another apartment showing Tuesday in South Shore, which he hopes will be as nice as the photos indicate, he said.
Listen to "It's All Good: A Block Club Chicago Podcast":