CHICAGO — On a recent Tuesday morning, a group of people huddle outside a homeless outreach center at O'Hare International Airport, eager to get warm with a cup of hot ramen noodle soup and talk with friends.
A man who only wanted to be identified as Shorty woke up early to get a meal after spending the night in the airport's Terminal 2.
Shorty, who is from Chicago, is one of several homeless people who take shelter at O'Hare in the winter, especially during frigid temperatures. Facing a complex medical condition and substance abuse issues, he said life has been extra challenging in recent months.
"I need to have surgery [because] my lung collapsed and then I got pneumonia," Shorty said.
Shorty is on disability benefits and hopes to have the necessary surgery this month at Stroger Hospital, which would cover the cost, he said.
After that?
"I wanna leave Chicago. I'm just gonna pick a place and go. The weather sucks," he said.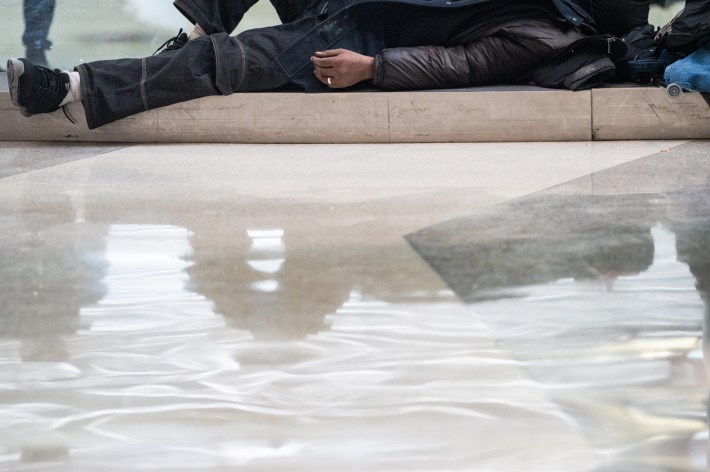 Homelessness in the city has worsened since the pandemic, forcing more people to seek refuge in public spaces, advocates and experts said.
Haymarket Center's O'Hare outreach program has been connecting people staying at the airport with substance abuse counseling, housing and other social services since 1990. The organization served 25 percent more people in 2022 than in the previous year, and that increased need has continued into 2023, said Jessica Dubuar, director of health and specialty services.
"Our January at O'Hare was one of the busiest Januarys we ever had," Dubuar said. "We are seeing more individuals and more encounters [who are] new to our system."
The nonprofit, funded by the Chicago Department of Aviation and the Department of Family Support Services, is open 24/7 but does not have sleeping capacity. It's looking for more funding options to help address the need and is continuously working with local agencies and other outreach groups to address the issue, Dubuar said.
'We Have To Start Looking At Different Ways To Measure Homelessness'
O'Hare's growing problem is a snapshot of the citywide homelessness crisis, as more people seek shelter in parks, on trains and at public transportation stations.
The city's annual Point In Time count assesses sheltered and unsheltered people experiencing homelessness on the streets and in shelters at one moment in time.
There were 3,875 people experiencing homelessness during the 2022 survey, the majority of them Black, data shows. This year's numbers are still being analyzed and won't be released for a few months, said Joe Dutra, a spokesperson for the city's Department of Family Support Services.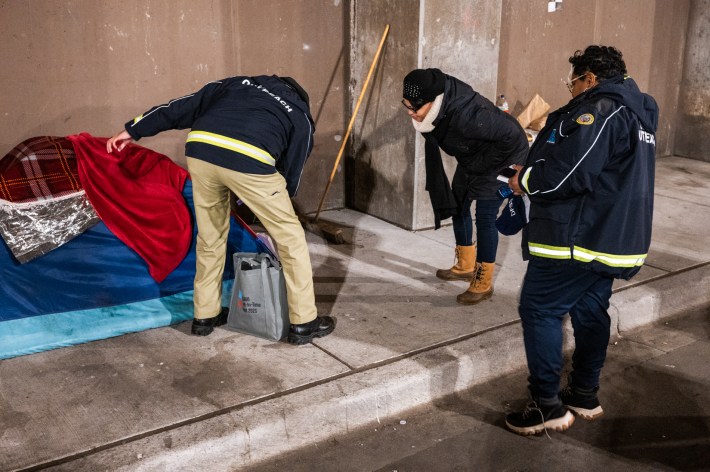 The city's 2022 data suggests the number of unhoused people decreased since 2021. Advocates say the counting strategy vastly underestimates homelessness, not accounting for people more hidden from public view or temporarily doubling up with others.
"On the Northwest Side, we don't have any of the infrastructure and so there are more publicly-facing homeless people … but we [also] have a lot of people tucked away," said Monica Dillon, who runs The Northwest Side Homeless Outreach volunteer group. "There's chronic pervasive homelessness versus transitory homeless folks — and those are the numbers that are through the roof and not always captured by an annual count. We have to start looking at different ways to measure homelessness."
About 65,611 Chicagoans experienced homelessness in 2020, according to a 2022 report from the Chicago Coalition for the Homeless, said Mary Tarullo, associate director of policy and strategy.
That data shows a 12 percent increase in people living outside and a 20 percent increase in people temporarily staying with others since 2019, Tarullo said.
The roughly 16,000 people living outside are more susceptible to dying from cold exposure during the winter, advocates said. There were four reported deaths from cold exposure in the city in 2020, seven in 2021 and four in 2022, according to data from the Cook County Medical Examiner's Office.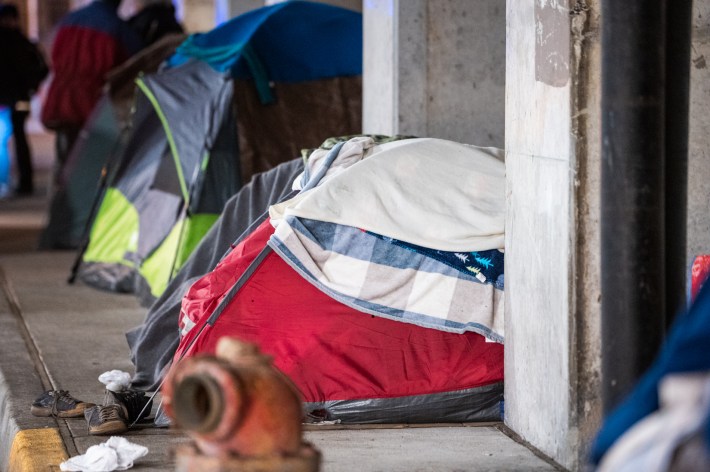 City solutions
City officials have launched new programs, found new funding and are working on agency partnerships in an effort to curb homelessness and find longterm solutions.
In 2022, the Department of Family Support Services invested $1.5 million to increase operational funding for shelters and hire more staff, Dutra said in a statement.
In July 2021, the city partnered with the Chicago Continuum of Care to start the Expedited Housing Initiative, which connects people experiencing homelessness to housing, service providers, housing specialist landlords and wraparound services at one-day events.
The initiative aims to fill 1,250 households in a 12-month period, shorten the housing process for people on waiting lists and reduce barriers to housing access, said Brandie Knazze, commissioner of the Department of Family and Support Services.
"Just recently, we celebrated a milestone accomplishment and were able to house over 1,880 households — that's households, not individuals — through this program," Knazze said at a press conference last month.
A similar partnership with the city's Department of Veterans Affairs has helped reduce homelessness among veterans by 57 percent since 2015, Knazze said.
A $27 million investment through the $2 billion Chicago Recovery Plan will increase the Expedited Housing Initiative this year, Knazze said. Another $35 million will build 220 permanent supportive housing units for people who are housing insecure in partnership with the city's housing department, Knazze said.
More money from the plan is earmarked to help improve the city's homeless shelter system, which has been stretched thin with the increase in utilization since 2020, advocates and those living outside have said. Funding will help reduce crowding and streamline shelter operations, Knazze said.
The Chicago Recovery Plan earmarks $116.5 million to address homelessness but only $18.7 million was spent in 2022, WTTW reported. That means there's $98 million from the plan left to be used on services for 2023.
Last week, Chicago received $60 million from the US Department of Housing and Urban Development, part of a $315 million national package of grants to address homelessness. The money will help the city strengthen its homeless outreach, rapid access to permanent housing, supportive services and other measures, according to a press release.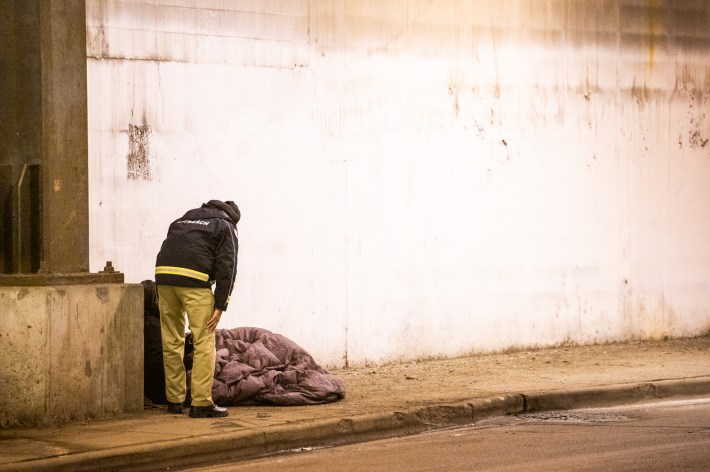 'A Service Desert'
Homeless outreach workers and those living on the streets say more resources are desperately needed as the population increases and some Chicagoans worry about their safety.
A man who bounces between O'Hare and the Jefferson Park Transit Center named Ken, who asked to be referred to only by his first name, said the city should invest in opening more shelters like the heated bus shelters at the Jefferson Park station. It's a temporary fix, but one that could prevent people from sleeping on the streets and make it easier for outreach workers to connect with them, especially during winter.
For at least two years, people experiencing homelessness have used the heated bus shelters at the transit center, 4917 N. Milwaukee Ave., as a respite from the frigid winter temperatures.
"They need to put these up for the homeless," said Ken, who is on disability and has been waiting about a year to get a city-funded apartment.
Ken said he's also a fan of seeing tiny home projects for those experiencing homelessness and housing insecurity that have been successful in other cities.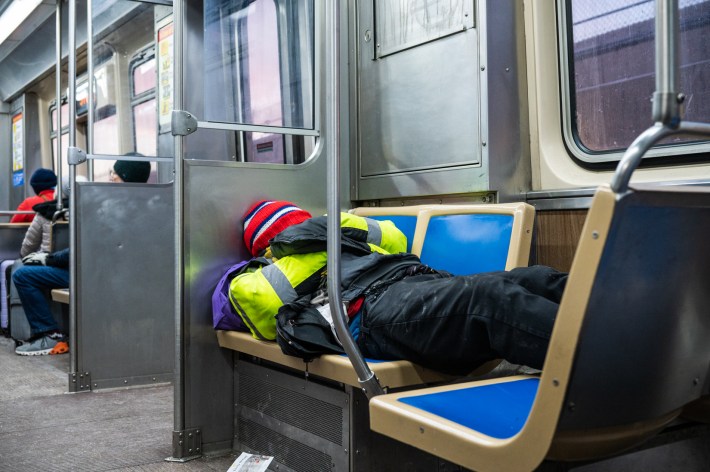 Part of Mayor Lori Lightfoot's 2023 budget includes $3 million from the recovery plan to go toward building a "micro neighborhood" of tiny homes for vulnerable groups, according to the Tribune.
On the Northwest Side, there is no dedicated social services team or a shelter for unhoused folks in the area, Dillon said. There are also no warming areas on the Northwest Side.
"The city teams are so stretched thin. We need our own team out here," Dillon said. "We need more social services and more dollars and money to work on homeless prevention, homeless outreach and shelter outreach."
Shorty has been hesitant to sign up for an apartment because he wants to leave the city but wants to see more shelters with low thresholds to enter, he said.
Dillon also wants to see a low-barrier shelter open on the Northwest Side and more funding put toward substance abuse counselors and addiction programs, she said. But with little support, she's thinking to turn to different kinds of programs like the Chicago Hope Dealers, a peer-support group that works with vulnerable people recovering from addiction
"It's gotten worse in terms of a service desert for the homeless," Dillon said. "We're looking to untraditional services because the traditional services are not available."
What about Bring Chicago Home?
City Council members have also been scrambling to find more funds to address the city's homelessness issue and hire more outreach workers.
The Bring Chicago Home resolution, introduced in 2018, calls for hiking the city's real transfer taxes on sales of properties worth $1 million or more to fund homelessness services, including permanent and temporary affordable housing. It was crafted by the Chicago Coalition for the Homeless.
Advocates of the resolution hoped it would be on the Feb. 28 ballot, but council members failed to have a proposal hearing last year when 25 alderpeople did not attend a special meeting on the resolution.
Ald. Maria Hadden (49th), one of the members who championed the proposal, said it was reintroduced in December and advocates are working on public education meetings to inform residents about the transfer tax and how it would help homelessness.
"I support it because right now it's the best solution that we have to the problem of not having enough money to fund the services that we need to adequately combat homelessness," Hadden said.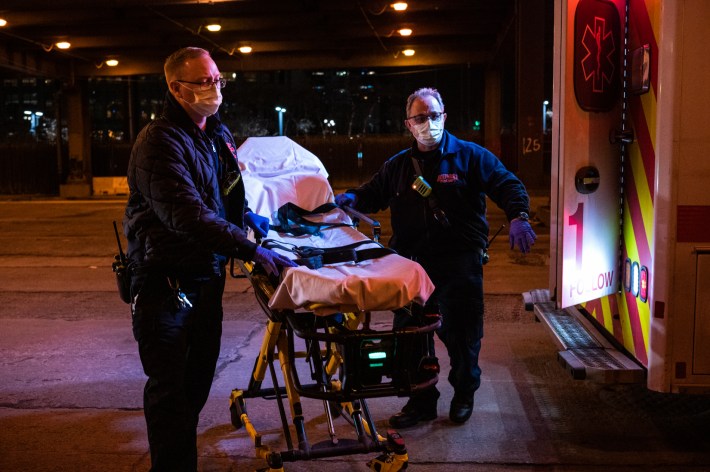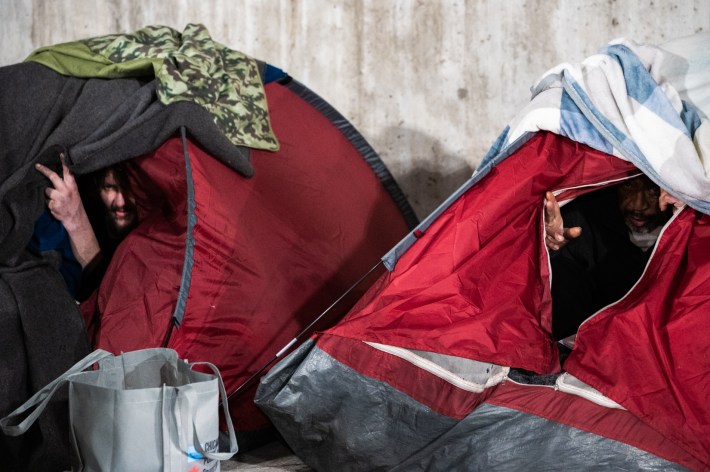 But Lightfoot and other City Council members have opposed hiking taxes to support the effort.
Ald. Nick Sposato (38th) said he felt bullied by some of his colleagues to show up and had another meeting at the same time, he said. He called the transfer tax increase "unfair" to homeowners but suggested a voluntary tax for property owners who want to help homelessness as an alternative.
"If you want to help the homeless, you can add a level of taxes to go towards homelessness," Sposato said. "This is a giving city and we raise a lot of money that way. People would be willing to step up … I could contribute $100 a year on my own taxes."
Hadden questioned how reliable an opt-in tax would be, she said.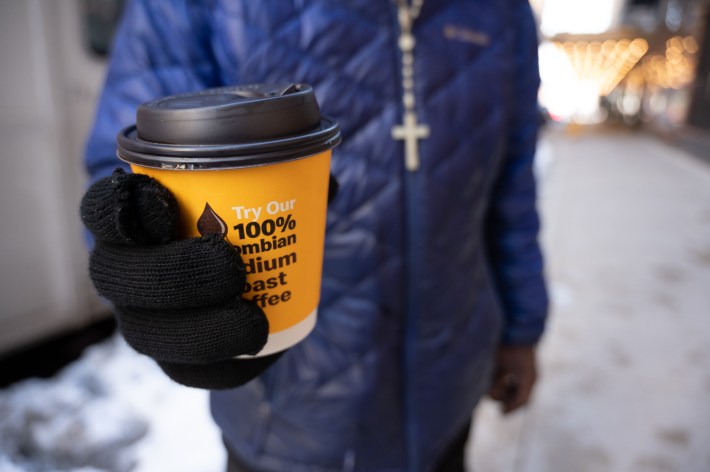 Tarullo, the policy leader from the coalition, said the group welcomes alternatives to the Bring Chicago Home proposal, but no one has come up with a better option. Leaders hope to continue discussions, review updated real estate transfer tax data and get the resolution on the ballot next year, she said.
"It's city-generated funds the city could spend on this population, which is not getting help that it needs right now," Tarullo said. "We are doing outreach in our communities so residents understand what we are fighting for and why."
Listen to "It's All Good: A Block Club Chicago Podcast":