JEFFERSON PARK — A widespread effort to crack down on dirty trains, smoking and people living or sleeping in CTA cars and stations has led to unhoused people being forcibly removed from trains and stations, and sometimes having their belongings thrown in the trash, witnesses and advocates say.
For at least two years, people experiencing homelessness have used the heated bus shelters at the Jefferson Park Transit Center, 4917 N. Milwaukee Ave., as a respite from the frigid winter temperatures.
Monica Dillon, who runs The Northwest Side Homeless Outreach volunteer group, said security guards came early in the mornings for at least four straight days last week and again Tuesday morning to remove people from the shelters and throw away some of their belongings.
A video of one incident shows security guards going into the bus shelter and telling people, "it's time to get up and go." One guard kicks an area close to a person's head to get them to move, the video shows. The person then leaves, while others do not move. After a few minutes, the guards put on gloves, go back into the shelter and throw away some of one man's belongings in an effort to get him to move, the video shows.
The security guards told witnesses they had orders from CTA leaders to clear the area, so people standing in the cold could use the bus shelters, they said in the video.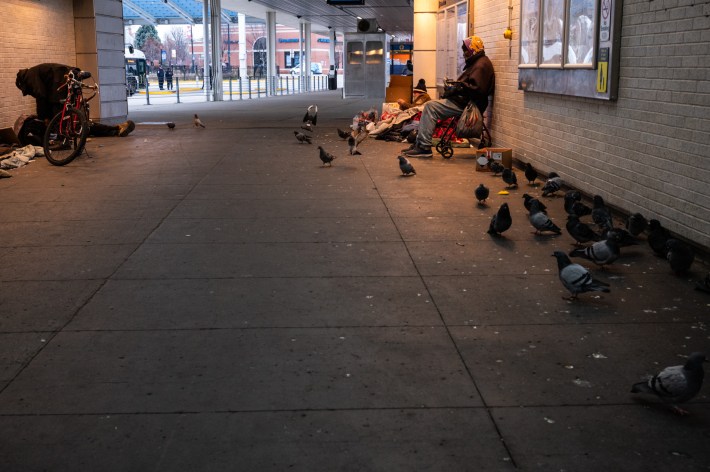 Dillon, who works with people at the transit center to help them find housing and other resources, said security teams do not need to throw out anyone's belongings or treat them with disdain.
Dillon and her team of volunteers have been working with CTA guards and employees conducting regular sweeps of the station to have people leave the shelter and pick up trash to keep the area clean, she said.
That's why recent actions by the security guards are upsetting, she said.
"For security to come and do this aggressive stuff, it's not making sense … it's disgusting [and] dehumanizing," Dillon said.
Maddie Kilgannon, a CTA spokesperson, said the "the guards properly engaged with individuals seeking shelter at the terminal" and defended their actions.
Under the CTA safety ordinance, it is a violation for any person to loiter or store personal belongings on CTA properties, according to the agency's code of conduct.
"No personal belongings were discarded [and] only after the unhoused individuals packed up their belongings was the area cleared of small pieces of debris left behind," Kilgannon said in a statement. "CTA works in close coordination with the Department of Family and Support Services to routinely have personnel on-site at the Jefferson Park Transit Center to offer assistance and resources to the affected individuals."  
'I Am Waiting For An Apartment'
The bus shelters reopened in December after being closed for 10 months after a man damaged the glass. They have long been a spot for people experiencing homelessness in the area to take shelter.
Early morning commuters have lodged a series of complaints about the people sleeping at the transit center, saying it makes them feel unsafe.
Scott Andrews, a journalism and graphic design student at Northeastern Illinois University, used to commute to school from Park Ridge home using the station five to six times a week. Now that he lives on campus, he passes through it two to three times a week, he said.
On multiple occasions, he said he saw a man relieve himself on the sidewalk and in the transit tunnel.
The clean up of the area closed down parts of the station and added hours to his commute because it delayed buses, he said.
While Andrews said he is understanding of those who stay in the bus shelters, witnessing public urination and defacation — and how it's affected CTA's operations — has ruined his perspective of those who are unhoused at the transit hub, he said.
"It was the most vile thing I've ever seen," Andrews said. "People would walk through there and there would be poo and pee on the sidewalk. It was disgusting."
One of those people rousted by security — who asked to be referred to only by his first name, Ken — said he believes one individual who has mental health problems and sometimes urinates and defecates at the station is driving most of the complaints.
The individual has since moved out of the shelter, Ken said. Dillon said security guards are primarily targeting the larger shelter because it's where most folks who have belongings sleep.
"They're using the excuse of social pressure or something so they want them all out when it's more a problem with just one person," Ken said.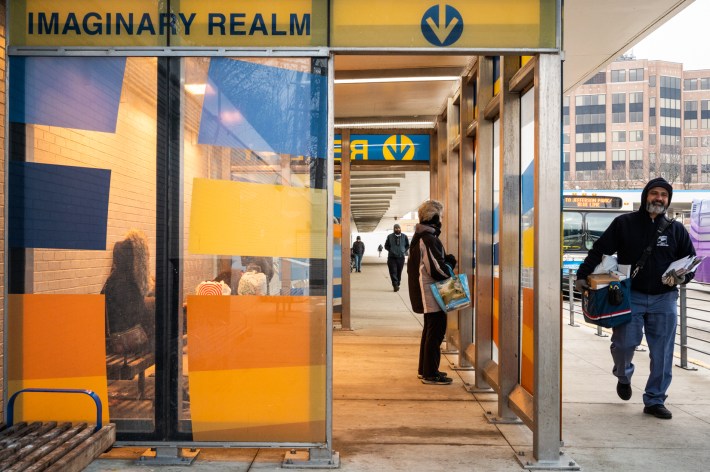 The situation points to a lack of resources on the Northwest Side for unhoused people, Dillon said.
Citywide shelters have long wait times or are at capacity, and there is no dedicated social services team or a shelter for unhoused folks in the area, she said. There are also no warming areas on the Northwest Side.
The list for government-funded apartments and subsidized housing is also long. Last week, one of the men living at the Jefferson Park Transit Center received an apartment and moved in after being on the waitlist for two years, Dillon said.
Ken said he wants the community to know "we are not all that bad" and he's trying to get off the street but has limited options, he said.
Ken moved to Chicago a year ago from Alaska and was living inside a tent in a nearby forest preserve. After he got kicked out, he came to the Jefferson Park station because it's too cold to be in a tent right now, he said.
It took him a year and a half to get an apartment when he was in Alaska, he said. He's been waiting for a Chicago placement for about a year, he said.
"I am on disability and it doesn't pay enough to pay rent," Ken said. "I am waiting for an apartment."
Ali Simmons, an outreach coordinator with the Chicago Coalition for the Homeless, said the coalition plans to soon visit those experiencing homelessness at the station to conduct outreach and inform folks of possible resources, he said.
Rep. Lindsey LaPointe, whose area includes Jefferson Park, wrote a letter to the CTA asking how leaders plan to address the issue. As a legislator, she is advocating for more funds to be put towards shelters, homelessness outreach and care that can help build up the mental health workforce, she said.
"We need to be building up our behavioral workforce: nonprofits, mental health, homelessness [outreach coordinators] are all struggling to hire," said LaPointe, who was just appointed chair of the Illinois House Mental Health and Addiction Committee. "Part of the solution is making sure we have people in those roles and people are there to do the work. It is affecting this issue, too."
Listen to "It's All Good: A Block Club Chicago Podcast":