Block Club Chicago is an independent, 501(c)(3) newsroom that relies on our readers for support. You make neighborhood reporting in Chicago possible. Invest in local journalism and fund the future of Block Club Chicago by making a gift today.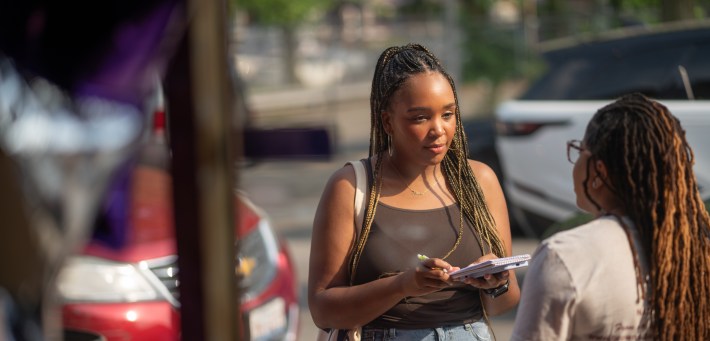 ---
Become a Subscriber
We're proud that Block Club Chicago's readers are our single largest source of financial support — you're the stakeholders we work to serve every day. Subscribe today to unlock full access to our premium neighborhood newsletters and exclusive articles with monthly or annual billing. You'll have the option at checkout to "Give a Little More" and increase your contribution.
Cash Donations
Our journalists cover Chicago's neighborhoods from the ground up. Your tax-deductible donation goes directly to them. 
Give a one-time or recurring gift online here:
You can also send a check directly to our newsroom. Our nonprofit EIN is 82-3844275 and our mailing address is:
Block Club Chicago
303 E. Wacker Dr.
Suite 2106
Chicago, IL 60601
Investigative Fund
Invest directly in our efforts to uncover wrongdoing, chase tips from our readers and hold Chicago's institutions and leaders accountable. Join the Robert R. McCormick Foundation and help us build a dedicated, six-person investigations team in our newsroom.
Donate A Vehicle
We can now accept donations of vehicles — in all conditions, running or not — including cars, trucks, trailers, boats, RVs, motorcycles, campers, off-road vehicles, planes, heavy equipment, farm machinery, and most other motorized vehicles. There are no fees for donors, donations are tax-deductible, and the cost of towing is included.
Stock, Crypto & Other Assets
You can support Block Club Chicago's journalism directly from your portfolio with a stock donation, cryptocurrency payment or other transfer of assets directly to our newsroom fund. Send an email inquiry to our revenue team for more information.
Sponsor Our Work
There are endless opportunities to invest in our work and show your alignment with Block Club Chicago's mission through sponsorship and underwriting of our journalism. Contact Maple Walker Lloyd to get started: maple@blockclubchi.org.
---