DUNNING — Frustrated Far Northwest Side neighbors and their alderman want a man living inside a park tent booted from the area, saying his presence and growing collection of personal items are taking over the space and causing safety concerns.
But advocates and neighbors working to help the man say there are few other options as the city struggles with an ongoing homelessness crisis exacerbated by the pandemic.
The man, who declined to be interviewed or identified, has lived in Merrimac Park, 6343 W. Irving Park Road, since 2019. Roscoe Village resident Stacy Roszak dubbed him CandyMan. She brings him meals daily and runs a Facebook group with 700 members in an effort to support him.
He has been living inside a tent near the park fence close to North Narragansett Avenue since October, when Ald. Nick Sposato (38th) had city officials remove the bus shelter on the sidewalk where the man was staying. The alderman received dozens of calls from concerned constituents who felt unsafe and who could not use the bus shelter, he said.
After the shelter was removed, the man moved into the park and received donations from neighbors angry about the bus shelter removal, Roszak said.
Now, the bags of donated items take up a bench, creating an eyesore and unwanted trash, some neighbors said. There were over 20 bags seen on the bench Tuesday night.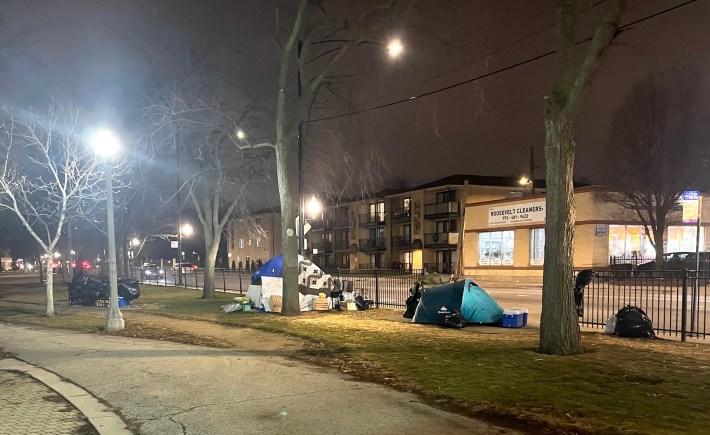 At a Tuesday night community meeting, dozens of neighbors said they were concerned about the park's safety, cleanliness and the man's wellbeing. The majority of attendees said they wanted the man to move.
"The tent is a blight to the neighborhood and the park is supposed to close at 11 p.m. and that is not being followed," said Vicky Goodman, who has lived near the park for 30 years.
Other neighbors shared similar concerns, saying the donations given to the man have made the park dirtier and kids feel unsafe playing or walking nearby.
Others said they worried his tent could attract more unhoused people to the park.
In recent months, two more tents popped up.
One man who had recently began living inside a tent in the park died last month, multiple sources said. The Cook County Medical Examiner's Office identified him as 67-year-old Mieczyslaw Kirchhoff and confirmed he died Dec. 20 from cold exposure near the park.
"I have my grandkids living right next door to me and I have to make excuses why I can't bring them here because of what's going on," said Ken Presslak. "I feel compassion for the people who feel that there's nothing wrong with what he does."
Not all park neighbors support making the man leave.
Marilyn Scharko, who lives close to the park, said the man does not bother anybody and keeps to himself. Her 6-year-old daughter does not feel unsafe when playing in the park, she said.
"He does not go around collecting stuff and he's never asked for anything," Scharko said. "Everything he has someone has given to him to be nice or has dumped off [but] it's not a dumping ground for unwanted clothes or whatever you have laying around."
"The bags that are there are from people bringing them to him," Roszak said. "I post all the time [to] stop bringing him these things. I make sure he has breakfast, lunch and dinner. You may hate me or whatever it may be, but I won't stop."
'He's Gotta Go'
Neighbors at the meeting, which was heated at times, asked why Chicago Park District officials cannot kick out the man and clean up the items.
Neighbors who want the man gone said they want park officials to act before Merrimac Park turns into a tent city like what has happened at Touhy Park on the Far North Side.
District area park manager Tracy Brumley said park officials can conduct routine cleanups, but district policy prohibits removing people from public parks.
"The park district cannot remove homeless items from the park if someone is currently occupying that space," Brumley said. "However, the policymakers are working with the police department to come up with new policy because like a few gentlemen said, it's a citywide issue."
In a statement, spokesperson Michele Lemons said the Park District works with city departments to connect with residents experiencing homelessness with shelter and other services, as well as "information on scheduled cleanings of homeless encampments on park property."
Sposato has been in touch with mental health and housing professionals from the city's Department of Family and Support Services and other Northwest Side homeless groups since 2019 to help the man get assistance and relocate, but he has refused help, the alderman said.
"I don't have the solution; I have tried to help him. My office has been inundated with calls of compassion, but he's gotta go," Sposato said. "The old lady that couldn't wait for the bus, the parent that's concerned about their kid over there … they don't know what he's about. They don't know how if he's dangerous or not. I think it's a blight on the community. The community is not going to stand for this."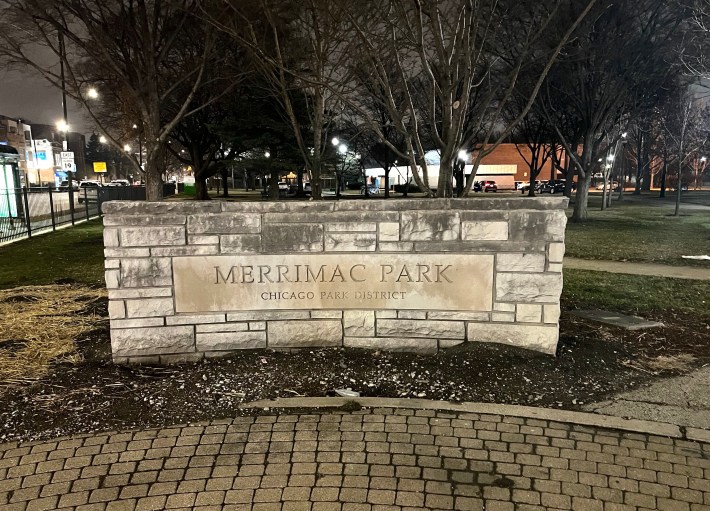 'There Is Nowhere Else To Go'
Monica Dillon, who runs The Northwest Side Homeless Outreach volunteer group and is a public health nurse, has also been working with the man at Merrimac Park alongside mental health professionals.
His situation points to larger issues on the Northwest Side: citywide shelters have long wait times or are at capacity, and there is no dedicated social services team or a shelter for unhoused folks in the area, Dillon said. There are also no warming areas on the Northwest Side.
"The city teams are so stretched thin. We need our own team out here," Dillon said. "We need more social services and more dollars and money to work on homeless prevention, homeless outreach and shelter outreach."
In 2021, the city received more than $200 million in federal CARES Act funding to help people with insufficient housing. That's on top of an earlier round of funding that earmarked $35 million for an "expedited housing initiative" during the height of the pandemic.
Ali Simmons, an outreach coordinator with the Chicago Coalition for the Homeless, has worked with individuals who resist help and said it's a tough situation. Not having enough social service resources exacerbates the problem, he said.
"Forcing people to move can do more harm than good," Simmons said. "And for the people who need those services that are not available, how can people get mad for taking up space? There is nowhere else to go."
Listen to "It's All Good: A Block Club Chicago Podcast":