KENWOOD — The owner of a South Side affordable apartment tower again violated an agreement that allowed the company to maintain control of the property, causing court-ordered repair work to stall for the third time in recent months.
Despite that — and against residents' wishes — owner Apex Chicago IL will continue to oversee repairs at the Ellis Lakeview Apartments, 4624 S. Ellis Ave. in Kenwood, as a court case about the property approaches the start of its third year.
Ellis Lakeview residents have demanded Apex resolve a plethora of problems at the property since at least September 2020. City attorneys took Apex to court over code violations at Ellis Lakeview in March 2021 and asked Cook County Judge Lisa Ann Marino to appoint a receiver in April 2022.
Receivership would have taken control of the building away from Apex and appointed a third-party to oversee the needed repairs. Marino ordered Apex to replace Integra Affordable Management — its troubled management company — with 5T Management in June 2022, but he declined the more drastic step of appointing a receiver.
Residents were cautiously optimistic 5T would improve living conditions, and city attorneys dropped their receivership request. But in the months since, Apex has repeatedly failed to follow the terms of its agreement with 5T, according to court filings and testimony.
Just three months after signing the agreement, Apex was $555,000 behind on its bills and had told 5T to stop making court-ordered repairs that were already in progress, officials testified in September.
More repairs have since been made to the building, but Apex's failures have continued into this month, officials testified at a court hearing Wednesday.
Apex leaders made a "business decision" not to fund the repair account for a while because they took issue with how much 5T was spending on repairs and wanted to investigate, Apex attorney Joshua Kahane said.
That's in violation of Apex's agreement, which allowed the company to stave off receivership and requires Apex to keep the repair account funded at $350,000. That account dropped as low as $1,500 earlier this month, causing 5T to stop work at the property, 5T President Steve Thomas said.
The work stoppage, combined with a lack of a long-term contract that could have left Ellis Lakeview without a property manager Feb. 1, led city attorney Steven McKenzie Tuesday to renew his push for Marino to appoint a receiver.
Residents, tenant organizers and local leaders have called for a receivership for nearly a year, and the renewed push has Sen. Robert Peters' support, outreach coordinator Maya Rodriguez said.
But receivership is unlikely, at least right away, after McKenzie asked Marino to put the request on hold a day after filing it.
Apex fully funded the repair account just hours before Wednesday's hearing and agreed in court to extend 5T's contract until March amid negotiations for a long-term deal, countering two of the issues cited in the "emergency" receivership request.
A federal agency which had not previously weighed in on the nearly 2-year-old case also showed up in court this week and called into question the city's legal basis for seeking receivership.
When the parties return to court Feb. 1, there will be no action on the newest receivership request — and, therefore, no imminent threat of Apex losing control of the building.
"The city is asking to not have a ruling on this motion now. They're asking to continue it because the situation has changed," Marino said. "Albeit, as frustrating as it is, facts have changed."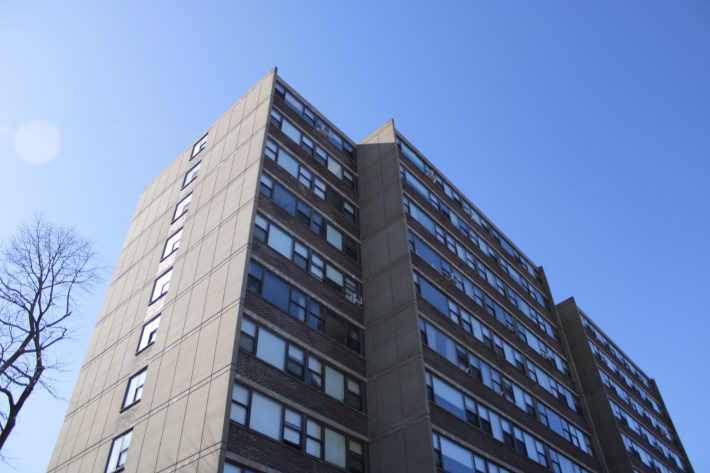 Apex representatives said at the hearing in December they expected to renew 5T's management contract before this month's hearing. That didn't happen, though a long-term deal should be worked out by the end of the month, Apex representative Rebecca Appel said.
Marino expects the companies to appear in court Feb. 1 with a long-term deal, the judge said.
"It's really beyond [the Department of Housing and Urban Development] to understand why we're still here today, dickering over a management agreement" when 5T has proven it can meet the building's needs when Apex properly funds them, said Dan Burke, HUD's regional multifamily housing director.
Another wrench in residents' push for receivership came at Wednesday's hearing as an attorney for the Federal Housing Finance Agency questioned Marino's standing to rule on the issue. The agency oversees and serves as conservator for Freddie Mac, which holds Ellis Lakeview's mortgage.
Federal statutes grant the agency "the power to protect Freddie Mac's financial interests," which could be put at risk by receivership, attorney Michael Johnson said. He requested time for the agency to meet with the other parties to avoid receivership.
"A receiver, of course, is always intended to enhance the value of a property, but it doesn't always work out that way," Johnson said. "… We need to be at the table helping to figure out how to solve this problem without a receivership being crammed down onto Freddie Mac."
Federal Housing Finance Agency representatives or attorneys had not weighed in on the case in the 22 months prior to this week's hearing.
Freddie Mac did not oppose last year's receivership push as long as the receiver made its mortgage payments on time and otherwise "[safeguarded] Freddie Mac's interest in the property," according to court filings.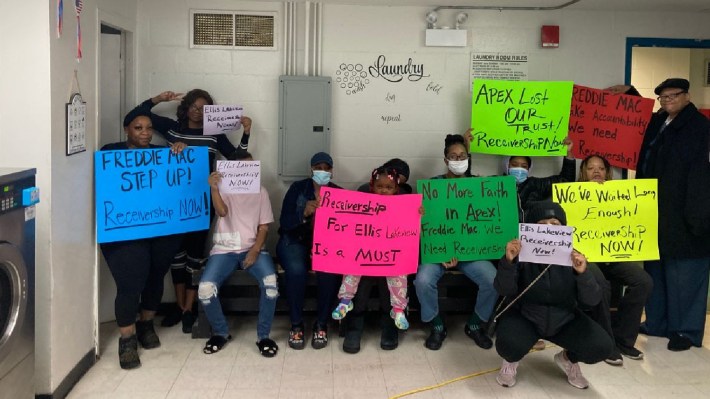 Throughout the years-long campaign for better living conditions at Ellis Lakeview, residents and advocates have said Apex's links to owners and managers of other troubled housing properties raise major red flags.
Apex Waukegan IL will sell the Lakeside Towers in Waukegan as part of a legal settlement, the Lake County News-Sun reported last month.
Waukegan city attorneys negotiated the settlement after initially seeking to place the property, which is managed by Integra Affordable Management, into receivership.
Residents of Lakeside Towers have had similar complaints to those at Ellis Lakeview — broken elevators, mold, leaks, waste, nearby gunfire and more under Apex and Integra's watch.
An Apex property in Kankakee also faced receivership as of September, according to the News-Sun.
Tax filings and county-level records also show ties between Apex Chicago IL and:
Apex Big Chateau AR, the owner of affordable apartments in Little Rock, Arkansas, that went months without gas and hot water during winter 2019–2020.
The Better Housing Foundation, which was the subject of a 2018 Chicago Tribune investigation. The Tribune found living conditions at 64 of the foundation's 81 Chicago properties were "so bad that the Chicago Housing Authority has forbidden its aid recipients" from living there. As tenants lived in squalor, foundation affiliates made millions of dollars in fees.
Housing nonprofit JPC Charities, which in 2016 owned an Indianapolis complex where the Marion County Health Department ordered a cleanup of mold and mildew. That same month, a tenant who withheld her rent until conditions at the complex improved was set to be evicted.
"I'll be frank, I think there's a lot of stress on the overall structure of Apex nationwide," McKenzie said Wednesday, prior to requesting a delay on the receivership petition.
"I don't care about those [other stressors], I care about the funding here. I care about the progress here, and that's got to be the focus. If it can't be the focus, I think receivership is necessary."
Subscribe to Block Club Chicago, an independent, 501(c)(3), journalist-run newsroom. Every dime we make funds reporting from Chicago's neighborhoods.