KENWOOD — The owner of a South Side affordable apartment stopped its court-appointed property manager from making needed repairs, has not paid hundreds of thousands of dollars for finished work and is at least months away from resolving the building's numerous issues, officials said Tuesday.
Residents of the Ellis Lakeview Apartments, 4624 S. Ellis Ave., have demanded owner Apex Chicago IL resolve plumbing issues, pest infestations, security breaches and numerous other problems since at least September 2020.
5T Management was tasked with rehabbing Ellis Lakeview in June, when Cook County Judge Lisa Marino removed Integra Affordable Management as property manager. The building failed 27 city inspections and racked up 158 code violations under Apex and Integra.
Residents were cautiously optimistic about the ruling, but Marino declined the more drastic step of appointing a receiver to replace Apex, as tenants, city attorneys and elected officials had requested.
5T spent a couple months overseeing long-delayed repairs, such as fixing large holes in tenants' apartment walls stemming from plumbing work that went unresolved "for unacceptably long periods of time," according to a separate class-action lawsuit tenants filed against Apex and Integra last month.
5T made repairs to units across several of the 11-story building's top floors by late August, when Apex ordered work to stop and instructed 5T to seek other bids for the project, officials testified Tuesday.
Apex requested bids from contractors with whom the company had previously worked during the Integra era, but those contractors were too busy, 5T President Steve Thomas said.
Thomas found and sent two other companies' bids to Apex last week, he said. Their fees would be "much higher" than what 5T charged for the work it had already completed, he said.
As tenants went "into week four" of stopped progress, Apex had not decided as of Tuesday whether to stick with 5T or hire a more expensive replacement, Thomas said.
Amid the delays, the 5T crew that began repairs at Ellis Lakeview took on other work and will not be available at full strength until at least November, even if Apex immediately rehired them, Thomas said.
"I'm really concerned … that we've got a bunch of tenants with open walls going into a cold season," city attorney Steven McKenzie said.
The most recent work stoppage marks the second time repairs have stalled at Ellis Lakeview this year. Tenants and tenant organizers said plumbers walked off the job in May because Apex and Integra failed to pay, while an Integra representative blamed the holdup on a contract dispute.
Apex "is preventing the work from going forward — that's what I'm hearing," Marino said Tuesday.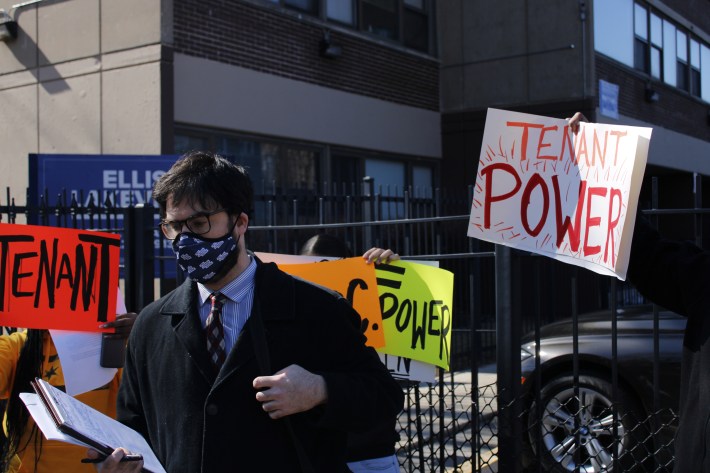 As repairs have stalled at Ellis Lakeview, Apex has yet to pay its contractors for about $380,000 worth of electrical, vacant unit, elevator, hot water and other work that was completed at least a month ago, attorneys and officials testified at a hearing Tuesday.
Apex also agreed to maintain a reserve fund for building repairs at a certain funding level, and that fund is short by about $175,000, Thomas said.
That means Apex would need to come up with about $555,000 to cover the past-due bills and get the repair reserves back to the agreed-upon amount, officials said.
Attorneys for the city and other parties to the case, such as Freddie Mac and the U.S. Department of Housing and Urban Development, said they were unaware Apex was so far behind on funding.
Attorneys representing Apex provided few answers to the litany of concerns from the judge and lawyers for the city, tenants and 5T Management.
No one from Apex appeared in court this week, and recent communication with the ownership group has been inconsistent as owners observe Rosh Hashanah, Apex attorney Aubrey Greer said.
Marino ordered 5T to provide weekly reports on the status of repairs and payment for those repairs to all attorneys as the case continues.
"There's no way that this should have happened for a month now," Marino said.
The case will return to court Oct. 11, by which point Apex must resolve its funding issues, choose its contractor "and move forward" on repairs, Marino said.
"It's extremely frustrating because we were on the 11th hour of appointing a receiver where things would be able to move forward without any sort of delays like this," Marino said. "I see ownership [is] creating more problems here."
"I don't disagree," Greer said.
Subscribe to Block Club Chicago, an independent, 501(c)(3), journalist-run newsroom. Every dime we make funds reporting from Chicago's neighborhoods.
Listen to "It's All Good: A Block Club Chicago Podcast":