KENWOOD — Federal housing officials demanded that the property manager be replaced at a troubled Kenwood apartment building with more than 100 code violations since 2019 after the company "demonstrated blatant disregard" for demands to fix the squalid conditions.
The U.S. Department of Housing and Urban Development is investigating Ellis Lakeview, 4624 S. Ellis Ave., following months of tenants' complaints over a broken elevator, mice, roaches, water damage, piled-up trash, brown water, and faulty plumbing and furniture.
Apex Chicago IL bought Ellis Lakeview for $10.75 million in August 2019, according to Chicago Cityscape. Under the company's watch, the building has failed 17 city inspections and racked up 116 code violations to date.
Residents have pushed city and federal housing authorities to intervene, and reported the issues to the department in September.
Last week, U.S. Housing and Urban Development leaders directed Apex to terminate its contract with Integra Affordable Management to manage the property, according to public records obtained by tenant organizers. Housing officials cited Integra's "failure to provide decent, safe and sanitary housing."
If Apex does not "provide management that is satisfactory to HUD" by March 27, the owner will default on its federal affordable housing contract. It's not immediately clear what the feds would do if that happens, but officials said they "will pursue any and all remedies … to obtain compliance."
Apex and Integra are challenging the department's decision to end the management contract "as well as the other claims made by HUD," said Stephanie Jones, an attorney for Integra.
Additionally, residents and their supporters are urging city lawyers to quickly file a lawsuit against the building owner for the repeated code violations that have forced neighbors to endure shoddy living conditions through the pandemic.
"Enough is enough," said Tonnett Hammond, chair of the tenants association organized to address the building's condition. The company "should not be allowed to get away with these things that end up costing taxpayers of Chicago and the federal government … something needs to be done now."
The building failed its most recent inspection Feb. 10. City housing authorities found insufficient hot water pressure throughout the building, defective doors and windows, damaged walls and ceilings and mice holes in some units.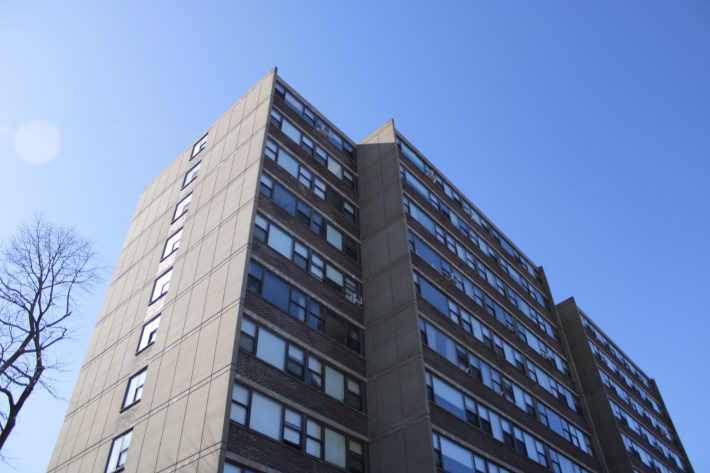 In addition, Integra violated federal regulations by trying to force tenant organizers off the property during that inspection, a housing official wrote last week. The organizers were "authorized representatives of the Ellis Lakeview Tenant Association" on hand to examine apartments with city officials.
Federal housing authorities also cited Integra for mismanaging finances and tenant files. The company made mistakes in rent calculations; did not properly verify tenants' income, risking inaccurate federal subsidies; and held files in an insecure location, compromising residents' personal information, officials said.
Tenants reported receiving inaccurate rent balance notices Dec. 10, the day after Block Club's published its initial story on the complex's issues.
Among other inconsistencies, one tenant was charged three rates throughout 2020, while another person was informed in December of a rate change effective for November. In at least one case, a resident was charged less than they owed.
A review of 11 tenant files "reflected such widespread error in compliance" that investigators required a review of every resident's file for the 105-unit building, housing officials said.
The U.S. Department Housing and Urban Development has called for improved conditions at Ellis Lakeview since at least November, but Integra has "demonstrated blatant disregard" for these demands, officials wrote.
The feds threatened to withhold its March housing assistance payment to Apex, citing the company's failure to provide "sufficient hot water" to tenants following last month's failed inspections. Videos provided to Block Club show units with low water pressure and leaky plumbing.
Jones, the attorney for Integra, said the building's age — it was built 50 years ago — its condition when it was acquired and the "added challenge of the COVID-19 pandemic" have made proper maintenance "a work in progress."
But the owner and management company "believe that significant improvements have been made and are continuing to be made," Jones said. She denied Integra employees attempted to remove tenant organizers from the property last month.
Residents and tenant organizers praised the U.S. Department of Housing and Urban Development's actions and demanded housing officials pressure Apex into selling to a "responsible" owner at a news conference last Wednesday.
The conditions at Ellis Lakeview reflect "the owner's business model," State Sen. Robert Peters (D-13th) said. "This practice is deliberate and systemic … the owners have disqualified themselves in their ability to own and operate this sort of property."
Tenants have said Apex's links to owners and managers of other troubled affordable housing properties raise major red flags. Tax filings and county-level records show ties between Ellis Lakeview's owner and:
Apex Big Chateau AR, the owner of affordable apartments in Little Rock, Arkansas, that went months without gas and hot water during winter 2019–2020.
The Better Housing Foundation, which was the subject of a 2018 Chicago Tribune investigation. The Tribune found living conditions at 64 of the foundation's 81 Chicago properties were "so bad that the Chicago Housing Authority has forbidden its aid recipients" from living there. As tenants lived in squalor, foundation affiliates made millions of dollars in fees.
Housing nonprofit JPC Charities, which in 2016 owned an Indianapolis complex where the Marion County Health Department ordered a cleanup of mold and mildew. That same month, a tenant who withheld her rent until conditions at the complex improved was set to be evicted.
JPC Charities also shares a Newark, N.J., mailing address with real estate company PF Holdings. A Georgia jury found PF Holdings responsible for a man's death in an apartment tower owned by the company.
Charles Hart of Columbus, Georgia died in a 98-degree room with a malfunctioning air conditioner in 2017. Two years later, the jury ruled PF Holdings owed Hart's family $125 million.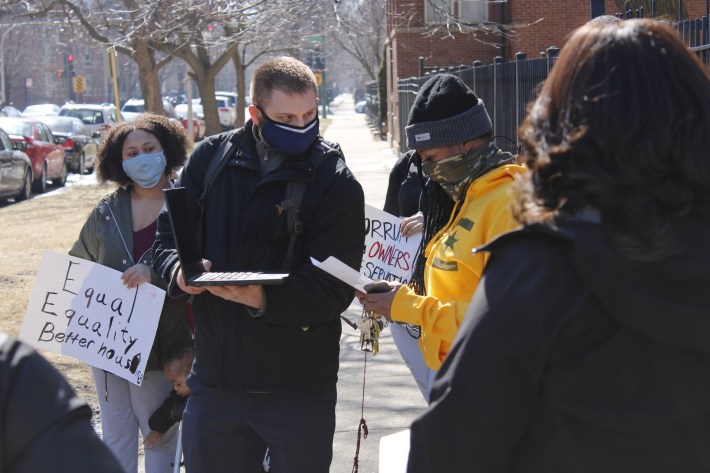 The Chicago Department of Buildings has referred Ellis Lakeview code violations to city lawyers to file a case in Cook County Circuit Court, city spokeswoman Mimi Simon said Thursday.
The city filed a case in buildings court against Apex over the broken elevator that has left residents of the 11-story tower with only one working elevator for a year. The next hearing is set for Monday.
City permits for elevator repairs were issued Jan. 15, but the west car is still out of service pending repair and replacement of cables, Simon said.
In 1996, when Ellis Lakeview was owned by New York-based Alexander and Shaffner Realty, 9-year-old Derrick Manns died after falling down an elevator shaft in the building. Though the elevator car was two floors above Manns at the time, the doors opened when he leaned on them.
Residents and then-Ald. Toni Preckwinkle told the Tribune they had long been concerned about elevator safety and living conditions at Ellis Lakeview.
RELATED COVERAGE:
Mice-Infested, Trash-Ridden Kenwood Apartment Building Is Falling Apart, Residents Say As They Beg Feds For Help
Despite Promises From Feds, Kenwood Apartment Residents Still Living With Faulty Plumbing, Insect Infestations, Rent Mixups
Subscribe to Block Club Chicago. Every dime we make funds reporting from Chicago's neighborhoods.
Already subscribe? Click here to support Block Club with a tax-deductible donation.