SOUTH SHORE — At least two South Shore residents have filed a lawsuit hoping to block the city's efforts to open a "respite center" at a former neighborhood high school to help migrants bussed to Chicago.
At least 250 and up to 500 migrants at a time will receive short-term, basic amenities at the old South Shore High School, 7627 S. Constance Ave., city officials announced last week. They'll be housed at the former school as they await placement in a shelter amid a "humanitarian crisis" that's pushed Chicago's shelter system to its limits.
The plans for the respite center were announced as migrants sleep on floors at overcrowded police stations, with some eating expired food and going without beds and showers. But many South Shore residents have rejected the plans, saying it's unacceptable for the city to act quickly to help the migrants after decades of ignoring Black residents' needs.
Natasha Dunn, J. Darnell Jones and "South Shore neighbors" are plaintiffs to the lawsuit filed Thursday in Cook County Circuit Court against the city and Chicago Public Schools.
They argue using the former school as a temporary shelter violates zoning laws and the terms of the lease between CPS and the city, which allowed the property to be used as a police and fire training center until 2028, attorney Frank Avila said at a press conference Thursday.
The respite center plans pose "a potential threat to the safety, property and overall well-being" of South Shore neighbors, according to the complaint. They also cited a lack of transparency from city officials and slow police response times in the neighborhood as reasons for their effort to block the shelter from opening.
"It's not just about the people [in South Shore], it's also about … the immigrants themselves, because you're putting them in areas where there's a different culture, a different language," Avila said. "They also are in an area of high crime, so we're further traumatizing those who may have PTSD or other issues."
Avila filed a temporary restraining order Wednesday, seeking to prevent migrants from moving in "until the court has had the opportunity to fully consider the merits of the plaintiff's claims." A hearing on the petition is expected tomorrow or Monday, he said.
Kristen Cabanban, a spokesperson for the city's Law Department, declined comment citing pending litigation. Representatives from Chicago Public Schools did not immediately respond to requests for comment.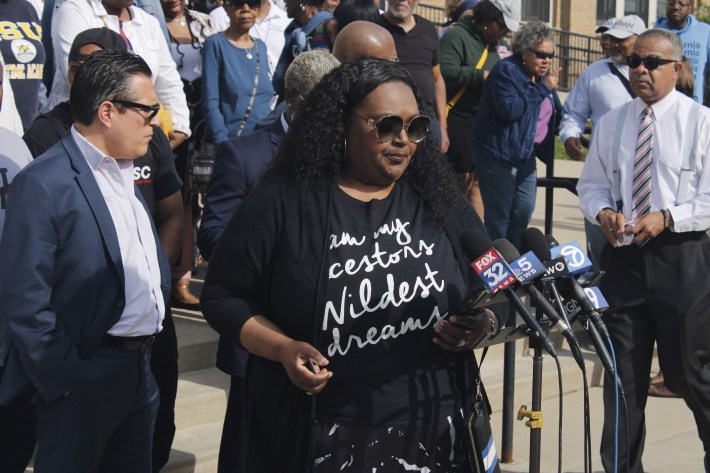 City officials attempted to outline their plans for temporary migrant housing at the old South Shore High and underscore the severity of the migrants' situations at a meeting last Thursday, but were drowned out by jeers from the crowd at nearly every turn.
Neighbors blasted the city for closing schools in Black neighborhoods, criticized slow or nonexistent police responses and demanded more services for people experiencing homelessness.
City officials for years have ignored residents' pleas for help around a myriad of issues in the predominately Black neighborhood, so it's insulting for the city to jump into action to help the migrants, numerous neighbors said.
"While we recognize this is a humanitarian crisis [that] may constitute an emergency for the city of Chicago, it does not constitute an emergency for the South Shore community nor the residents of the 8th Ward," Ald. Michelle Harris said to start the meeting.
The city's lack of communication before finalizing the old South Shore High plans made a difficult situation worse, neighbors have said.
Spokespeople for Lightfoot and Harris initially declined to answer Block Club's questions about the building's future, though they later confirmed plans to house migrants there.
Officials previously opened a migrant shelter at a closed school in neighboring Woodlawn with a process that sowed confusion and led to months of outrage from neighbors and an apology from a city commissioner.
"Poor communication" about the South Shore plans, capacity limits on last week's meeting and an "extremely disrespectful" tone from city officials during the meeting were breaking points for the neighbors who filed the lawsuit, said Dunn, founder of the Black Community Collaborative.
"We had to do this," Dunn said. "It's enough of us talking — it's enough of that. We can't continue to let our elected officials lie to us."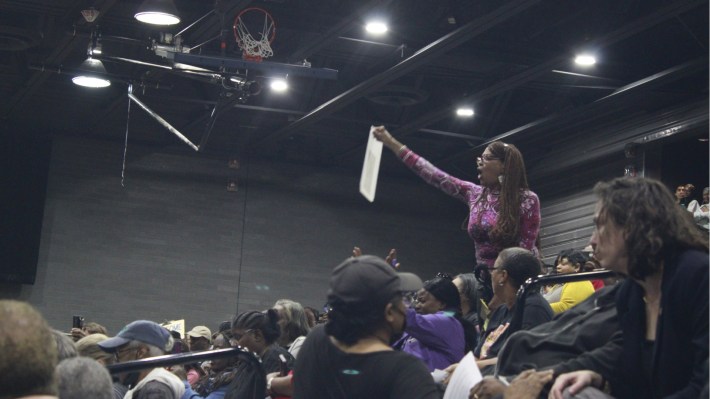 The South Shore Compact — made up of South Shore Works, the South Shore Chamber and the Neighborhood Network Alliance — also opposes the respite center plans. The group was a driving force behind the neighborhood's quality of life plan released last year.
Among the group's demands are to use the former school "for community purposes only," for the city to prioritize its resources to "improve the quality of life" of existing residents and a temporary ban on accepting more migrants to Chicago.
Neighbors have demanded to no avail that the city use the former South Shore High to meet the community's needs since it was closed in 2014, Dunn said.
"This school belongs to us, because we fought for this school," Dunn said. "… We allowed [the city] to have a police academy here. Most of us didn't want it, but some of us did and we let it go. This time, we can't let this go."
Subscribe to Block Club Chicago, an independent, 501(c)(3), journalist-run newsroom. Every dime we make funds reporting from Chicago's neighborhoods.