BUCKTOWN — Since Ald. Scott Waguespack (32nd) was made chair of the City Council's Finance Committee on May 29, the Progressive Caucus leader has found himself neck-deep in the remnants of Ed Burke's domain.
Burke ruled Finance for decades, helming the city's most powerful committee. He enjoyed police guards and drivers, a big budget, a huge staff and often unchecked power over issues coming before him.
But the feds cracked down on the city's longest serving alderman, charging him with multiple corruption allegations after tapping his cell phone and sending a fellow City Hall heavyweight, Danny Solis, into meetings with him wearing a secret wire.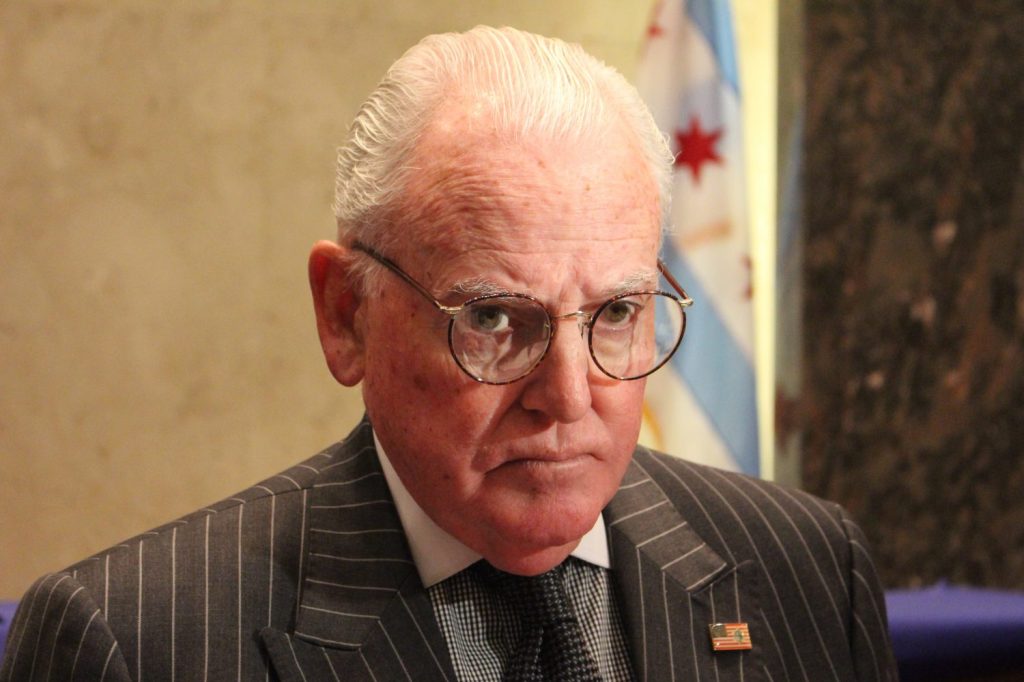 Burke resigned from the Finance Committee after the charges were revealed — but his 14th Ward constituents still re-elected him their aldermen. Burke has pleaded not guilty and has said he's done nothing wrong. He could not be reached for comment for this story.
Now Waguespack, for years the voice of dissent in the City Council, rules over Burke's Finance realm — which Waguespack calls Burke's "lucrative fiefdom."
What has he found so far?
"We're finding out about things I had never heard of," Waguespack said.
The Finance Committee reviews and votes on pretty much anything that involves city money — from general obligation bonds to Special Service Area funds to privatization schemes.
The now-hated parking meter privatization deal, for example, was the "most non-transparent thing ever," Waguespack said.
Here's what Waguespack discovered so far:
Burke had about 76 people working for him in 2018. (Waguespack has initially kept on about a dozen of those staffers to assist in the transition, but those staffers will be gone by Nov. 1)
The Finance Committee operated as "its own fiefdom" with a website, HR system and email server independent from the rest of City Hall.
The office had a full-fledged camera system and a series of safety deposit boxes, which were internal to Burke's office.
Today, computers and file cabinets remain in total disarray from when the feds ransacked the office earlier this year.
"Literally, within the last few days, we have uprooted and upended, I think, a system that was in place for far too long that was detrimental to taxpayers across the city," Waguespack said. "We're going to change that."
Waguespack insists he's bringing reform to the powerful committee.
"We are going to level the playing field for everybody," he said.
Under the leadership of new Mayor Lori Lightfoot, Waguespack was appointed and elected the chair of the Finance Committee, a plum assignment and a sign, many consider, that Lightfoot is serious about change in a place that has stymied reformers before.
"When you look at the inefficiencies, the lack of protocols, the loss of tens of millions — or possibly hundreds of millions — over the last few years to taxpayers … [the loss] is astronomical," he said.
Related via Propublica IL: At Chicago's City Council, Committees Are Used to Reward Political Favors and Fund Patronage
Moving forward, Waguespack has a vision for transforming the Finance Committee from its current state — a "lucrative" side gig for Burke and his compatriots — to a system that opens the doors for transparent financing in Chicago, he said.
His first challenge will come at 10 a.m. Tuesday, when he leads his very first Finance Committee meeting in City Hall Council Chambers. (Read the agenda here).
What Waguespack wants to do won't happen overnight. But looking long-term, here's what's on his agenda:
Cut the committee's budget in half from $1.8 million to $675,000
Establish Inspector General oversight over each City Council committee
Overhaul the city's Worker's Compensation program, which for decades was controlled by Burke
Schedule Finance Committee public hearings during which residents can publicly question leaders of the city pension system and the worker's compensation program
Bring environmental and health issues, such as water shut-offs and lead-based water, before the Finance Committee
Bring Cook County Assessor Fritz Kaegi before the Finance Committee to discuss what City Council can do to make property taxes more equitable
Replace Burke's former staffers by November 1
Create a new document management system and an official outlining of work duties
From 'ultimate outsider' to 'a new day'
Ultimately, Waguespack said he wants to run the Finance Committee the same way he runs the 32nd Ward.
Not everyone is going to get what they want. But when they walk in the door, they "know they're going to get a fair shake," Waguespack aid.
"That can really transform a city," he said. "[In the 32nd Ward], people know, hey, you can come in our office, you can ask for stuff. We're gonna say 'no' sometimes, but we're saying 'no' and we're telling you why we're saying 'no.' And that's what we should be doing at the city level, too."
Related: Three Aldermen — La Spata, Hopkins, Waguespack — Join Forces To Meet With And Update Residents
That's good news to people like Jonathan Schnapp who live in Bucktown and do business in the rapidly-changing neighborhood.
Schnapp moved to Bucktown from Brooklyn and opened The Royal Palms, a shuffleboard club at 1750 N. Milwaukee Ave. while Waguespack has been the neighborhood's alderman.
While he's not too familiar with what the Finance Committee is or does, Schnapp told Block Club Chicago he was thrilled when he learned Lightfoot had appointed Waguespack to a leadership role.
"We heard a lot about out Chicago politics, obviously — it comes with a reputation," he said. "This dude is so above board, he wouldn't let me buy him a beer on opening night. I'm so happy that we lucked out into an alderman like this."
During an early June gathering of Wicker Park neighborhood leaders, Wicker Park resident Grant Drutchas thanked Waguespack for being the "ultimate outsider" in City Council.
Drutchas then asked Waguespack, to what did the alderman "owe" his Finance chairmanship?
Related via The Daily Line: Lori Lightfoot's First City Council Meeting Tests Her Plan To Elevate Waguespack, Remake Leadership
"To what do you owe this election to Finance Chair? Was it Mayor Lightfoot going to bat for you?" Drutchas asked. "Was it changing views of city councilmen?"
"How did I get to this point?" Waguespack replied, with a laugh. "'Cuz I loved flogging myself for the last 12 years."
Waguespack said Lightfoot went to bat for him, and that's probably because he's someone who "sticks to his guns." He voted against Rahm Emanuel more than any other alderman from April 2017 to November 2018 except for Ald. David Moore (17th), The Daily Line reported.
Leah Root, another Wicker Park resident, also thanked Waguespack.
"This is a justice," she said. "I do feel like with the new mayor, and with you, it's a new day."
Do stories like this matter to you? Subscribe to Block Club Chicago. Every dime we make funds reporting from Chicago's neighborhoods.