UPTOWN — A building owner wants to replace a former grocery store on Argyle Street with a six-story building including apartments and retail stores.
The city has already issued a demolition permit for the building at 1101 W. Argyle St., records show. It could be replaced by a building with 16 apartments, ground-floor retail and an eight-car garage, according to building permit records.
The construction permit has not yet been issued, and portions of the permit application were denied, city records show.
The corner building at Argyle Street and Winthrop Avenue is already vacant. Hoa Nam Grocery closed in May 2020. Kim Huot Jewelry, also a tenant of the to-be-redeveloped building, has moved to 1046 W. Argyle St.
If permitted, the project will be one of the first residential developments to come to Uptown's Argyle Street in recent memory.
Uptown's development boom has mostly eluded the Asia on Argyle district as the area surrounding it is being built up. That includes the Draper, a converted office building at 5050 N. Broadway with 342 apartments. The second portion of the Draper development on the other side of Broadway is underway, bringing another 180 apartments to the northern portion of Uptown.
The Bridgeview Bank Building, just south of Argyle Street at Broadway and Lawrence, is being converted into 176 apartments.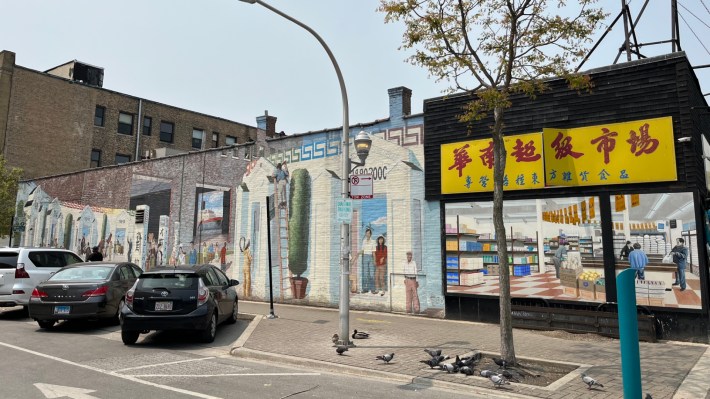 The building at 1101 W. Argyle St. was last sold in 2014, when it was transferred from a trust to another member of the owner's family, property records show. The owner did not respond to a request for comment.
The side of the former grocery store building includes the "Roots of Argyle" mural, which was created as part of a centennial celebration marking the evolution of Argyle Street from 1900 to 2000, according to Uptown United.
The existing building has not yet been demolished, though a permit for the work was issued in late April.
Once completed, the new building and its residents will be on the same block as the newly rebuilt Argyle Red Line stop.
Listen to "It's All Good: A Block Club Chicago Podcast":