COOK COUNTY CRIMINAL COURTHOUSE — After two partial days of deliberations, a Cook County jury Friday convicted Chicago Police Officer Jason Van Dyke of second-degree murder in the 16-bullet shooting of teenager Laquan McDonald in 2014.
He was also convicted of sixteen counts of aggravated battery with a firearm and acquitted of official misconduct. His bail was immediately revoked, and he was taken into custody.
The second degree murder conviction means Van Dyke avoided the more serious conviction of first-degree murder, which would mean a sentence of 40 years to life in prison. He now faces at least six years in prison, the mandatory minimum on the aggravated battery convictions.
Van Dyke appeared solemn but largely emotionless as the verdict was read out, taking a sip from a water bottle but otherwise looking ahead without emotion.
Cheers went up outside the courthouse from protesters who had called the verdict a potentially defining day for Chicago, which has struggled with racial problems for decades. McDonald was black. Van Dyke is white.
"I want to thank William Calloway and Brandon Smith, because if it wasn't for them being vigilant and paying attention when everyone else wasn't, we wouldn't be here today," activist Jedidiah Brown said.
The crowd around him chanted, "we finally got justice!" 
But not all of the protesters at the courthouse were satisfied with the verdict. Many had said before the verdict was read that anything short of first-degree murder would be an injustice.
Eric Russell, president of the Tree of Life Justice League of Illinois, said the verdict does not provide justice because it "doesn't take the target off our kids' backs. We still have cops coming into our neighborhoods and acting as judge, jury and executioner."
Calloway, a community activist who pushed for dashcam video of the McDonald shooting to be made public, broke down in tears after the verdict.
"I know the whole country is looking at Chicago right now, and I just want the country to know, it was only because of God that we got justice," he said. "We did a lot of praying, we did a lot of work. We was peaceful when we didn't want to be peaceful. There were so many police shootings that happened after Laquan McDonald and we remained peaceful. After his tape was released, we still remained peaceful."
He also said he hopes the verdict inspires people around the country.
"To our brothers and sisters in New York, LA, Baltimore, Ferguson, Dallas, everywhere across the country where we see these police injustices happening, the buck stops here in Chicago," Calloway said. "We pray and we hope that this gives some inspiration and encouragement, not only to the city of Chicago, but all cities across America, to let them know that excessive force and unlawful and unjustified and unreasonable use of force by police officers will not be tolerated."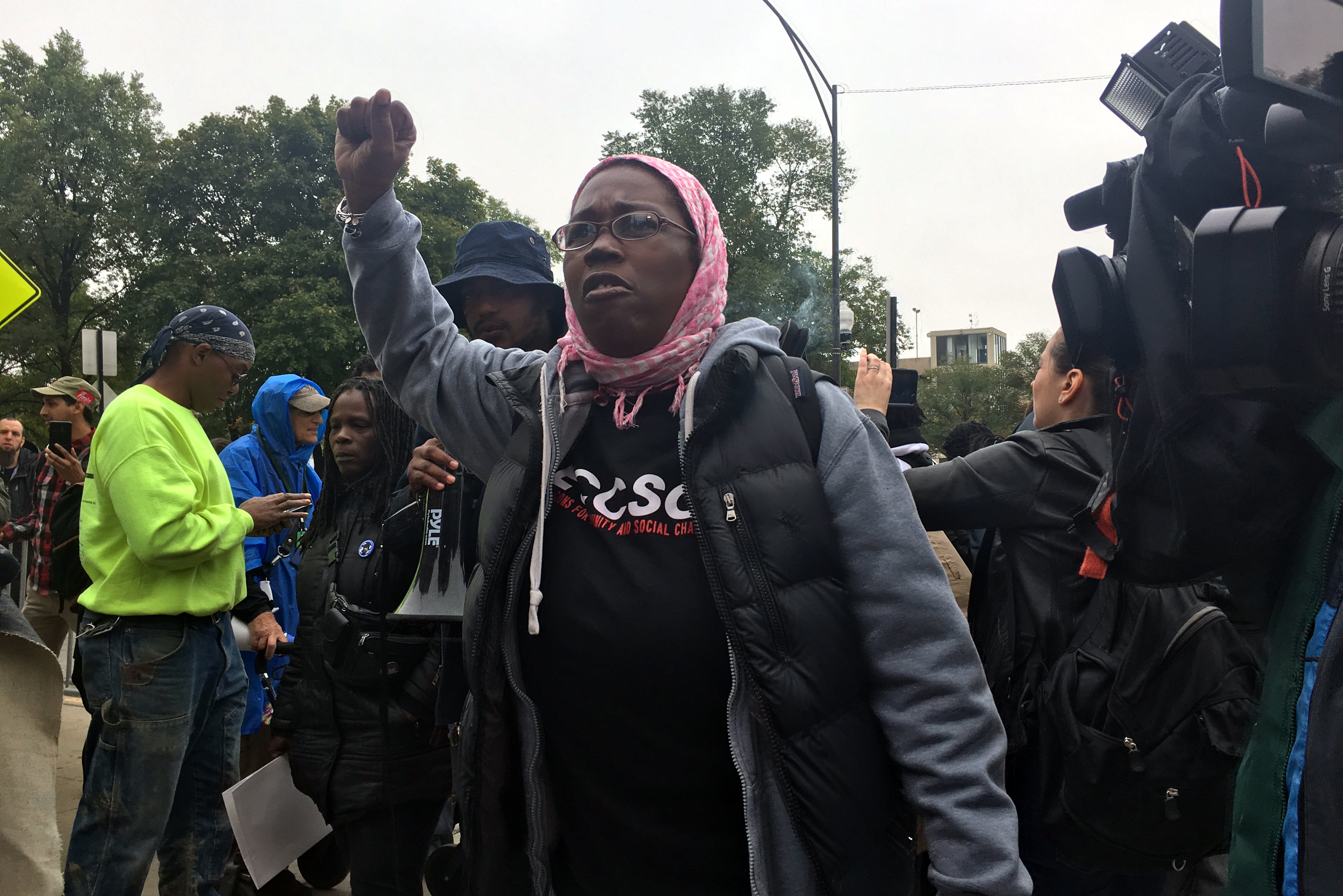 Protesters assembled outside City Hall before the verdict was read. Most of the building had been cleared out in the hour between the announcement that a verdict was in and the reading of it.
That scene played out around the Loop, as workers filed out of Downtown in advance of the verdict. Commuter trains were crowded as some Downtown workers sought to avoid potential protests.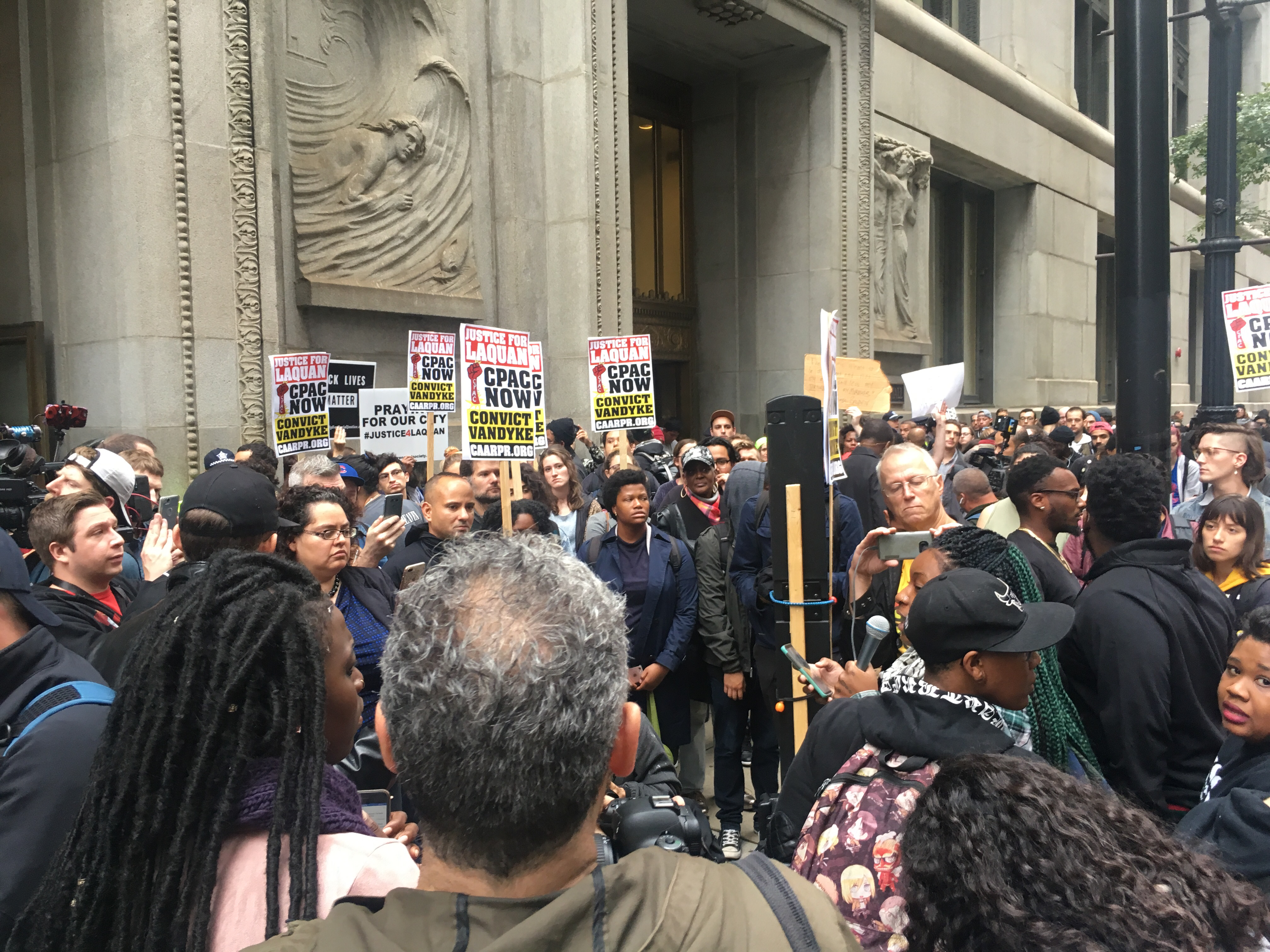 Van Dyke's second-degree murder conviction carries a potential sentence of probation to 20 years in prison. Additional years could be added for each aggravated battery charge, with a mandatory minimum of six years in prison.
Van Dyke, 40, faced charges of first-degree murder, official misconduct and aggravated battery — the latter included 16 counts, one for each shot he fired into the 17-year-old.
Jurors, who began deliberating at lunchtime Thursday, were also allowed to consider second-degree murder charges, which means there was a mitigating factor in the murder that did not justify it, but lessened the potential sentence.
Lead special prosecutor Joseph McMahon praised the jury for their effort.
"I'm satisfied with the result, and I hope that it begins a new chapter in relationship between law enforcement and the community," McMahon said. "They reached a just verdict and I am pleased with that outcome."
Van Dyke's attorney, Dan Herbert, expressed some degree of relief from the verdict — but said he knew there was no way Cook County jurors would completely exonerate.
"In this climate, and with this case, I told Jason Van Dyke, I said, you just went into a heavyweight boxing match against Mike Tyson. And you went in there with both your hands tied behind your back. And you're still standing," Herbert said.
"We don't believe the evidence supported the conviction, but at the end of the day, with the Cook County jury, and with the pressure we had in this case — I mean, we started this case 50 yards behind the starting line. And so, we are extremely pleased that Jason Van Dyke and his family, they have their life back. They were looking at very dire circumstances."
Herbert called Van Dyke a "sacrificial lamb" for politicians and community leaders, and said he hopes to get the convictions reversed on appeal.
McDonald, who had the drug PCP in his system and was armed with a 3-inch blade, was stealing truck radios when Chicago police officers in Archer Heights called in a request for a Taser on Oct. 20, 2014, prosecutors said.
Van Dyke and his partner responded to the call. Within seconds of arriving on the scene, Van Dyke pulled his gun and emptied his clip into McDonald, shooting the teen 16 times.
Prosecutors say police dashcam video clearly shows McDonald walking away from officers. Van Dyke testified McDonald made a move toward him after repeatedly being told to drop the knife.
Prosecutors also argued that there were 10 officers on the scene, and no one other than Van Dyke fired shots.
Video of the shooting, which was released via court order in November 2015, sparked citywide protests that shut down the Mag Mile.
The day the video was released, Van Dyke was charged with first degree murder.
The political fallout after the shooting and how it was handled was swift. Cook County State's Attorney Anita Alvarez soon lost a primary challenge to now-State's Attorney Kimberly Foxx. Mayor Rahm Emanuel fired Police Supt. Garry McCarthy. Emanuel himself just announced he wouldn't seek reelection, though not citing the McDonald shooting as the reason.
He released a statement after the verdict, urging people to listen to each other.
"As we absorb their decision, let us continue to hear each other and partner with each other — as public servants, police and members of the public — and let us ensure our collective mission is what endures for generations to come," the mayor said. "We come from many neighborhoods, many walks of life and many places throughout the world. But for all of us, this is our home. This is the city we love."
Van Dyke, suspended without pay from the Police Department, had remained free on bond during the trial.