NEAR WEST SIDE — Migrants are being temporarily housed at police stations while the city's shelters are at capacity — but the stopgap is reaching a breaking point.
A migrant, who asked not to be named, told Block Club people who showed up Monday evening at the 12th District station at 1412 S. Blue Island Ave. were turned away and locked out.
Ald. Byron Sigcho-Lopez (25th), whose ward includes the station, said Tuesday he heard about the situation from district Cmdr. Beth Giltmier. The alderman said he was told the police station had nearly 100 people staying inside and officers had to turn away people because there was no more room.
RELATED: Here's How To Help The Latest Wave Of Migrants Coming To Chicago
Officers took some people to the 9th District station, 3120 S. Halsted St., which reportedly had fewer people staying there, Sigcho-Lopez said.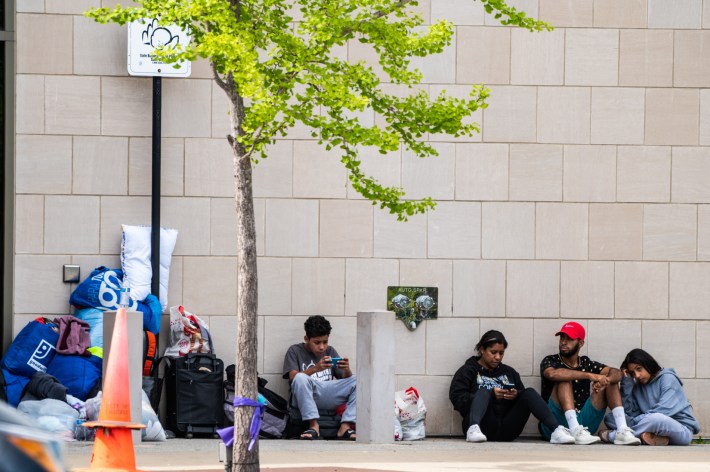 The Police Department referred questions to Mayor Lori Lightfoot's office, which didn't respond.
Sigcho-Lopez said this practice of relying on police stations as shelters is "a ticking time bomb."
The Southwest Side alderman has advocated for temporary shelters in his ward since fall, but he said city officials have repeatedly brushed him off. Sigcho-Lopez said there are churches and closed schools he's proposed as temporary shelters, but there's been no move by city leaders to take action.
"We have Latino communities who are ready, but we need help," Sigcho-Lopez said. "We're the last ones to be included. We have the infrastructure, the bilingual infrastructure, but we can't do it without help."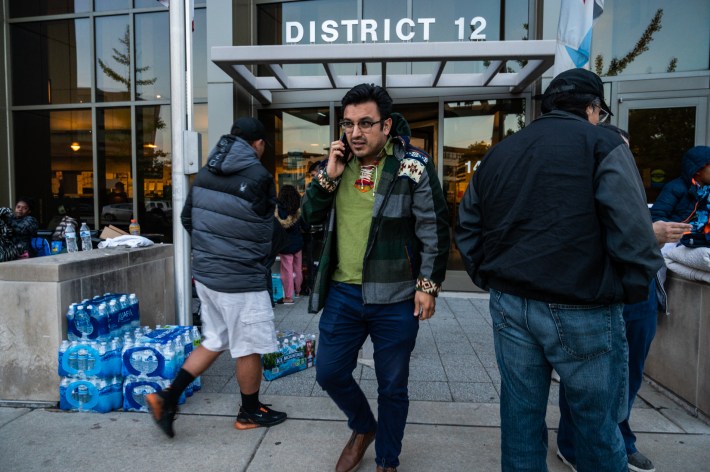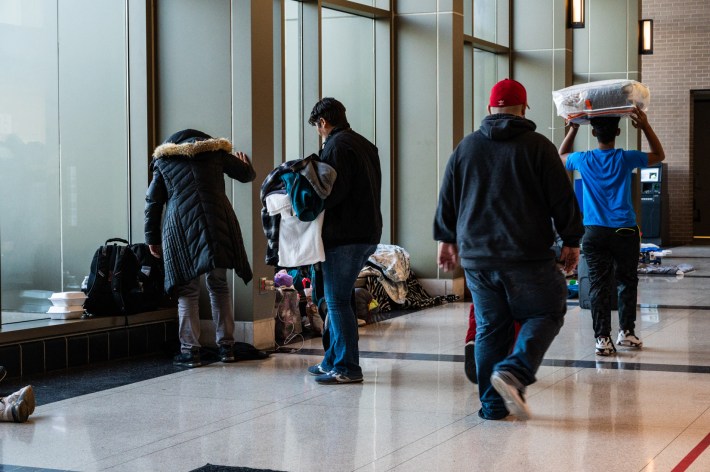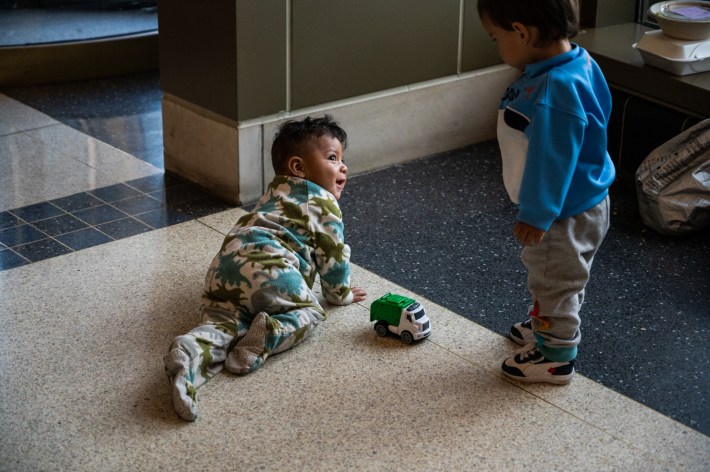 After an initial wave last fall, large groups of migrants again began to arrive in Chicago a few weeks ago, straining already overburdened city resources, officials said. 
At least 8,500 migrants have come to Chicago since August, many fleeing economically devastated nations like Venezuela and Colombia. Many have been bused to the city from Texas, although some came via one-way plane tickets.
Forty-eight more migrants arrived Tuesday in Chicago, and the city is seeing 100-200 new migrants per day, Lightfoot said at a news conference. Chicago's officials don't expect the buses from Texas to stop — and the crisis could worsen, with larger groups of migrants expected in the weeks ahead, she said.
As of Friday, about 3,100 migrants were being housed in temporary shelters, a city spokesperson said.
Alderpeople like Sigcho-Lopez and advocates have blasted city officials for the apparent lack of a coordinated, citywide plan to shelter and help migrants. Lightfoot declared a state of emergency Tuesday, saying it will free up resources and allow the city to bring in the National Guard for help. Mayor-elect Brandon Johnson has not offered any specific strategies for when he takes office next week.
RELATED: As Lightfoot Departs, A 'Woefully Unprepared' Chicago Leaves Migrants In 'Inhumane' Conditions For Weeks
The city is trying to create respite centers and temporary shelters for migrants — but it can be challenging to find appropriate housing, Lightfoot said. That's because the city is looking for buildings where people can comfortably stay and access showers, bathrooms and warm meals, she said, saying it's not just enough to have a large building.
"We're not just warehousing people," Lightfoot said at a news conference. "We're not gonna treat them in the same way that we've seen [Texas] Gov. [Greg] Abbott do, without any regard for their humanity."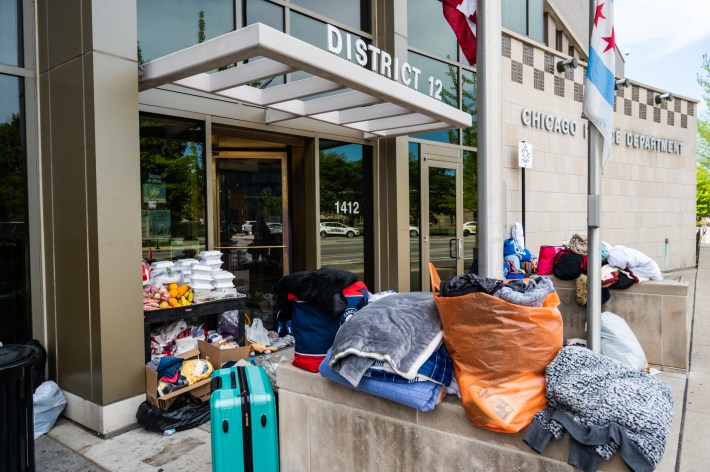 Lightfoot said there aren't any plans to use places like McCormick Place or Navy Pier as shelters. Sigcho-Lopez also said converting such spaces into shelters would be a waste of money.
"We're still not planning it strategically. We're not responding accordingly," he said. "We must plan with local communities."
The city has also faced intense backlash over plans to open shelters and respite centers in Woodlawn and South Shore, with many residents saying their input isn't being considered.
Sigcho-Lopez said the city should be doing more listening "instead of imposing their will on us."
Dozens of people and their belongings and donated supplies were in and around the station Tuesday afternoon.
Bags of clothes, food and kids toys were strewn about the plaza leading up to the building as people were outside on the sidewalks. Neighbors periodically dropped off donations and asked folks what they needed: shoes, suitcases, work?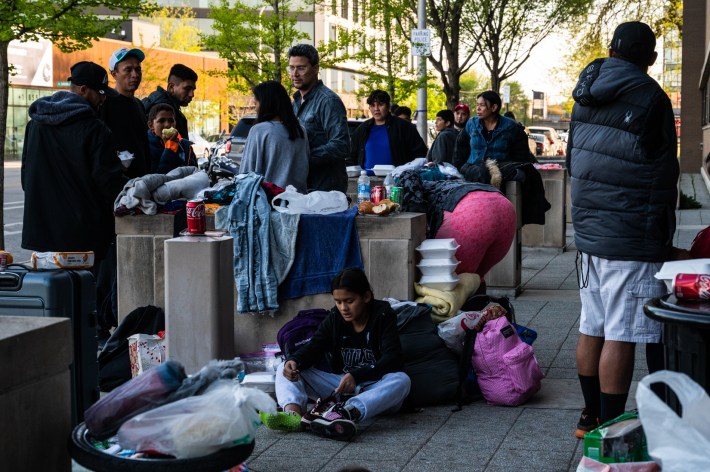 Venezuelan migrant Franyunior Malave, who was seeking refuge at the station Tuesday, wore a pair of shoes so small his toes curled. He abandoned them and stood in his socks on Blue Island Avenue.
Malave said he was concerned for people around him after spending many nights sleeping on the station's floor.
"The children feel the cold in their lungs, and we adults feel it," he said. "Imagine the babies."
Like other migrants, Malave said he was grateful for the outpouring of support from Chicagoans.
While Malave waited outside, a resident arrived and gifted him a pair of new Reeboks, which he noted would have cost $100 back home. Malave sang the stranger's praises and prayed for him.
"Chicago has treated us better than everything," Malave said. "God has given us the victory to get here to Chicago."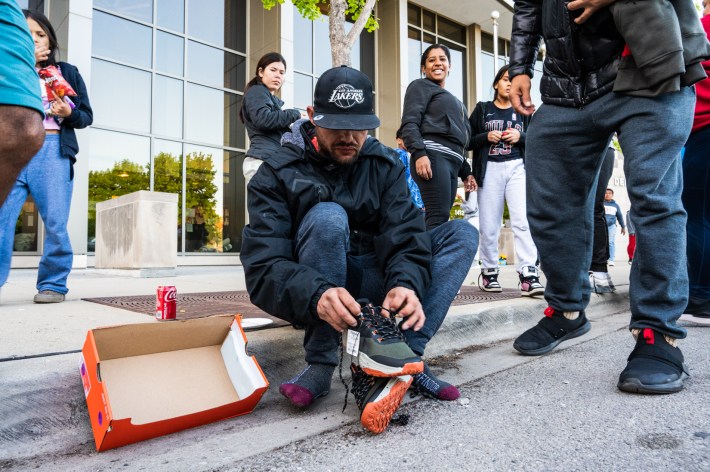 Carlos Salas Varon has been at the station for two weeks in hopes of shelter.
"They have taken very good care of us, very good care," he said.
Migrants were told to remain outside of the station 10 a.m.-6 p.m. daily, Salas Varon said, but he complimented district officers for being attentive of the children.
"We have to thank God that we don't sleep on the street and they provide us with care so that we can stay there at night," Salas Varon said.
Salas Varon is here to escape political persecution and to find work, he said. Many migrants around him were also looking for a job, as well as donations of luggage, clothing and food as they acclimate to their new home.
Later Tuesday, Sigcho-Lopez and his staff arrived as a yellow school bus shuttled 29 migrants out of the Near West Side station. The migrants who boarded the bus said did not know exactly where they were being taken, but they assumed they were headed to a shelter.
They clamored for a spot on the school bus and excitedly loaded up their belongings as men, women and children left the station, where some had stayed for two weeks.
Yomerly Alvarado said she was happy "after waiting, sleeping on the floor, waiting for them to tell us" when they would be housed.
"I don't know where they are taking us. To a shelter, I imagine," she said. "I am very excited … to work, to start what we came [here] for."
But the migrants instead were brought to another police station, where they were turned away. They were then shuffled to a temporary shelter, one migrant told Block Club via WhatsApp.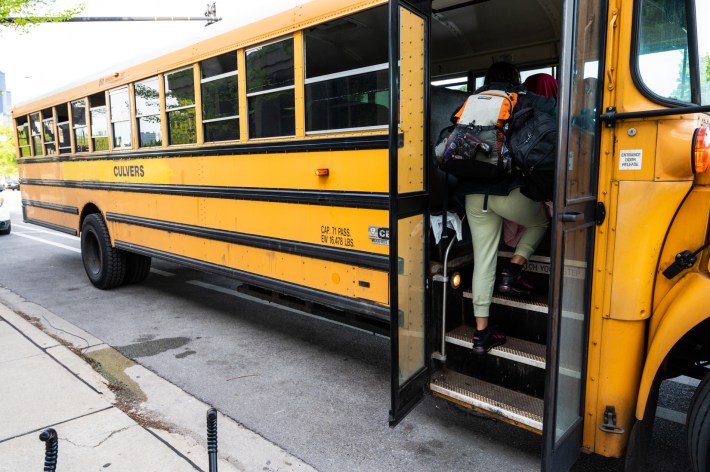 Infuriated by the shuffling of the migrants, Sigcho-Lopez called around to rally residents to help move the remaining migrants from the station to a temporary shelter being prepared inside an empty building on Racine Avenue.
Within an hour, neighbors drove up and filled their cars with migrants and their personal items, taking them to an empty building in the area that a local anti violence group has been using.
"In the end, it's a community effort, but it's shameful," Sigcho-Lopez said. "The city must act with a plan. This is just inhumane. … We're going to create a community space where, at the very least, they can be treated … in humane conditions, but we know that more people are coming."
Sigcho-Lopez is against building massive shelters, saying that money could be used to build "10,000 units of housing."
"That's how corrupt the city of Chicago is," he said. "But the people of Chicago are here giving diapers, giving formula [to the young children seeking shelter].
"And the people of Chicago are gonna get us out of this crisis."
Block Club Chicago's Kelly Bauer, Alex V. Hernandez and Quinn Myers contributed.
Subscribe to Block Club Chicago, an independent, 501(c)(3), journalist-run newsroom. Every dime we make funds reporting from Chicago's neighborhoods.