CHICAGO — Community organizations across Chicago need more supplies and helping hands to provide the latest wave of migrants with basic needs, medical care and legal help.
Chicago has already been pushed to the max trying to find shelter for the waves of migrants who have arrived in recent weeks, Mayor Lori Lightfoot said. Some families have had to sleep on police station floors as officials try to quickly create more temporary shelters.
Even more migrants are expected to come to the United States in the weeks ahead, with Texas Gov. Greg Abbott writing in a letter to Lightfoot this week his state expects to see up to 13,000 migrants per day. He has said he will resume bussing migrants to Chicago and other cities.
"It's an overwhelming situation," said Karina Ayala-Bermejo, president and CEO of nonprofit Instituto del Progreso Latino. "We're gearing up, but the total level of preparedness needed is not there."
Emergency aid efforts are no substitution for additional federal funding and policy changes that create easier pathways to citizenship, local community group leaders and officials said.
"But if it's any silver lining, we're learning how to create wraparound services for immigrants in new ways, addressing their needs how we can," Ayala-Bermejo said. "We're honored to help and walk alongside these families during their most difficult time."
Here's how Chicagoans can help migrants in the short term.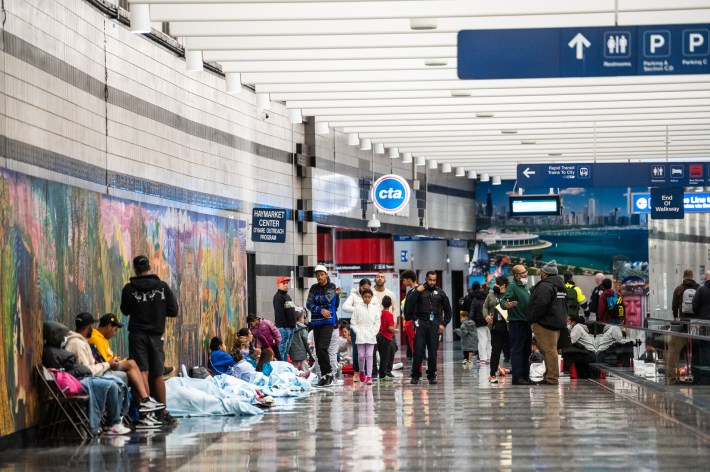 Donate Basic Supplies
The city has partnered with Instituto del Progreso Latino to create an Amazon wishlist where people can buy supplies for migrants, including pants, shoes, shirts, hoodies, backpacks, razor blades, shower shoes and laundry bags.
The wishlist is online.
Ayala-Bermejo said the items bought off the wishlist will be shipped to a secure location, with city workers and nonprofits distributing them to shelters and respite centers, including some police stations where migrants are taking temporary shelter.
People are also encouraged to donate "pricier but essential items" for families, including diapers and baby formula, Ayala-Bermejo said. The nonprofit, 2520 S. Western Ave., has a dropoff box outside and workers inside who can accept items.
Volunteers interested in helping distribute donations with Instituto can fill out an intake form online.
Hygiene supplies like sanitizers and medical kits, diapers and baby formula can also be donated to the Pilsen Food Pantry, 1850 S. Throop St., which has mutual aid networks to connect the items to migrants across the city, said Director Evelyn Figueroa.
Ayala-Bermejo and Figueroa said people should only donate new, unopened supplies and clothing.
And well-intentioned Chicagoans should not take supplies directly to police stations.
"The police stations are not their final destination, and it becomes more cumbersome for packages to be dropped off there and creates further clutter," Ayala-Bermejo said.
The Southwest Collective, an organizing group of neighbors and activists, is also asking for help to get supplies to migrants awaiting housing. Direct donations can be made here.
The group is also accepting small blankets, toiletries like toothpaste or toothbrushes, sanitary pads and dry shampoo. Items can be dropped off on the bench during business hours outside Southwest Collective's suite at 6500 W. Archer Ave.
Neighbors in the 40th Ward can also drop off supplies 10 a.m.-3 p.m. Monday-Friday at Ald. Andre Vasquez's office, 5620 N. Western Ave. The ward is looking for blankets, rolling suitcases, menstrual pads, diapers, juice boxes, yoga mats or sleeping bags, fever reducers for kids, compostable utensils and pre-paid gift cards. Volunteers of all kinds can also sign up here.
Several North and Northwest Side elected officials are collecting supplies like hygiene products, medicine, food and other essentials are their local offices. Find out more here.
In Lakeview, families of migrants are staying at the 19th District police station, Ald. Tom Tunney (44th) said in an email update.
"Our police stations are not equipped to house families, many with young children, and basically all of the city's designated shelters are at maximum capacity," Tunney said.
Tunney's office is accepting food, cots and other goods for the migrants, he said. The people are also in need of translation services and more. Anyone looking to volunteer or get involved should email migranthelp19@gmail.com.
Lakeview Lutheran Church, across from the police station at 835 W. Addison St., has also launched a GoFundMe raising money to buy goods for the migrants, including transportation cards, phones and sim cards.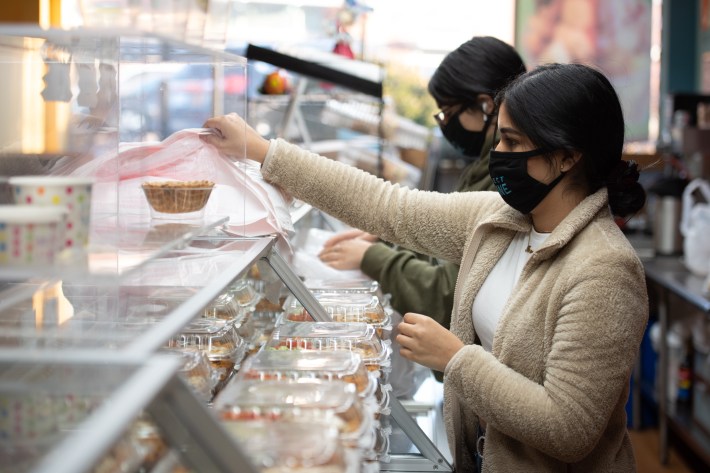 Give To Food Pantries Serving Migrants
Officials at food pantries across the city said they've responded to a significant increase in need over the past year, including from Venezuelan migrants.
The Sun-Times reported earlier this week that some migrants at police stations were given expired food by well-wishers, so pantries are encouraging people to provide new, unopened food or donate directly.
"Cash is king when it comes to helping feed people," Figueroa said. "It gives us the infrastructure to provide healthy food, like fruits, vegetables and hot meals."
Donations to Pilsen Food Pantry can be made online. Donations to Nourishing Hope, a food pantry which also serves people with Spanish language services in Humboldt Park, can be made online.
Both organizations also try to match people with dignified and culturally appropriate food. Volunteers to pack and distribute food can sign up here or here.
People interested in making direct dropoffs should check their labels and look for "shelf-stable stuff" like peanut butter or boxed premade meals like sandwiches and salads, Figueroa said. Hours for dropoffs at 1850 S. Throop St. are online.
The Pilsen Food Pantry has stocked up on some items in preparation of another wave of migrants, Figueroa said. Families entering shelters often cannot bring food with them, making the need ever more constant, Figueroa said.
"People who come often have the clothes on their back and whatever little money they've saved in their pockets," Figueroa said. "We want to help so folks don't have to spend their already limited dollars on eating."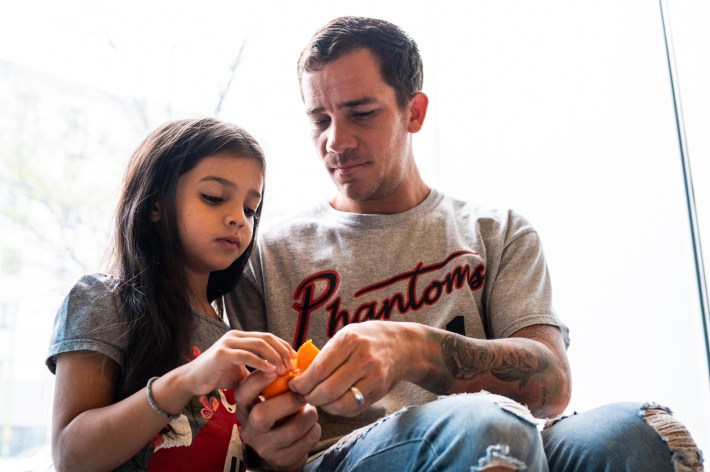 Support Medical Care
Many migrants come to Chicago after fleeing persecution in Venezuela, which has struggled with political upheaval and an economic crisis resulting in severe food and medicine shortages, surging inflation and rising unemployment and violent crime.
The long, arduous and often dangerous journey through South America, across the border and then by bus to Chicago can leave many people with injuries and trauma, said Laura Ciresi Starr, external affairs director at CommunityHealth, a volunteer-based health center.
CommunityHealth has three clinics in Chicago: 2611 W. Chicago Ave., 2759 S. Harding Ave. and 5413 W. Diversey Ave., which is connected to Onward Neighborhood House, a "welcoming center" for immigrants.
CommunityHealth has helped the uninsured migrants get vaccinations, primary care physicians, dentists, speciality care doctors, health education and counselors, among other services, Starr said. Children and pregnant mothers are connected to partners at Lurie Children's Hospital and Cook County Health, Starr said.
All medical care is free and supported by volunteers, Starr said.
Anyone interested in becoming a volunteer can find more information online, with no-experience roles like translation, triage, lab technicians and medical records assistants available. Primary and speciality care providers are in high need, particularly on evenings and weekends.
Direct donations to CommunityHealth can be made online.
"Just about everyone that has been on this journey to Chicago is in need of some sort of medical service and attention," Starr said. "And we're anticipating a very significant increase here."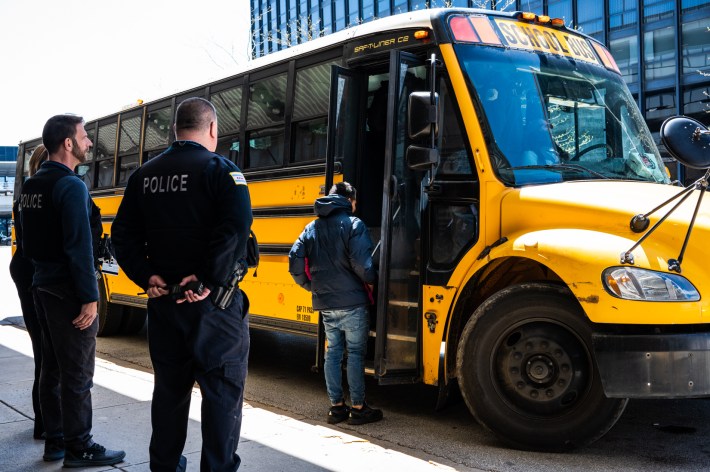 Legal Aid Services
Instituto has done more than 300 legal screenings for migrants, who must go through a three- to five-year process in hopes of being granted asylum status, Ayala-Bermejo said.
And the bar for asylum is "very high," so attorneys must map out specifics to help migrants make the most credible case possible, Ayala-Bermejo said. Migrants can only apply for a work permit after their asylum application is submitted, Ayala-Bermejo said.
To help move people through the process faster, the Instituto is actively recruiting volunteer attorneys and third-year law students, who can learn more online.
Instituto has four full-time attorneys and hopes to hire another one, Ayala-Bermejo said. To provide more legal services and other case management work, people can donate directly online.
Helping At Your Home 'With Cautions'
Ayala-Bermejo said she's heard of some Chicagoans "being innovative" during a time of immense need, allowing migrants to take showers or get some rest on couches.
Ayala-Bermejo doesn't discourage Chicagoans who want to go above and beyond, but she advises that people open up their homes "with cautions," given health and safety concerns. Helping people out of shelters also runs the risk of taking them off city priority lists for housing, Ayala Bermejo said.
Ayala Bermejo said she hopes the city and other nonprofits can organize an effort to make an Airbnb-style app, so welcoming homes can be opened up safely with the proper vetting.
Donate To The Chicago Police Station Response Team
One mutual aid group with more than 100 members, dubbed the Chicago Volunteer Police Station Response Team, is active at citywide stations where the most migrant families have been staying. The group is one of several that have brought homemade meals, extra clothing, bedding and medical assistance to families sleeping on floors and benches.
The group is accepting donations that will help volunteers pay for meals, specific items migrants need and basic supplies like forks, knives and napkins. Donations are evenly distributed to every police district and will help alleviate the cost for volunteers, who have spent hundreds on food and supplies for the arriving families, volunteers said.
Interested in joining the team of helpers? Sign up here.
Watch our "On The Block" TV show on The U, CW26 and MeTV.
Listen to "It's All Good: A Block Club Chicago Podcast":