JEFFERSON PARK — Officers went about their work Tuesday at the 16th Police District station while two kids played together in one corner of the lobby.
Nearby, Ivo Brandelli sat against the window, watching his 7-year-old daughter, Avril. They are among a recent influx of migrants arriving in Chicago, sheltering in police stations while officials scramble to find more permanent places for them to stay.
"At the airport, I talked to a policeman and they sent me here, and I have been here nine days, but I didn't think I was going to wait so many days," Brandelli said in Spanish.
Brandelli, 32, has lived at the station, 5151 N. Milwaukee Ave., with his daughter and wife alongside two other families as they wait for space in city shelters to open up. Calls are made to 311 every day to try to place the families, but the city is struggling to find room for them and desperately needs federal assistance to deal with the "humanitarian crisis," local officials and advocates have said.
Similar scenes are playing out at police stations and other city facilities across Chicago.
RELATED: After The Buses: Meet The Migrants At The Center Of Texas' Manufactured Crisis
More than 8,000 migrants have been sent to Chicago since late August — and officials have said the number of people coming has jumped in recent weeks, leading to the struggle for shelter. But they expect even more people to arrive in the days ahead.
The city has worked with partners to transport people to a shelter once space is available and has tapped community organizations to help with temporary shelter and other services, said Ryan Johnson, spokesperson for Mayor Lori Lightfoot.
As the days tick by, Northwest Side churches, neighbors and representatives have created a grassroots effort to make sure the families at the 16th District station have food, blankets, clean clothes, toys and toiletries.
The migrants have received supplies from neighbors that take up a small corner of the lobby, where they sleep on the floor.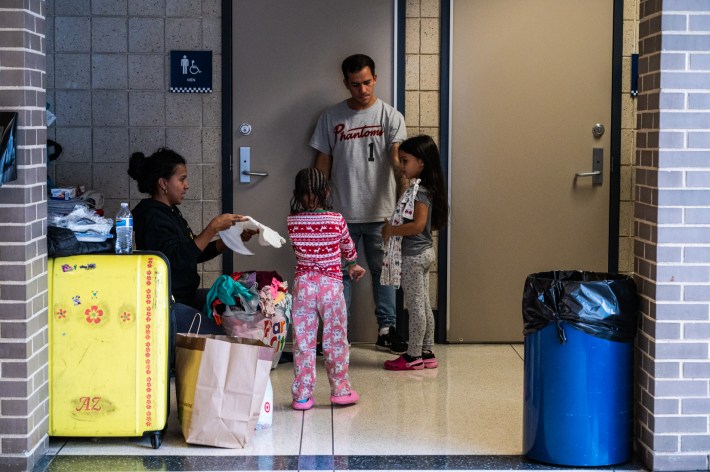 How Chicagoans Are Helping
The Venezuelan families at the 16th District station were part of the migrants who flew from Texas to O'Hare last week.
The families have received breakfast, lunch and dinner from a network of area residents and faith-based groups, including Friendship Community Place, Eden United Church of Christ and St. Vincent De Paul Society. The collective plans to feed the families until they leave the station, hopefully this week, volunteers said.
Some volunteers prepared hundreds of sandwiches last week for migrants staying at police stations, using donated meat from Jewel-Osco.
Andrea Mitchell, a Jefferson Park resident who has helped refugees settle in Chicago through Refugee Community Connection, has helped collect blankets and toiletries and others have washed clothes for the families, she said.
RELATED: Here's How To Help The Latest Wave Of Migrants Coming To Chicago
When a 5-year-old had a birthday last week at the station, volunteers brought in cupcakes and had a small party, she said.
"I am one of those people where I can't not help," Mitchell said. "This is the first time the international crisis has reached the Northwest Side … but it's an incredible community with big hearts."
Patty Yang, a volunteer with CityLine Bible Church in suburban Niles, visited the families Tuesday and brought homemade meatball sub sandwiches, mandarin oranges, water and potato chips.
"Helping is an opportunity of hope and to share positive messages with the community," said Yang, who lives in suburban Glenview. "And for them, I'm sure it's nice to have community at this time."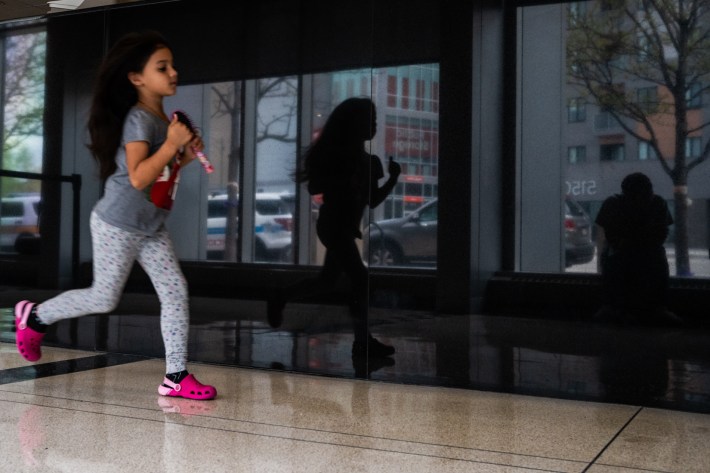 Yang is one of the many volunteers with the Niles church that have helped Northwest Side migrants, some of whom have been moved to the suburbs. The group has organized meal trains since last fall and has helped about 200 people, she said.
Brandelli, who attended a Sunday service at CityLine Bible Church with his family, said he appreciates all of the support and donations because families arrived in Chicago with very few belongings and clothes. But the family doesn't need any more supplies, he said.
"What we want is just a place where we can live, even if it's for a month, [so] I can work and then I can live on my own and rent a place on my own," Brandelli said.
Brandelli and his wife, Karen Malavé, came to the United States from Venezuela to give their daughter a better education and a future, he said.
The family chose to fly to Chicago because the father has a friend who said he could take them in — but once they arrived, the friend said there was no more room in his home because family members came to visit, Brandelli said.
"We want to give our daughter a better life, a better future, a better education," Brandelli said.
Brandelli said that while he would like to leave the station, explore the neighborhood and play with his daughter outside, he needs to stay in case a van comes and picks him up, which could be at any time, he's been told.
As Avril played with her new friend, Charlotte, a Salvation Army van pulled up to the station. Its driver was looking for single migrants and had no room to take families, he said.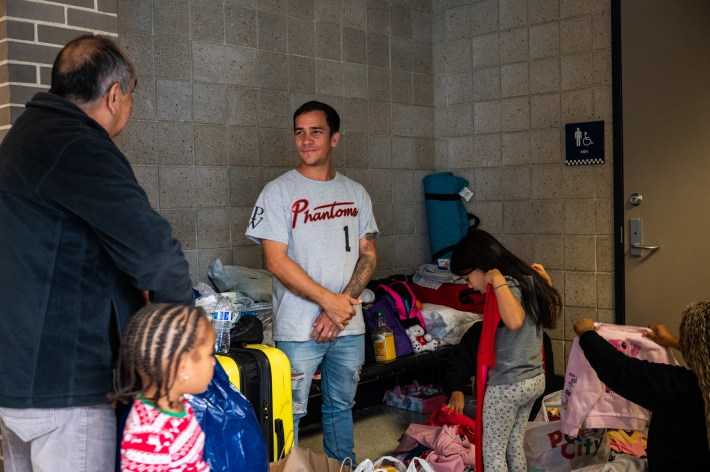 Brandelli, who has been waiting for any sign of good news, was disappointed, but he was told more room could open up soon for families as officials plan to house migrants at the old South Shore High School building.
"I don't miss home very much, at least not right now," he said.
After this story was published, Brandelli and his family were moved to a shelter at an undisclosed location Wednesday morning, but it's overcrowded, has no privacy and minimal food options, he said.
Oskariy Chirino, 15, said her family has been at the station for 15 days. Eleven people were staying at the station as of Tuesday, and there were nearly 20 earlier this week, volunteers said.
Some people with infants have come and gone, but it's not clear if those families have had better luck being placed in shelters. Advocates and police officers said it seems the city shelters are prioritizing families with babies.
"Other families have came and went, but we are still here," Chirino said in Spanish.
Chirino's family, who left their home country because of high inflation and crime, were cleaning their clothes at a nearby laundromat. When they returned, people gave the families clothes for their children, who joyfully took the bags and picked out clothes.
Chirino is looking forward to going back to school and getting back into a normal rhythm, since the monthslong journey upended her education, she said.
Chirino doesn't know what she wants to study yet, but she said, "I think being a police officer would be cool."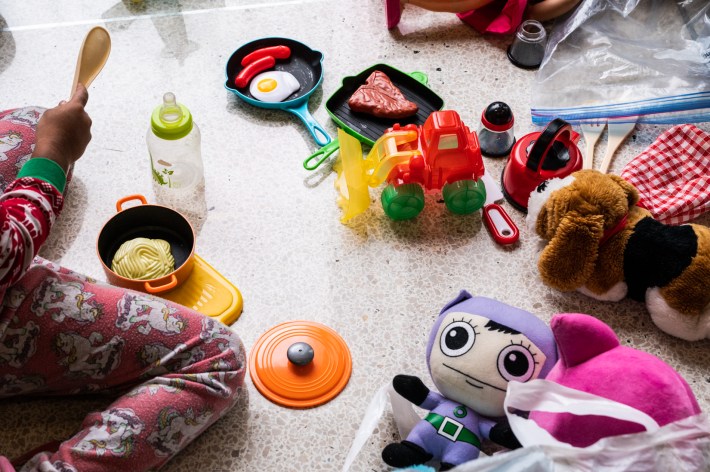 Last week, Lightfoot sent a letter to Texas Gov. Greg Abbott — who kicked off the effort to bus migrants to Chicago and other Democrat-led cities — blaming him for the crisis and saying bussing migrants to Chicago is "inhumane and dangerous" as the city has already reached a "critical tipping point" in its ability to help people.
Local and state politicians are fighting for more federal funding and action as more migrants are scheduled to arrive in Chicago. Advocates worry the crisis could get worse in the coming weeks.
"We have gone to the federal government, I've spoken directly with the president … and they are helping to push the money from FEMA out the door to other states but it isn't enough," Gov. JB Pritzker said at a news conference Monday.
Pritzker said more federal dollars to assist Chicago could be coming this week or next. In the meantime, the state has given funding to provide additional services to the city, he said.
Colin Boyle contributed reporting to this story.
Listen to "It's All Good: A Block Club Chicago Podcast":