HUMBOLDT PARK — A food pantry experiencing skyrocketing demand has changed its name in hopes of better connecting to the community it serves. 
Fresh Market, housed within nonprofit La Casa Norte at 3533 W. North Ave., is now called El Mercadito, according to a news release. 
The food pantry opened in 2019 and became colloquially known as El Mercadito by patrons and staff, so the name is now official, said Nourishing Hope CEO Kellie O'Connell. Nourishing Hope is a food pantry and social services organization with four locations in Lakeview, Ravenswood, West Town and Humboldt Park.
"The name comes from the community, and this is their place for food, so we want to make it as welcoming as possible," O'Connell said. "It can be a scary moment to walk into a food pantry and say you need help, so we're focusing on treating people with respect and giving them a dignified experience." 
El Mercadito looks like a small neighborhood market and allows patrons to browse with a grocery cart, which can be empowering for people accustomed to receiving donated bags of preselected food, O'Connell said. 
The number of people looking for help obtaining food has more than doubled since the last fiscal year, O'Connell said. There have been nearly 7,000 visits to the pantry since April, O'Connell said.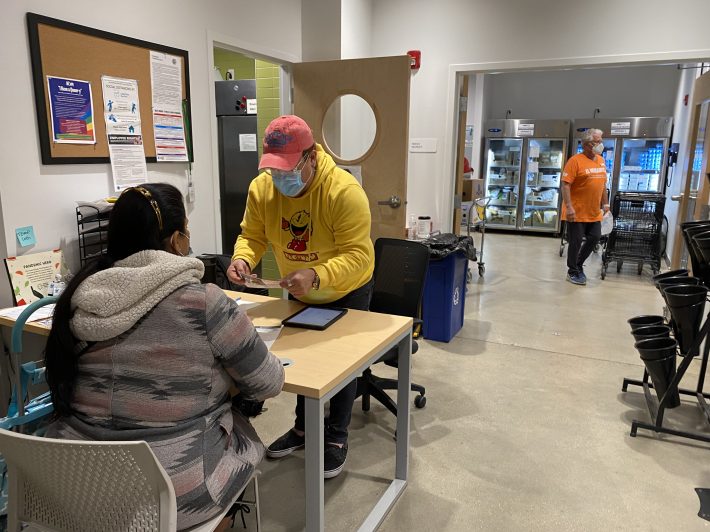 Greater community awareness of the market has certainly led to more visits, O'Connell said. But the need is largely due to the "one-two punch" of food inflation and the lingering effects of the pandemic, she said. 
Grocery prices rose 13.5 percent in the 12-month period ending in August — the largest annual increase since 1979, according to a U.S. inflation report released Sept. 13. 
RELATED: Inflation Is Driving Up Demand At Food Pantries — But Rising Costs Also Make It Harder For Pantries To Help
La Casa Norte hopes the name change will help with outreach so struggling families know they can stop by to put meals on the table, said Executive Director Jose Muñoz. 
"We're very busy," Muñoz said. "Things may appear like they're normalizing, but the community is still dealing with the same issues we've seen the past three years." 
El Mercadito is designed to "make folks feel comfortable" and is stocks with spices and flavors that are common in the Latino community, Muñoz said. 
All food is free. Families looking to shop are asked if their income is less than 185 percent of the federal poverty level, about $44,000 for a family of four in Chicago, O'Connell said. 
Patrons self-attest their income to "keep barriers down, because it's hard to come in and ask for help," O'Connell said.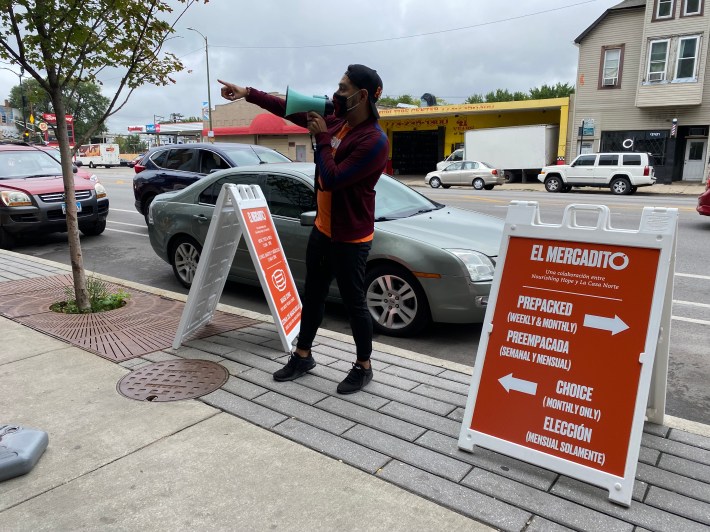 People who qualify can come once a month for a "big shop," and then again weekly for fresh fruits, vegetables and bread, O'Connell said. 
People who shop can also connect with case managers and mental health counseling, although that is not a requirement, O'Connell said. 
El Mercadito is open 11 a.m.-3 p.m. Monday-Wednesday.
Pantry organizers are looking to expand El Mercadito's hours soon to meet demand.
"We hope all of this will help us meet people where they are," O'Connell said. 
Listen to "It's All Good: A Block Club Chicago Podcast":