LITTLE VILLAGE — City officials are opening a respite center at Piotrowski Park in Little Village for some of the thousands of migrants who have come to Chicago in recent weeks.
The Southwest Side park at 4247 W. 31st St. will temporarily house 200 migrants beginning Saturday, Ald. Mike Rodriguez (22nd) wrote in a letter to constituents. The site was chosen in part because of its proximity to local schools and nonprofits, and because Little Village is a predominantly immigrant, Spanish-speaking community, he said.
Park District officials are relocating spring programs to nearby facilities, Rodriguez said. A full list of sites is below. The alderman said officials are working to relocate summer programs or open spots at other facilities.
"Please know that this is a humanitarian crisis that is unfolding in the midst of a mayoral and city council transition," Rodriguez said in his letter. "Decisions are happening fast to address this crisis, and we will do our best to communicate as thoughtfully and clearly as possible as the situation changes and additional updates become available."
RELATED: As Lightfoot Departs, A 'Woefully Unprepared' Chicago Leaves Migrants In 'Inhumane' Conditions For Weeks
Outdoor programming will continue at Piotrowski Park, and portable toilets are being installed for patrons' restroom access, Rodriguez said.
These are the Piotrowski Park spring programs being moved to Zapata Academy, 2728 S. Kostner Ave.:
Gymnastics, 4-5 p.m. Mondays and Wednesdays in the multipurpose room
Recreational tumbling, 3-4 p.m. Mondays and Wednesdays in the multipurpose room
Soccer, 4-5 p.m. Mondays and Wednesdays on the turf field
Team gymnastics, 5-6 p.m. Mondays and Wednesdays in the multipurpose room
Teen Club, 5-6 p.m. Tuesdays and Thursdays in the multipurpose room
Teen Fit Box, 5-6 p.m. Tuesdays and Thursdays in the multipurpose room
Volleyball at 7-8 p.m. is being moved to Mondays and Thursdays at Vittum Park, 5010 W. 50th St., in Garfield Ridge.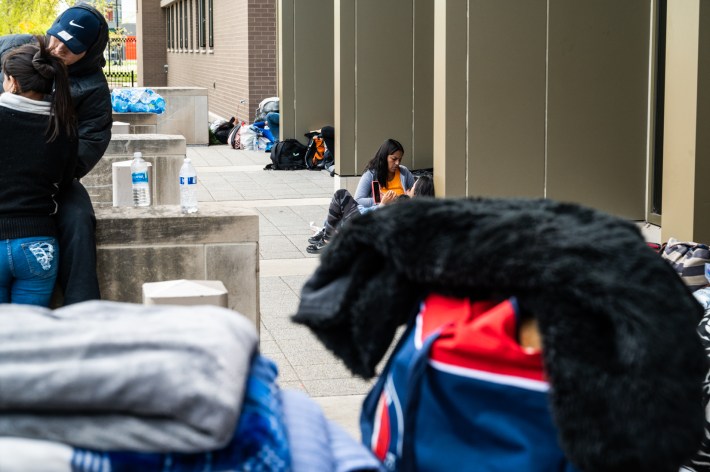 After an initial wave last fall, large groups of migrants again began arriving in Chicago a few weeks ago, straining already overburdened city resources, officials said. 
Nearly 9,000 migrants have come to Chicago since August, many fleeing economically devastated nations like Venezuela and Colombia. Many have been bused to the city from Texas, although some came via one-way plane tickets.
As a stopgap, hundreds of people have been staying at police stations. But as those become more crowded, the push for city officials to open more shelters grows stronger.
Brands Park in Avondale similarly is being converted into a temporary shelter, while parks programs will be moved to a nearby school.
Local groups Rincon Family Services and New Life Centers are accepting donations of things like clothing, toys, suitcases, phones and more to support migrants, Rodriguez said. A flyer with drop-off details is below.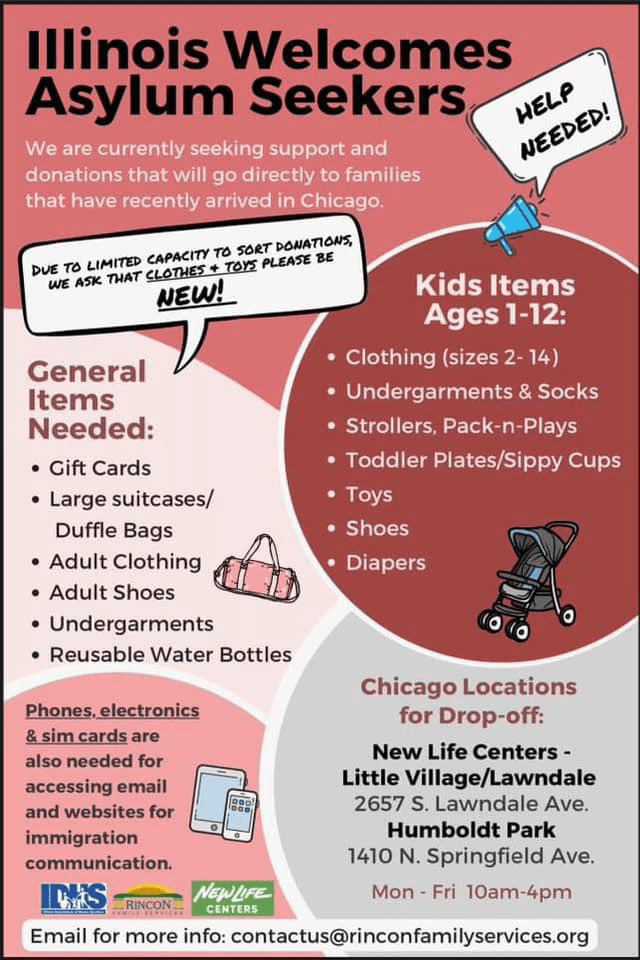 Subscribe to Block Club Chicago, an independent, 501(c)(3), journalist-run newsroom. Every dime we make funds reporting from Chicago's neighborhoods.