PALMER SQUARE — Plans to put a large deep dish pizza sculpture in Palmer Square Park have been scrapped after neighbors expressed distaste for the cheesy display.
Grubhub was set to partner with the Chicago Park District on a plan that would have allowed the delivery company to establish drop-off spots for delivery drivers and 5-foot-tall food "sculptures" in five Chicago parks, according to emails and documents shared with Block Club.
These "handoff hubs" would have popped up in Palmer Square Park, Lincoln Park, Washington Park, Welles Park and Garfield Park, emails and documents show.
The promotion was set to begin in June, but when asked about the plan by Block Club Friday, the Park District said they decided against it.
"As part of our continued commitment to engage community and measure public interest in park projects, the Park District solicited feedback regarding a potential concept installation in partnership with GrubHub," a spokesperson said via email. "Based on the community input received, the Chicago Park District will not enter into an agreement with Grubhub for the sculpture installation concept."
Each station was to have a different food theme. A 5-by-5-foot char dog sculpture was planned for Lincoln Park, while Washington Park would have gotten a Rainbow Cone iteration, according to a Grubhub presentation.
Grubhub spokeswoman Sabiha Nur declined to answer specific questions about the plan, issuing the following statement: "We've been exploring ways to highlight our support of local restaurants in our hometown, one of which is in partnership with Chicago Park Districts. We're still finalizing our approach, and nothing has been confirmed at this time."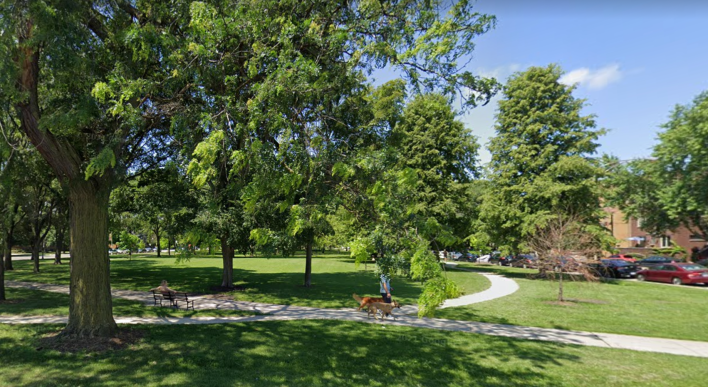 The plan, which was brought to the Palmer Square Park Advisory Council, drew fierce opposition immediately from some neighbors.
"Bottom line, is this is not appropriate. It doesn't fit the boundaries of the landmark district," said longtime Palmer Square resident Steve Hier. "Grubhub should take their big signs — their big pizza or big hot dog — and take it some place else."
The promotion might be suitable for large parks like Lincoln Park, which spans 1,188 acres, but not Palmer Square Park, which is just 8 acres, said nearby resident Karen Biazar.
"We have a huge rat problem … if you come here on a Sunday night, every single [garbage] can is maxed out in the summertime Adding this to it — it's going to be worse. It's absolutely going to be worse," Biazar said.
Grubhub chose Palmer Square Park because "it's a space with a long and rich history," according to the presentation. "Plus, what better place is there to help delivery drivers reach than a park where carriage drivers used to hold races?"
The scrapped plan also sparked broader concerns about for-profit companies taking up space in public parks.
The ordeal has echoes of the controversial Amazon lockers of 2021.
Amazon drew scorn and bewilderment from residents and community leaders for blocking sidewalks with large delivery lockers.
The retail giant removed some of the lockers after the firestorm. The Park District also launched a review of Amazon's plans and put future installations on hold.
"I don't think any public park should used for commercialization. Period," Hier said. "It's one thing to rent the park out for a wedding or a 5K run for a day, but it's another thing for a [corporation] to have a space. It's not right."
Listen to "It's All Good: A Block Club Chicago Podcast":