JEFFERSON PARK — Five candidates are hoping to oust embattled Ald. Jim Gardiner (45th) in next month's election.
The ward covers parts of Old Irving Park, Portage Park, Jefferson Park, Gladstone Park, parts of Edgebrook, Wildwood and small parts of Norwood Park. The territory was recently remapped to include more Far Northwest Side neighborhoods that lean more conservative.
The election is Feb. 28. If no candidate receives at least 50 percent of the vote, the top two finishers will go to a runoff April 4.
Gardiner, who is under federal criminal investigation, is seeking a second term. Challenging him are Ana Santoyo, a longtime activist and library page; organizer and historian Susanna Ernst; attorney Megan Mathias; Jefferson Park resident Marija Tomic; and business owner and community organizer James Suh.
All six candidates are scheduled to participate in a forum 7 p.m. Feb. 2 at the Copernicus Center, 5216 W. Lawrence Ave. Doors open at 6:30 p.m. and residents can submit candidate questions to info@jeffersonparkchamber.com.
More on each candidate: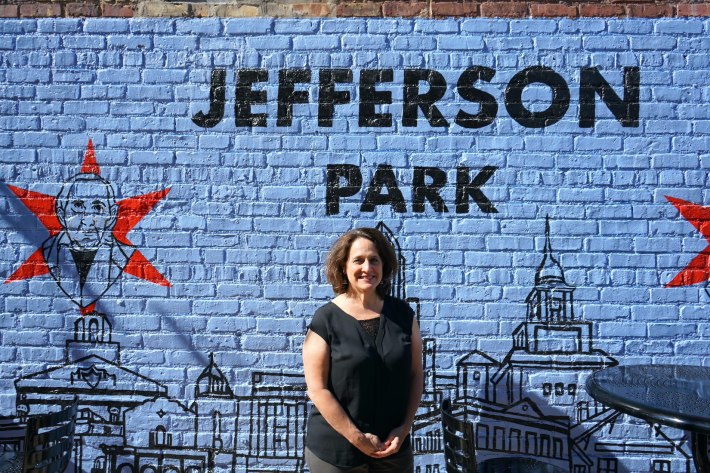 Susanna Ernst
Ernst, a Jefferson Park resident and longtime community activist, is focusing her campaign on fair and equitable constituent services, better support of local businesses and chambers, public safety and inclusive communication to unite the ward.
"If we work together as neighbors and community organizations, we can accomplish so much more," Ernst previously said. "Everybody should be working together. Some groups have been stymied because they haven't been able to accomplish their goals, because they haven't necessarily been helped by the current leadership."
Ernst is well-known in the community for her role in historic preservation. She is the co-founder of the Northwest Chicago Historical Society and co-founded Jefferson Park Neighborhood Association and Jefferson Park Forward.
If elected, Ernst previously told Block Club one of the first things she will do is host weekly civic nights where neighbors can meet, share ideas for neighborhood improvements and provide feedback on how to create lasting partnerships.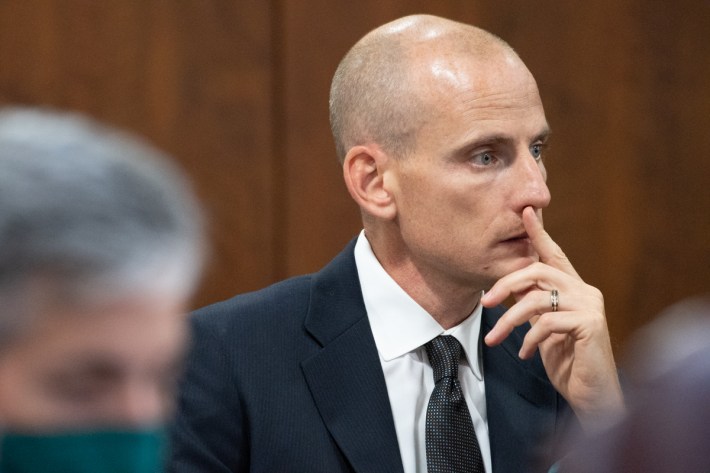 Jim Gardiner
Gardiner was elected in 2019 after beating former Ald. John Arena. He is on leave from the Fire Department, where he's an EMT.
Gardiner earned a teaching degree from St. Xavier University in 2002 while he was an ironworker with Local 399 Stationary. He was also a special education teacher at Curie High School before joining the Fire Department.
After being elected, Gardiner killed participatory budgeting and projects slated to receive funding under Arena, instead using the money for street repairs, speed cameras and flooding issues.
The alderman has touted his role in bringing more businesses and development to the ward, including redevelopments at Six Corners that include a massive overhaul at the former Sears site and a senior housing complex opening this spring — but he initially stalled the project over height concerns, angering neighbors.
Gardiner is facing multiple lawsuits and a scandals after allegations he withheld ward services from critics, used foul language to describe women and other potential misconduct. The FBI, the Chicago Board of Ethics, the Circuit Court Clerk's Office and the Office of the Inspector General have launched investigations into Gardiner's conduct.
Late last year, video surfaced of the alderman confronting a challenger's campaign volunteers as they gathered signatures from Norwood Park residents.
Some constituents and council members have called on Gardiner to resign amid the controversies. He also had an order of protection against him by a former girlfriend.
Gardiner's office did not reply to requests for comment on his goals for a second term. In a previous statement, he said his reelection campaign is being run with "merit that addresses the needs and concerns of residents while building upon the many achievements that have been accomplished since being elected."
"The 45th Ward is thriving due to the collaborative efforts of community stakeholders in the last three years," Gardiner said. "In fact, we are witnessing $475 million of new developments $14 million of infrastructure improvements while creating hundreds of union and permanent jobs."
Gardiner has $206,536 in his reelection campaign coffers, according to the most recent campaign disclosure report filed with the Illinois Board of Elections.
Megan Mathias
Mathias, an Old Irving Park resident and attorney, was the first challenger to announce her run in September 2021.
Originally from Michigan, Mathias has lived in Chicago since 2000 and in the 45th Ward since 2014. The single mother of three owns her own law firm in Old Irving Park, Lopp Mathias Law.
Mathias previously told Block Club she wants to find common ground amid the ward's political divisions and focus on economic revitalization, supporting working families, increased affordable housing, addressing public safety and educational support.
"We want leaders who listen and show up — those are skills you need and have a vision for the community," Mathias said. "This is the work I have done for nearly two decades. From that experience, I know we can build common ground and restore the trust between the residents and our elected officials."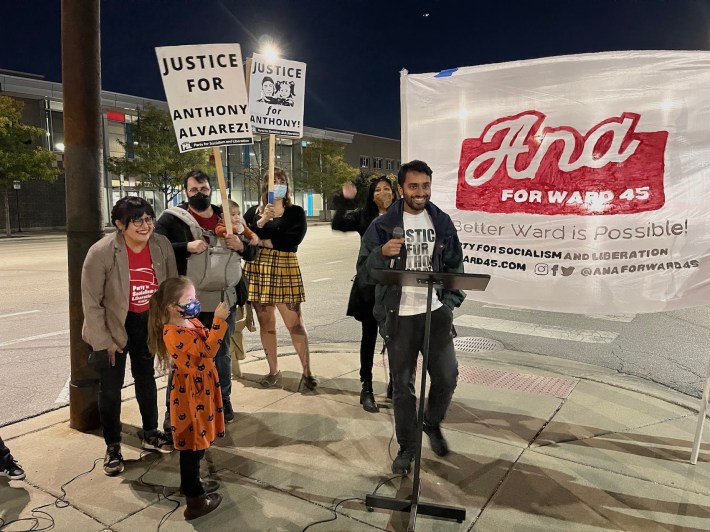 Ana Santoyo
Santoyo, a mother of two, a library page and longtime activist, grew up in suburban Palatine and has lived in the 45th Ward since 2018.
A Portage Park resident, Santoyo was the first person in her family to attend college and has been a community activist for more than a decade, speaking out against issues like public schools closing and CTA transit hikes, and she's supported a $15 minimum wage, she previously told Block Club.
The daughter of Mexican immigrants and a union worker, Santoyo said she wants to bring more progressive and socialist values to City Council as she aims to increase rights for union and immigrant workers, improve access to health care and abortion access for women and build more affordable housing.
"The policies we're talking about — jobs, education, health care, housing — those are the things that will benefit the vast majority of people in this area and in the city," Santoyo said. "I think people are ready for this radical change."
Santoyo, a member of the Party for Socialism and Liberation, has been active in organizing protests calling for justice for Anthony Alvarez, who was shot and killed during a foot chase in 2021 by officer Evan Solano in Portage Park.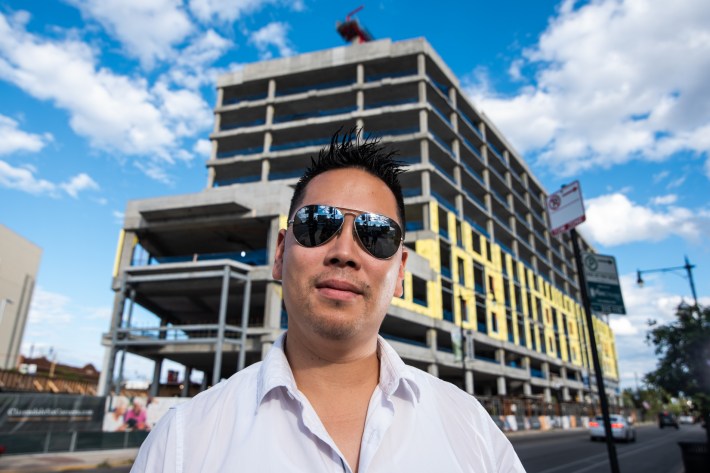 James Suh
Suh, an Old Irving Park resident and owner of Car Care Auto Spa at 3618 N. Cicero Ave., jumped into the race this fall.
Suh, who has lived and worked on the Northwest Side for nearly a decade, is a member of Disney II Magnet school's local school council and a member of the school's Parent-Teacher Association.
Suh is focusing his campaign on increasing economic and community development in the ward, addressing crime and public safety with more support for police officers and offering a change in leadership with transparency and fairness toward constituents, he said.
"My wife and I are raising our two kids here; we're sending them to the public school down the street. My business is less than half a mile away from Six Corners. I'm fully invested in this community," Suh previously told Block Club. "We've faced so many challenges, so I do want to see a change for the better, and I want to be a part of that change."
Suh received widespread media attention in November for fending off a gun-wielding assailant who attempted to rob his shop after hours. The incident, first reported by Block Club and caught on video, influenced his decision to run for office, he said.
People "feel that their elected officials are out of touch, that they're just not listening" to issues of crime, he said. "Because of my experience, people know that I share their concerns and they know that I'll share what they have to say."
Suh's community activism has focused on highlighting economic development in the ward, holding public officials accountable and helping people experiencing homelessness.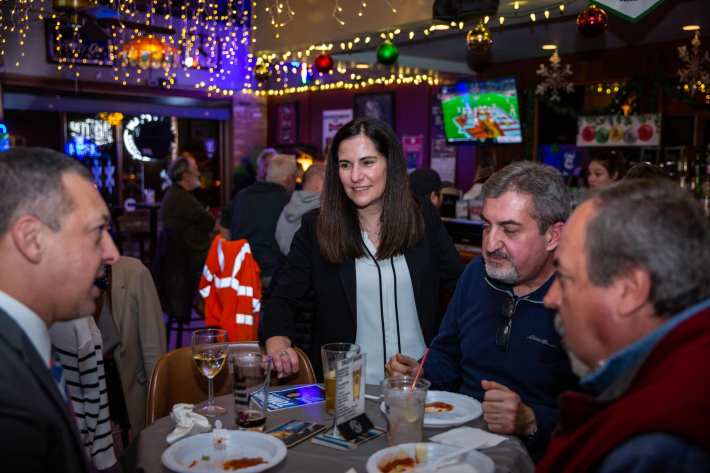 Marija Tomic
Tomic, a longtime Jefferson Park resident, has a career background in banking, project management, budgeting and marketing, she said.
Tomic decided to run for alderperson after hearing complaints from neighbors about the ward's divisions, stalled or delayed developments and increased property taxes, she said.
Tomic's campaign is pushing for more police officers to address increased crime and to stop the redeployment of 16th District officers, more streamlined and accessible city services and reversing property increases tied to inflation.
"As one of my first acts as alderman, I will introduce legislation that repeals the Lightfoot ordinance that automatically ties property tax increases to the rate of inflation as established by the Consumer Price Index," Tomic wrote on her website.
Tomic said she wants to increase transparency and unite the ward, as other candidates have promised. She would consider bringing back participatory budgeting to increase constituent participation, she said.
"I am not a politician. I just want to see things get done and I have the skills," she said. "I want to promote a united ward."
Watch our "On The Block" TV show on The U, CW26 and MeTV.
Listen to "It's All Good: A Block Club Chicago Podcast":