JEFFERSON PARK — Another candidate is trying their luck at unseating embattled Ald. Jim Gardiner (45th) in next year's election.
Portage Park resident Ana Santoyo, a mother of two, a library page and longtime activist, announced her candidacy Tuesday night at a rally outside of the Jefferson Park (16th) Police District, 5151 N. Milwaukee Ave.
Santoyo has lived in Portage Park since 2018 and grew up in suburban Palatine. She was the first person in her family to attend college and has been a community activist for over a decade, speaking out against issues like Chicago Public School closings and CTA transit hikes, and standing in solidarity with people fighting for a $15 minimum wage, she said.
The daughter of Mexican immigrants and a union worker, Santoyo said she wants to bring more progressive and socialist values to City Council, aiming to increase rights for union and immigrant workers, improve access to health care and abortion access for women and build more affordable housing.
"The policies we're talking about — jobs, education, healthcare, housing — those are the things that will benefit the vast majority of people in this area and in the city," Santoyo told Block Club. "I think people are ready for this radical change."
Affordable housing has long been a point of debate on the Far Northwest Side. If elected, Santoyo said she would push that all new developments have more than the city's minimum requirement for affordable units and seek to convert existing units to those that are within the budget of working families.
Another one of her campaign pillars focuses on increasing resources for immigrants, migrants and women. The city recently passed the Bodily Autonomy Sanctuary City Ordinance, but with a more progressive City Council, the city can do more to make sure it funds abortion providers and grants to those traveling to seek care from outside Illinois, she said.
"We need to fight for women," she said. "I think the more working-class people fighting, trying to have a voice, is better for everybody. It's better for our ward and it's better for our city."
As a library page in the ward, Santoyo said she wants to stand up for workers making minimum wage and is a member of the AFSCME library union, which helped her receive paid maternal leave last year. Her campaign is focusing on making sure Chicago is a union city that treats its workers better with hazard pay, higher wages and affordable healthcare, she said.
"We're about building up for workers to have things like hazard pay while we're still in an ongoing pandemic," she said. "Things have been taken away from us [but] we are seen as essential."
Her "independent, socialist campaign" is also meant to stand up against police brutality, white supremacy and conservative politics active in the ward, she said.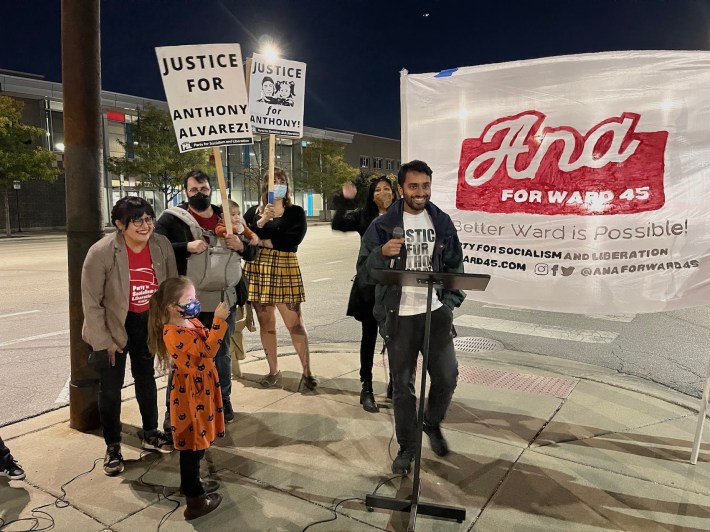 Santoyo, a member of the Party for Socialism and Liberation, has been active in organizing protests calling for justice for Anthony Alvarez, who was shot and killed during a foot chase last year by officer Evan Solano in Portage Park.
Solano and his partner served 20-day suspensions for their roles in the shooting as the Chicago Police Board rebuffed calls to fire Solano. Cook County State's Attorney Kim Foxx declined to bring criminal charges against Solano.
Activists and the Alvarez family still want a federal investigation into the shooting.
Standing with Alvarez's family and supporters Tuesday, Santoyo said part of her decision to run for alderperson was seeing how the city handled the case, and the silence from Far Northwest Side elected officials on Alvarez and police brutality.
Laura Miller, a longtime Jefferson Park resident, attended the rally to learn more about Santoyo and stand in solidarity with those seeking justice for Alvarez.
She wants a change in ward leadership and will vote for anyone that is not Gardiner, she said.
Miller said she agreed with Santoyo's positions about increased affordable housing in the ward, police reform and better rights for essential workers.
"The most important person on our floor is the woman who gives us more toilet paper," said Miller, who used to work in a bank office Downtown.
Santoyo has already collected the minimum 473 signatures to be on the ballot, she said. She plans to quadruple that goal to reduce the chances of her signatures being challenged, she said.
Santoyo is the third woman running against Gardiner, who is facing multiple lawsuits and a series of allegations that include withholding ward services from his critics, using foul language to describe women and other potential misconduct.
Gardiner was elected in 2019. He has $206,536 in his reelection campaign coffers, according to the most recent campaign disclosure report filed with the Illinois Board of Elections.
Jefferson Park organizer and historian Susanna Ernst announced her run for 45h Ward alderperson last month. Old Irving Park resident and attorney Megan Mathias was the first to join the race last year.
Nadig Newspapers reported Jefferson Park resident Marija Tomic also plans to run against Gardiner, but she has not filed with the Illinois State Board of Elections or created a campaign yet.
Listen to "It's All Good: A Block Club Chicago Podcast":