CHICAGO — The Board of Ethics voted unanimously Monday to issue a "notice of probable cause" that a city official matching the circumstances of Ald. Jim Gardiner (45th) violated anti-retaliation rules in the city's ethics code and should undergo a "full factual investigation" by the city's inspector general.
The board did not release more details on the case until Wednesday, when they revealed that the official in question was suspected of "withholding city services" to a political opponent and leaking a constituent's criminal records as a political cudgel — specific allegations that Gardiner has faced in recent days and weeks.
Ethics board Executive Director Steve Berlin told The Daily Line on Wednesday he could "neither confirm nor deny" that Gardiner was the subject of the ethics board notice. But he said the board issued its notice of probable cause because of information that has circulated publicly.
"The board follows the news, and sometimes people send information to the board," Berlin said. "If facts are made available to the board, either through what's published in the press, or if the information is submitted by any individual…assuming that the information is genuine and verifiable, then the board can act" without first launching an investigation.
The subject of a "notice of probable cause" for violation may offer a formal rebuttal to the board, Berlin said. The board can then issue a "final determination" of violation and a fine. Penalties could be up to $5,000 per violation — or up to $2,000 if they happened before September 2019, when the City Council voted to hike the fine.
The Board of Ethics decision comes as Gardiner faces increased scrutiny following a series of leaked text messages that show he attempted to retaliate against his critics and withhold ward services from those who challenged him. The FBI is now looking into the alderman's conduct and Mayor Lori Lightfoot has called on the city's Inspector General to investigate these claims. 
On Tuesday, WTTW reported Gardiner is also being investigated for alleged bribery and pay-to-play schemes.
Gardiner's office could not immediately be reached to comment.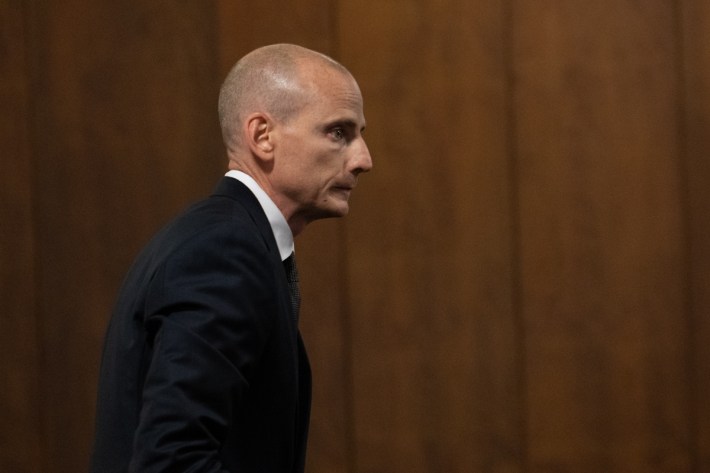 The ethics board found that the official likely violated ethics rules by "directing a City employee under the official's supervision to consider and discuss with the official withholding City services to a constituent because the constituent appears to have supported a political opponent of the official." The report also dinged the official for "directing a City employee under the official's supervision to obtain and 'leak' to social media criminal records of a constituent who had taken a position on matter different from the official's."
"Directing City employees under one's supervision to carry out personal tasks in the ways described…above while on compensated time violates" city ethics rules, according to the board report.
Block Club reported Friday how multiple Northwest Side residents and business owners experienced retribution from Gardiner after they criticized him, including a woman outside his ward who said the alderman sent inspectors to her home after she commented on Facebook about his stalking case.
Leaked texts showed that Gardiner asked a staffer to look into the criminal record of a critical constituent and wrote, "maybe that gets leaked." And CBS2 reported in March that Gardiner rebuffed a parking permit request from a constituent after they criticized him on Facebook.
Ethics officials added in their report on Wednesday that the official also ran afoul of the city's "aspirational code of conduct, which calls on city officials to "treat members of the public with respect and be responsive and forthcoming in their requests for information" and "act impartially in the performance of their duties, so that no private organization or individual is given preferential treatment."
While the ethics board cannot legally enforce the "aspirational rules," their violation is "per se unethical."
The board also published a formal request for Inspector General Joseph Ferguson's office to "conduct a full factual investigation into any other instances" when the official violated the ordinance.
A spokesperson for Ferguson's office declined to comment, citing a law precluding the office from naming subjects of ongoing investigations. But outspoken Gardiner critic Peter Czosnyka testified during the public comment period of Tuesday's City Council meeting that he has been interviewed by the inspector general's office about Gardiner.
This isn't the first time the ethics board has called out Gardiner's behavior toward constituents. 
After the alderman was sued in June by six of his critics for allegedly deleting comments or blocking people he disagrees with on his government page, the board tweeted in a thread with one of the plaintiffs that based on its 2019 social media guidelines for city employees and elected officials, aldermen cannot block constituents from their government page.
"Our opinion is clear that elected officials can block whomever they wish for whatever reason from their personal or political pages, but not their official government pages or those that function as such," the board tweeted.
Gardiner's fellow aldermen are also demanding accountability in light of his recent scandals. 
Fellow freshman Ald. Rossana Rodriguez Sanchez (33rd), who recently called on Gardiner to resign on Twitter, circulated a resolution through Council chambers on Tuesday calling for the Committee on Committees, Rules and Ethics to hold a hearing concerning Gardiner's actions. The resolution calls for Gardiner to testify during the hearing. 
"Alderman Gardiner's behavior does not have a home in our government, and his words and actions do not represent the values and vision of our City," the resolution says. "The City Council must make it abundantly clear that we do not condone this kind of behavior from one of our members."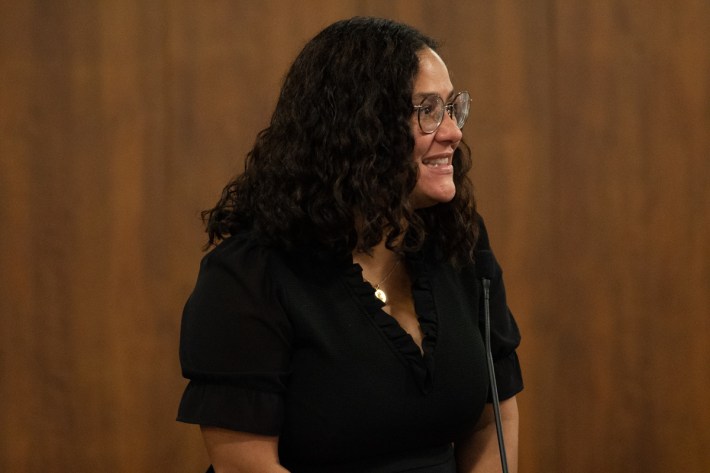 Alds. Byron Sigcho Lopez (25th), Maria Hadden (49th), Matt Martin (47th), Carlos Ramirez-Rosa (35th), Michael Rodriguez (22nd), Daniel La Spata (1st) and Andre Vasquez (40th) are listed as co-sponsors of the ordinance.
On Monday, a protest was held outside Gardiner's Northwest Side ward office, 5425 W. Lawrence Ave., organized by independent political organization United Northwest Side. Dozens of residents called for his resignation, including some who the leaked messages show Gardiner has singled out for retaliation for their previous opposition to the alderman.
"No one should ever be denied access to city services because of their political opinion, whom they may have supported in an election. That's just not how we do things," Lightfoot said at an unrelated news conference. "We're never gonna support any effort to deny people access to city services. It's fundamental."
Nearly half of Gardiner's colleagues have signed a letter condemning Gardiner for using sexist, foul language to describe colleagues and constituents in the leaked texts. There has also been a formal complaint filed within the Cook County Democratic Party regarding his actions, and an investigation by the inspector general of the Circuit Court Clerk's Office is underway after allegations that his staff improperly obtained court documents to retaliate against another constituent.
During Tuesday's City Council meeting, Gardiner interrupted to make a prepared statement regarding the texts, which also showed him call fellow Ald. Tom Tunney a "little b-tch," two female City Hall staffers the same word and a constituent a "c-nt."
"I stand before this body to offer my sincerest apologies for the pain and insult that anyone has endured as a result. I take full responsibility for my offensive words in those messages," Gardiner said. "I want to make it clear that I have never acted on those rants, however they should not have been expressed and it certainly was not my intention to demean anyone."
But some 45th Ward residents who have been targeted, his former aide and Rodriguez Sanchez say Gardiner's apology was not sufficient. The 33rd Ward alderperson said his behavior makes her "uncomfortable" to be around him.
"He said that his actions don't reflect his values. I really don't know how that math works, because I believe that we should behave according to our values," Rodriguez Sanchez said. "I am looking forward to seeing what he is going to do in order to repair the harm that he has done and he didn't necessarily refer to how he's going to do that."
Subscribe to Block Club Chicago, an independent, 501(c)(3), journalist-run newsroom. Every dime we make funds reporting from Chicago's neighborhoods.
Already subscribe? Click here to support Block Club with a tax-deductible donation. 
RELATED ARTICLES
As Ald. Jim Gardiner Faces FBI Probe, Northwest Side Residents Rally To Demand His Resignation
'Do Not Help Her': After Texts Show Ald. Jim Gardiner Called Constituent A 'C-nt,' Council Members Want Him Punished
Ald. Jim Gardiner Apologizes To Fellow Alderman He Called A 'B-tch' In Leaked Texts
Ald. Jim Gardiner Calls Constituent And Fellow Alderman A 'B-tch,' Rips His Critics In Leaked Text Messages
Police Internal Affairs Investigating Officers After Woman Allegedly Drove Over Neighbor's Lawn Because He Criticized Ald. Jim Gardiner
NW Siders Sue Ald. Gardiner For Blocking Them On Social Media, Saying He's Violating 1st Amendment By Silencing Critics
Screaming Woman Drives Into Jefferson Park Family's Garden — Because They Don't Support Ald. Jim Gardiner, Couple Says
After His Volunteers Tossed Blankets And Food Of Man Who Is Homeless, Ald. Gardiner Says It Was A 'Mistake'
NW Side Alderman Had Staffer Falsely Report Cellphone Stolen — Then Had A Constituent Arrested, Lawsuit Alleges
Candidate In 45th Ward Had Order Of Protection Issued Against Him Last Year By Ex-Girlfriend
Listen to "It's All Good: A Block Club Chicago Podcast" here: