JEFFERSON PARK — As dozens called on embattled Ald. Jim Gardiner (45th) to resign Monday night, the alderman's conduct now has drawn scrutiny from the FBI, according to the Chicago Tribune.
One neighbor, who requested anonymity, told Block Club they saw FBI agents at the homes of Gardiner and his ward superintendent, Charles Sikanich, in recent days. The "inquiry" is focused on Gardiner's conduct in office, which includes allegations he retaliated against residents who opposed him politically, the Tribune reports.
Reached Monday night, an FBI spokesperson said the agency could not confirm or deny whether Gardiner was being investigated.
Meanwhile, the pressure has intensified for the freshman alderman to atone for his actions both at City Hall and in the ward.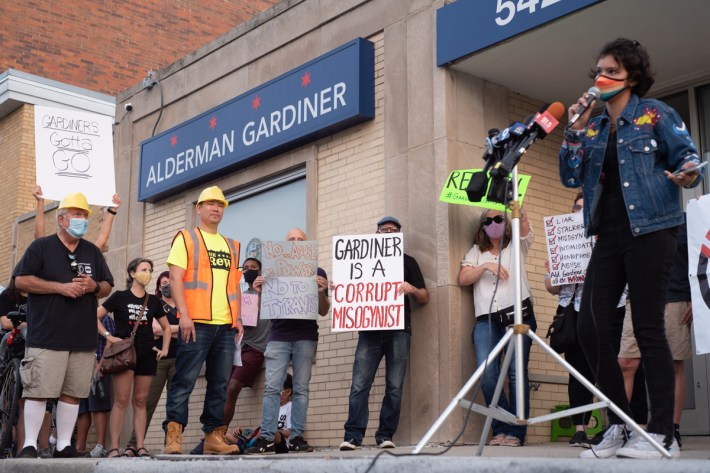 A Monday evening rally, organized by independent political organization United Northwest Side, brought residents to Gardiner's office at 5425 W. Lawrence Ave. They decried the alderman's vengeful tactics used against his critics shown through leaked texts, allegations that he refused city services to residents, and his sexist and misogynistic language toward constituents and City Hall staffers that residents say make him unfit to serve in public office.
Constituents who say they have been harassed or targeted by Gardiner also spoke at the rally.
Michelle Cicirello, who attended the gathering with a shirt that read, "Giardiniera = Good; Gardiner = Bad," said the recent news about the alderman's tactics to silence his critics is an abuse of power. She lives in the 39th Ward, but has friends who have been targeted by Gardiner, she said.
"What he is doing to all of these people is unconstitutional," Cicirello said.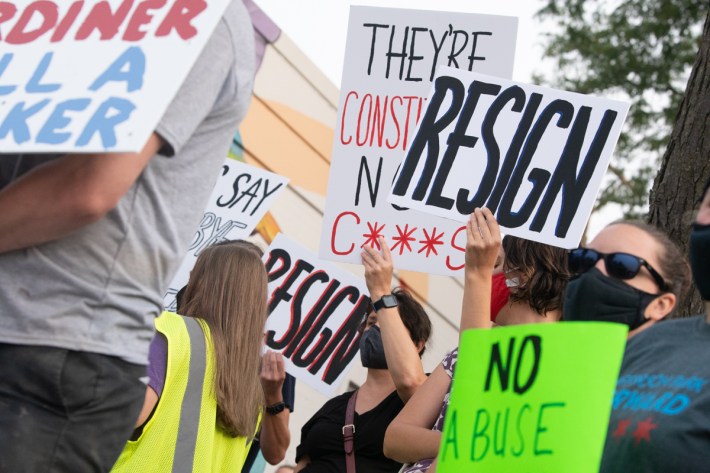 Gina Wright, a 45th Ward resident who also attended, wore a shirt that read, "This 'dumb b-tch' votes" with the hashtag #Resign. The shirt references a leaked text message in which Gardiner referred to Joanna Klonsky, a political communications consultant who works with Mayor Lori Lightfoot, as a "dumb b-tch."
"The reason [my shirt] says 'b-tch' is because we are taking this word and the power of this word out of his mouth and reclaiming it," Wright said.
Wright's daughter Bella Ventresca was targeted by Gardiner with false allegations that she sold eggs illegally out of her backyard chicken coop, despite not living in his ward.
"I have a granddaughter who is growing up here and I don't want her in a community led like this," she said.
Sara Gronkiewicz-Doran, a Jefferson Park resident and one of the rally organizers, said the turnout made her feel proud to see people willing to stand up to the alderman.
"What he is doing is using the power we have given him as an elected official to carry out personal vendettas and that's not OK," Gronkiewicz-Doran said. "We are not going to let that happen or let him do it." 
United Northwest Side also unveiled its Political Harassment and Intimidation Toolkit at the rally, which outlines some of the Northwest Side's history of elected officials and their collaborators abusing their power to retaliate against the detractors, and resources for residents.
"It helps recognize what political harassment and intimidation is and what you can do because Jimmy has buddies in every city agency to do his bidding, and we all need to be prepared because people like this don't stop until we make them stop," Gronkiewicz-Doran said.
Attendees plastered signs on the ward office door and windows as passing drivers, cyclists and fire trucks cheered them on. A few of the alderman's supporters stood across the street by the park fence and watched the crowd.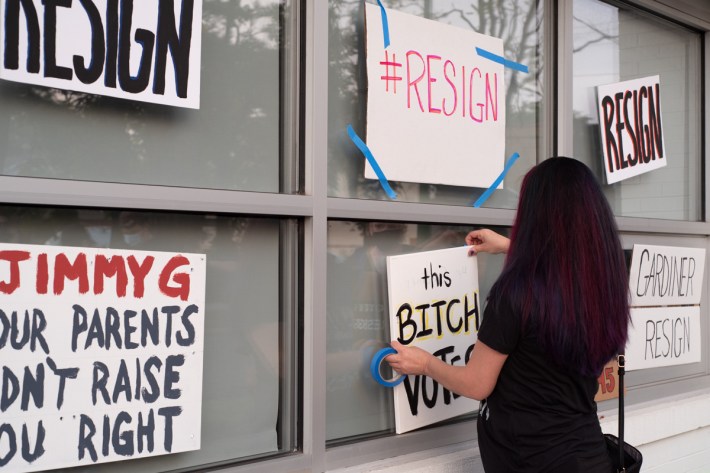 The rally comes after a tumultuous few weeks for the alderman, who has remained mostly silent as leaked text messages and allegations he abused his power multiply.
"I am sorry for my comments; they do not reflect my values," Gardiner said in a brief statement last week. "I have reached out to my colleagues and others to express my sincere regrets. I respect all people and apologize to those I may have offended."
Last week, Lightfoot called for the city's Office of the Inspector General to investigate Gardiner.
"No one should ever be denied access to city services because of their political opinion, whom they may have supported in an election. That's just not how we do things," Lightfoot said at an unrelated news conference. "We're never gonna support any effort to deny people access to city services. It's fundamental."
More than two dozen aldermen have signed a letter condemning Gardiner for using sexist, foul language to describe colleagues and constituents in the leaked texts. There has also been a formal complaint filed within the Cook County Democratic Party regarding his actions, and an investigation by the inspector general of the Circuit Court Clerk's Office is underway after allegations that his staff improperly obtained court documents to retaliate against another constituent.
RELATED ARTICLES
'Do Not Help Her': After Texts Show Ald. Jim Gardiner Called Constituent A 'C-nt,' Council Members Want Him Punished
Ald. Jim Gardiner Apologizes To Fellow Alderman He Called A 'B-tch' In Leaked Texts
Ald. Jim Gardiner Calls Constituent And Fellow Alderman A 'B-tch,' Rips His Critics In Leaked Text Messages
Police Internal Affairs Investigating Officers After Woman Allegedly Drove Over Neighbor's Lawn Because He Criticized Ald. Jim Gardiner
NW Siders Sue Ald. Gardiner For Blocking Them On Social Media, Saying He's Violating 1st Amendment By Silencing Critics
Screaming Woman Drives Into Jefferson Park Family's Garden — Because They Don't Support Ald. Jim Gardiner, Couple Says
After His Volunteers Tossed Blankets And Food Of Man Who Is Homeless, Ald. Gardiner Says It Was A 'Mistake'
NW Side Alderman Had Staffer Falsely Report Cellphone Stolen — Then Had A Constituent Arrested, Lawsuit Alleges
Candidate In 45th Ward Had Order Of Protection Issued Against Him Last Year By Ex-Girlfriend
Subscribe to Block Club Chicago. Every dime we make funds reporting from Chicago's neighborhoods.
Already subscribe? Click here to support Block Club with a tax-deductible donation.
Listen to "It's All Good: A Block Club Chicago Podcast" here: