JEFFERSON PARK — Six residents of the 45th Ward are suing the area's alderman — and the city itself — for allegedly blocking them or deleting critical comments on his Facebook page.
The federal class-action lawsuit, filed Thursday in the Northern District of Illinois, alleges Ald. Jim Gardiner is violating the First Amendment by deleting comments or blocking people he disagrees with on his government page.
"In an effort to suppress dissent in this forum, Alderman Gardiner routinely hides or deletes comments that criticize him or his policies, thereby making those comments invisible to the other constituents who are engaging in discussion on Alderman Gardiner's Facebook page and preventing certain citizens from engaging in debate with other members of the community," the lawsuit states.
The six plaintiffs are all critics of the alderman and have been blocked or had their comments removed from his Facebook page multiple times, ranging from the past two weeks to when Gardiner was elected in 2019, according to the lawsuit.
Gardiner, who did not respond to requests for comment, uses his official aldermanic Facebook page to communicate to residents of his ward about public meetings, City Hall news, budget updates and community happenings.
Everyone should be allowed to weigh in on these issues regardless of difference of opinion, the plaintiffs argue.
"Plaintiffs bring this lawsuit because Alderman Gardiner uses his official page like it's a barbecue in his backyard," said Mark Weinberg, the attorney representing the plaintiffs. "He can't decide who is allowed into a public forum where public issues are discussed. He uses his political power to silence voices he doesn't agree with, politically."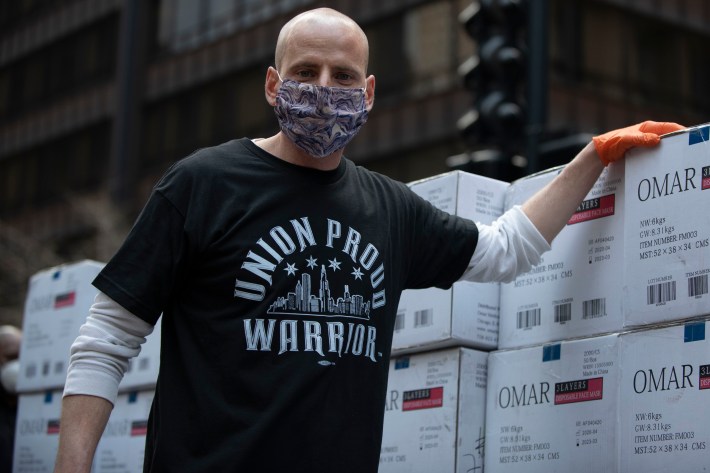 The city is also named in the suit, which claims various departments are "well aware" of Gardiner's constitutional violations but have done nothing about it.
Since Gardiner took office, the plaintiffs and others have made more than 20 complaints to the Office of the Inspector General, the Chicago Board of Ethics and the Law Department regarding the alderman's behavior, the lawsuit says.
Thus, the city "is liable because it acquiesced in Alderman Gardiner's constitutional violations and permitted Gardiner to act with impunity," the lawsuit states.
"We are pushing the city to enforce their own rules," said Steve Held, an Old Irving Park resident and one of the plaintiffs. "I have no expectation that Gardiner is going to respect any rules or boundaries, but we expected better from the city."
In a May 27 Twitter thread between plaintiff Adam Vavrick and the Chicago Board of Ethics, the board wrote that based on its 2019 social media guidelines for city employees and elected officials, aldermen cannot block constituents from their government page.
"Our opinion is clear that elected officials can block whomever they wish for whatever reason from their personal or political pages, but not their official government pages or those that function as such," the board tweeted.
RELATED: Stop Blocking Voters On Twitter, Ethics Board Warns Aldermen
However, aldermen may delete comments posted to their pages if they are "obscene, profane, libelous or defamatory, or are commercial and posted to sell goods or services," according to the opinion signed by Chairman William Conlon.
Plaintiffs said none of their comments were obscene, profane or defamatory.
Vavrick was a frequent commenter on the alderman's page, debating with other constituents and expressing disagreement with some of Gardiner's policies, he said.
The lawsuit states that on May 26, Vavrick posted two comments on Gardiner's page: One was in response to Gardiner's post about a public meeting regarding the Sears development. Vavrick asked that the Zoom meeting code and log-in credentials be made more accessible. The other post was a link to a 2018 Block Club story about an emergency court order filed against Gardiner by an ex-girlfriend.
Vavrick said Gardiner banned him from his page the same day, without issuing a warning, and he remains blocked.
"I am primarily interested in not having my First Amendment rights violated, which is the lowest bar a governmental official should have to hurdle is understanding the basics of the constitution and our alderman has failed at that," Vavrick told Block Club on Friday.
James Suh, another plaintiff in the lawsuit and an Old Irving Park resident and business owner, was blocked after commenting on Gardiner's Facebook page. Earlier this month, Suh left a comment asking for Gardiner's response to news a woman drove over someone's lawn and threatened a family for being a critic of the alderman.
"If you're prioritizing listening to constituent concerns, then it seems obvious for you to address one of your constituents being criminally targeted and harassed by one of your supporters," Suh wrote. "This troubling occasion calls for actual leadership, condemnation of this act and an appeal to universal common decency, whatever anyone's differences are."
Though not mentioned in the lawsuit, Gardiner also routinely limits attendance to various community meetings and has prevented reporters and ward residents from attending multiple meetings since he was elected.
The lawsuit is one of many around the country that brings into question the use of social media by public officials and how they use it to interact with their constituents. Former President Donald Trump was known to also block critics on his personal Twitter account while in office. In 2019, the Supreme Court ruled he could not legally block people on his government account. The decision was upheld by lower courts in 2020.
"Social media is the most powerful tool citizens have to petition and interact with their elected officials," Weinberg said.
The plaintiffs want Gardiner to restore access to his government Facebook page and to stop prohibiting free speech on his page.
Gardiner is also part of another federal lawsuit in which a man says the alderman falsely accused him of stealing a cellphone belonging to his ward superintendent, harassed him and then had him arrested.
Subscribe to Block Club Chicago. Every dime we make funds reporting from Chicago's neighborhoods.
Already subscribe? Click here to support Block Club with a tax-deductible donation.