CHICAGO — Text messages between Ald. Jim Gardiner (45th) and a former aide show the Northwest Side leader blasting his critics and political opponents — and urging an employee to avoid helping a constituent who voted against him.
The text messages from 2019, verified by Block Club Chicago, were between the alderman and a person who no longer works for him. Block Club is not naming this person because they no longer work for the city and are not a public official. The leaked texts were first published by The People's Fabric, a community website focused on Northwest Side political news.
Block Club reviewed the texts and the phone number they came from, and confirmed the number matches the alderman's.
In one text exchange, Gardiner refers to Ald. Scott Waguespack's (32nd) chief of staff as "his bitch." The aide said this was after a briefing held by Mayor Lori Lightfoot that Gardiner sent them to because he could not attend.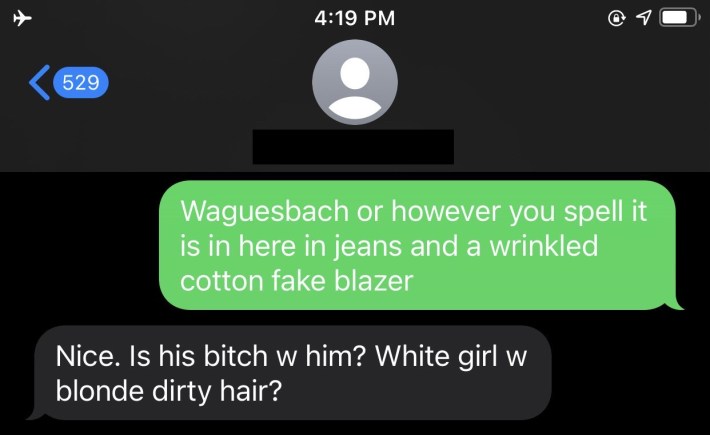 In another text, Gardiner calls Ald. Tom Tunney (44th), the city's first openly gay alderman, a "bitch" and adds, "f-ck him."
The former staffer said this exchange was in reference to Tunney's appearance at a 2019 zoning meeting, which failed to advance The Point project at Six Corners because then-Ald. Margaret Laurino (39th) said not enough aldermen were present.
"Tunney said he would not be here yesterday, and here he is. F-cking snake," reads another text message about the exchange.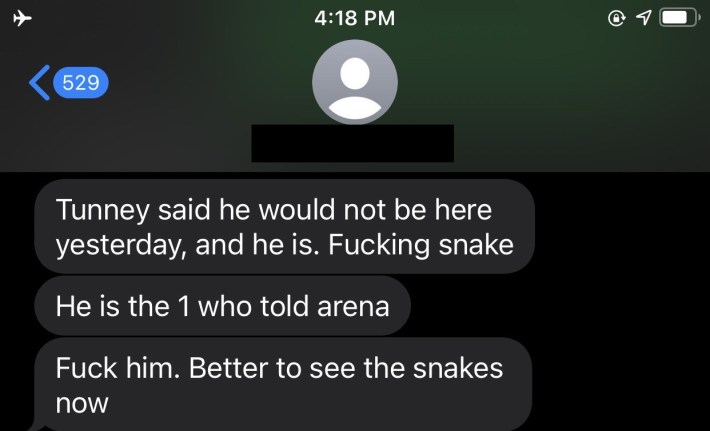 The quorum vote ended up stalling development at The Point because of opposition from Gardiner. He finally backed the project in 2020. It is under construction and set to be completed in 2022.
"It's disgusting and deeply disappointing that a community leader thinks it's necessary and appropriate to refer to a woman as a bitch," said Anne Emerson, chief of staff for Waguespack.
Waguespack called the texts "misogynistic" and said Gardiner owes the public and Emerson an apology.
Mayor Lori Lightfoot's office said the mayor also saw the People's Fabric report.
"While the alderman did not acknowledge that he wrote these texts, the mayor urged him to apologize to those involved as soon as possible," said Cesar Rodriguez, a spokesperson for the mayor. "The words attributed to him are personally offensive to the mayor and any woman who reads them."
Tunney could not immediately be reached for comment, but other political officials weighed in Thursday.
"There is no place for misogyny & homophobia in our city council or our county party," Rep. Kelly Cassidy wrote in a tweet. "I am disgusted by Ald/Committeperson Gardiner's actions and words here. Your constituents deserve better, your city and your party deserve better."
Rep. Will Guzzardi said Gardiner needs to apologize.
"Disgusting. Reprehensible. Unbecoming of anybody at all, least of all an elected official," Guzzardi wrote in a tweet. "And sure as hell not how you're gonna talk about a friend of mine. Ald. Gardiner, start by apologizing, unequivocally, now. Then … figure out a way to do better."
Reached by phone Thursday, Gardiner's staffer, Maree Joyce, declined to comment. Gardiner did not return calls and messages.
'This B-tch On Kildare Will Pay'
Since Gardiner was elected, he has reacted harshly to media coverage or social media postings he deems overly critical.
Other texts from the alderman previously shared with Block Club show Gardiner saying, "This bitch on Kildare will pay …" following a block party on Kildare Avenue.
In another text exchange from 2019, also covered by People's Fabric, Gardiner made similar comments about a constituent on Kenneth Avenue who asked for help on her block in preparation for a block party.
Gardiner told his staff not to help the woman because she supported another candidate in the aldermanic campaign, ending the text with, "F-ck her!!!!"
More recently, six residents of the 45th Ward sued the alderman — and the city itself — in June for allegedly blocking them or deleting critical comments on his Facebook page.
The federal class-action lawsuit alleges Gardiner is violating the First Amendment by deleting comments or blocking people he disagrees with on his government page.
Though not mentioned in the lawsuit, Gardiner also routinely limits attendance to various community meetings and has prevented reporters and ward residents from attending multiple meetings since he was elected. Last month, he refused to speak at a news conference in his ward until a Block Club reporter and photographer were removed from the premises.
After Block Club reported Gardiner was accused of stalking his ex-girlfriend when he ran for office in 2018, he has largely refused to speak to Block Club reporters.
Gardiner's critics have also seen property damage in the past. Pete Czosnyka, a Jefferson Park resident who is an outspoken critic of the alderman and is part of the lawsuit, was targeted in June by a woman who drove over his lawn and told him and his wife to "stop following the alderman."
Czosnyka told Block Club the leaked text messages match Gardiner's behavior toward critics and members of the media he dislikes.
"He always seemed to be duplicitous presenting one face for the public … but he does this in the background," Czosnyka said of the texts.
Czosnyka said the timing the texts were leaked is interesting, considering next week's City Council zoning meeting, which will see a vote on the long-awaited Sears development at Six Corners. Gardiner has touted the project as a revitalization of the Six Corners business district.
Subscribe to Block Club Chicago, an independent, 501(c)(3), journalist-run newsroom. Every dime we make funds reporting from Chicago's neighborhoods.
Already subscribe? Click here to support Block Club with a tax-deductible donation. 
Listen to "It's All Good: A Block Club Chicago Podcast" here: