WEST TOWN — Deitch Pharmacy is shutting down after more than a century in business at the corner of Chicago Avenue and Wood Street.
Owner Ozzie Feliciano, 66, confirmed he's retiring and shutting down the West Town business at the end of the month after a 41-year career. 
"I couldn't find a buyer for the pharmacy," Feliciano said. "So that's why it's not going to continue because the insurance really, the insurance pays you under your cost for the medication on a lot of things. So nobody wanted to buy it, unfortunately."
The pharmacy at 1800 W. Chicago Ave. has for decades offered bilingual medical services for the once predominantly Spanish-speaking neighborhood, selling supplements and toiletries on top of filling prescriptions. 
Raised on the South Side, Feliciano started working at Deitch as a technician six months before graduating from pharmacy school in 1980 when he was in his mid-20s. He bought the business in 2001.
"I didn't want to go into research. I didn't want to go to the chain drugstores. I wanted to have some autonomy," he said. "But I did want to have access to my patients and be with healthcare providers. [So] this was ideal."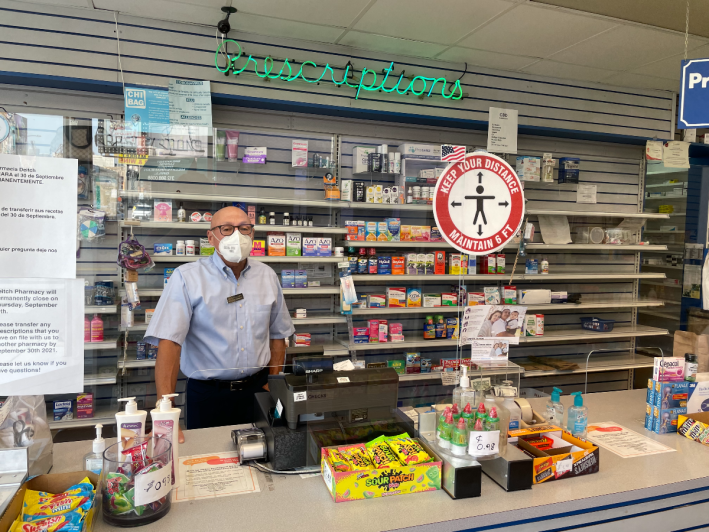 Throughout his career, Feliciano partnered with local clinics and community nonprofits to help distribute medication and provide services. He also co-founded the Chicago Avenue Business Association in the early 1980s, which worked with the local police district to reduce crime in the neighborhood. 
But in recent years, Deitch's bottom line has been strained by changes to insurance policies and trends in how people access healthcare, Feliciano said.
"People used to go to the pharmacies for advice. They still do, a lot of my clientele. But the newer people that are moving the neighborhood do not use pharmacies the way that they did 40 years ago," he said.
Longtime customer Sheila Bullock Smith started going to the pharmacy 25 years ago after growing frustrated with her old pharmacist. Even though she lives in Bronzeville, she still travels to West Town once a month to pick up her medication. 
"They don't make pharmacists like Ozzie anymore," she said. "The pharmacy has that ma and pa kind of feel, and Ozzie will help anybody."
Bullock Smith and Feliciano developed a friendship over the years. She would sometimes bring him slices of homemade cake, and even made him CDs when she found out he liked Luther Vandross. Bullock Smith says she'll probably now go to Walgreens for her medication, but it just won't be the same. 
"Walgreens, they want to get those prescriptions filled. They have a little advice window, but if you go there they don't help you … not Ozzie. Ozzie's going to tell you something," she said.
Feliciano considered closing last year, but decided to stay open to be a resource to his customers during the pandemic. Now he's finally ready to retire, in part to spend more time with his elderly parents.
Another casualty of Deitch's closure will be its iconic retro signs, at least temporarily.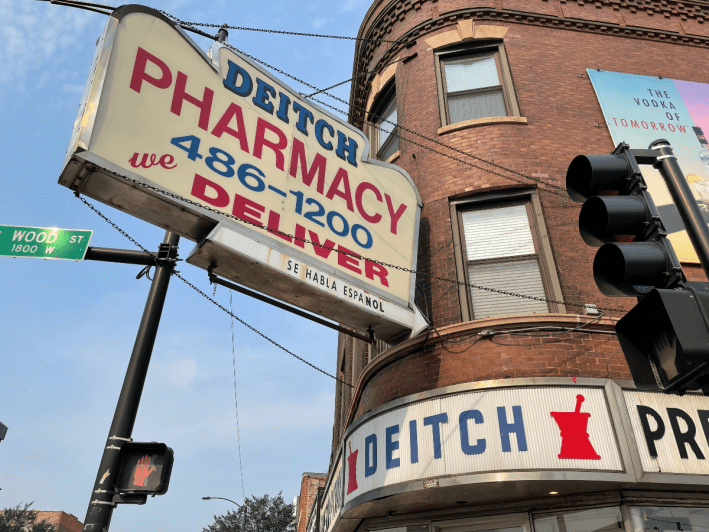 Felicano says after the business closes on Sept. 30, he'll be legally required to cover them up. He declined to comment on any further plans for the storefront or building. 
"When we close and this doesn't become a healthcare facility or pharmacy, we have to block it out. … It cannot anywhere say it is a pharmacy or a clinic," Felicano said. "We're going to cover them. It is sad, but I think it fits, because this is a dying business in America. It's all about big business. It's hard to have independent owners of anything today." 
Feliciano says he's reaching out to each of his customers to help them transfer their prescriptions to a new pharmacy before Deitch's closes. 
Subscribe to Block Club Chicago, an independent, 501(c)(3), journalist-run newsroom. Every dime we make funds reporting from Chicago's neighborhoods.
Already subscribe? Click here to support Block Club with a tax-deductible donation. 
Listen to "It's All Good: A Block Club Chicago Podcast" here: