PORTAGE PARK — For nine years, Jefferson Park mom Bella Ventresca has had chickens in her yard. They've become part of the family, and neighbors appreciate the fresh eggs, she said.
So, when two city investigators showed up at Ventresca's door and accused her of illegally raising chickens and selling their eggs, she was confused. The Department of Business Affairs and Consumer Protection investigators seemed baffled, too, but they were just doing their jobs.
After all, an alderman's office lodged the complaint.
What Ventresca didn't know was Ald. Jim Gardiner (45th) had her marked as an enemy, even though she doesn't live in his ward, according to one of Gardiner's former staffers.
The reason: A comment Ventresca made about Gardiner's stalking case and ward superintendent on a closed Facebook page for neighborhood moms, Ventresca said.
The city investigators left since no laws were broken. But Ventresca was rattled.
"I was completely baffled [and] so stunned," Ventresca said. "My neighbors and I get along really well, and I am an active part of the community. No one has ever had a problem with my chickens. I pride myself on being a responsible chicken owner."
The incident is part of a larger pattern of Gardiner wielding the power of his office to intimidate and punish people who crossed him, his critics and former staffers say.
This week, more than two dozen aldermen signed a letter condemning Gardiner for using sexist, foul language to describe colleagues and constituents in leaked texts. There has also been a formal complaint filed within the Cook County Democratic Party regarding his actions.
Now, a watchdog for the county's Clerk of the Circuit Court's office is looking into whether Gardiner, a Northwest Side alderman, used his authority to improperly access 23-year-old court records belonging to a Portage Park business owner who dared to question him publicly.
Gardiner did not respond to multiple requests for comment.
Court Watchdog Investigating
James Suh spent eight years building his car wash business, Car Care Auto Spa, near the Six Corners business district. He loves the area, but one thing drove him crazy for years: a huge, vacant lot that would fill with water and made the once-booming business district look blighted.
The lot, dubbed The Hole by some Portage Park neighbors, was once a Bank of America building. Developers pitched neighbors and Northwest Side aldermen on projects there since 2014. In 2019, after 16 proposals, neighborhood groups mostly united in support for a senior living facility on the corner.
Then, Gardiner stalled the project.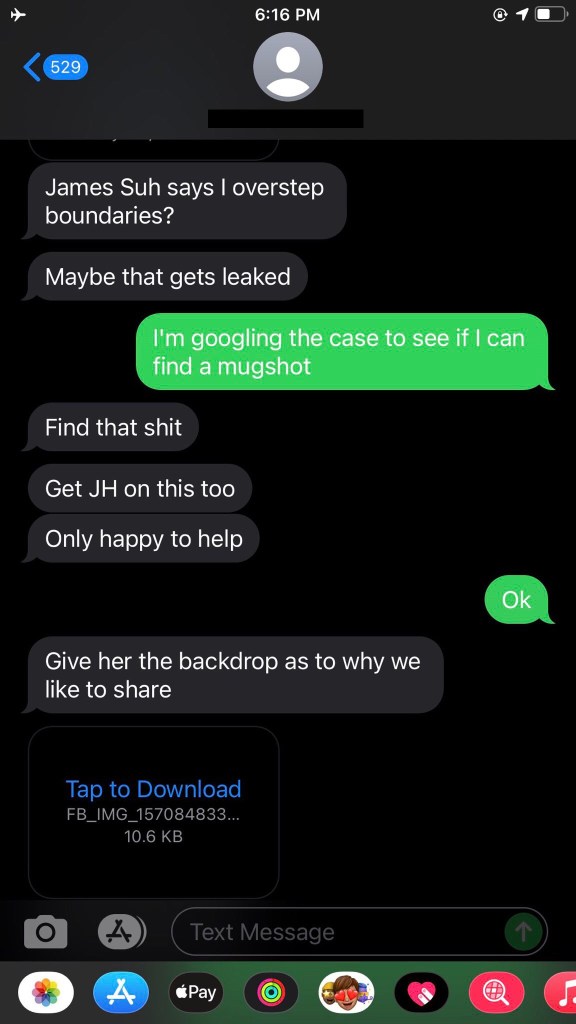 Suh was frustrated. He organized a protest hoping to change his new alderman's mind and about 150 people showed up. They called on Gardiner to put something — anything — on the prominent corner.
Suh had been a vocal critic of Gardiner since he was elected, and the protest infuriated the alderman, according to a former staffer.
Text messages between the alderman and his then-staffer shared with Block Club Chicago show Gardiner had old police reports pertaining to Suh and planned to leak the records to a neighborhood Facebook group that backs the alderman.
The protest occurred the evening of Oct. 5, 2019. By Oct. 7, Gardiner had printed copies of two court records of police reports involving Suh, according to the text exchanges.
Gardiner texted his aide with photos of the court records and said, "Maybe that gets leaked." When his then-aide suggested they would look for a mugshot, Gardiner replied, "Find that sh-t."
Gardiner then directed his aide to send the records to others, writing, "Get JH on this too. Only happy to help. Give her the backdrop as to why we like to share."
According to the aide, "JH" refers to the administrator of the Facebook group Six Corners Neighbors.
Suh said the court cases involved a 1998 fight and a 2007 charge for possession of a pocket knife — both dismissed years ago.
"No private citizen should ever be targeted by an elected official simply for exercising free speech, especially when that official abuses his position to obtain information in an illegal fashion," Suh said. "I, along with many others, have the sole aim of a healthy and thriving Six Corners community. I am shocked and saddened that that engagement somehow invited retaliation."
Suh said the texts, first reported by neighborhood political website The People's Fabric, show Gardiner is an "egregious, abusive authority" figure with a pattern of attempting to silence his critics and abuse city services for his own gain.
"It's disturbing that rather than listening, our elected official's response is to retaliate against my First Amendment rights and intimidate me into silence," Suh said.
Suh's exploring his own legal options in light of this news.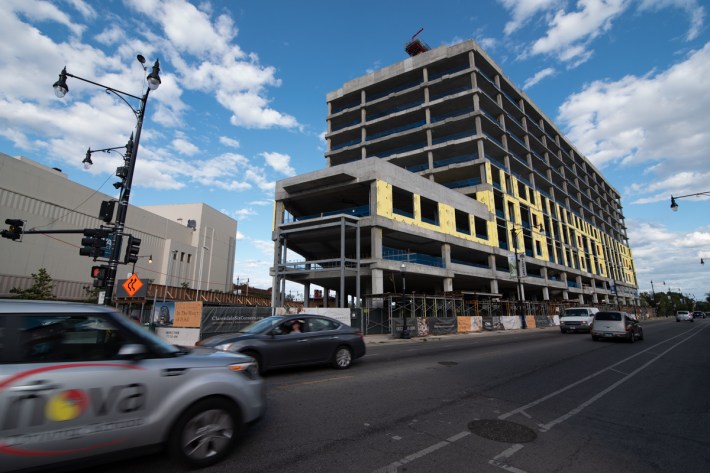 The texts also prompted an internal investigation at the Circuit Court Clerk's Office as to how and why the records about Suh were accessed.
"The Circuit Court Clerk's Office was recently made aware of an allegation that an employee may have accessed a court document and improperly used it for a non-Clerk or court related function," said Patrick J. Hanlon, the executive clerk of public policy and external affairs at the clerk's office. "The matter was referred to the Circuit Court Clerk's Office of Inspector General for an investigation."
The office, separate from the city and county inspector general, investigates matters tied to the clerk of the circuit court's office.
Ventresca — who had investigators show up after Gardiner allegedly said she was selling eggs illegally — said she filed a complaint with the Chicago Office of the Inspector General but never heard back. A spokesperson for the city watchdog would not say whether the matter was under investigation.
'We Were Basically Nose To Nose'
Suh isn't the only local business owner who's been targeted for disagreeing with Gardiner.
Gus Karamaniolas, owner of the old Fischman Public House that closed at the end of 2019, said Gardiner came to his business after he was elected and told Karamaniolas to apologize for Facebook comments he'd made that were critical of the alderman.
Karamaniolas said he had also made critical comments about former Ald. John Arena when he was elected — but never had he experienced anything like his encounter with Gardiner during his more than 20 years as a business owner in the area.
Karamaniolas said he thinks the alderman was also critical of him because he hosted former Arena's election-night party at Fischman's.
Gardiner "got verbally aggressive with me. I thought we were going to fistfight for a minute," Karamaniolas said. "It was pretty intense. The windows were open and people were listening. We were basically nose to nose.
"He threatened me, saying, 'You know your business could one day not be here,' and weeks later I had inspectors coming in my place," Karamaniolas said.
Karamaniolas said Gardiner came to the business a second time and again threatened not to help the owners get a sidewalk permit license or new awnings unless Karamaniolas apologized for his previous comments.
Karamaniolas refused to back down.
"We had inspectors coming in trying to give us a hard time for every little detail," he said. "We weren't even open basically a year and all of a sudden we got the health department barging on our doors. … I knew it was all because of him."
Karamaniolas said he never had issues with random inspections until his encounter with Gardiner.
Aside from the tense encounter, Karamaniolas said Gardiner sent his ward superintendent to Fischman's to ticket the business for having trash outside of its garbage bins in the alley — but he accidentally ticketed the next-door building's bins instead.
Gardiner's former staffer said the alderman personally went to the bar's alley and took photos of the bins, which he texted to the aide.
'He Needs To Resign And Seek Counseling'
In his short time in office, Gardiner has reacted harshly to media coverage, constituent comments and social media postings he deems overly critical.
The alderman and his staff also have allegedly lashed out at his critics by falsifying complaints and city tickets, refusing to help a constituent, forcing resignations from a longtime Six Corners neighborhood group and blocking residents on his government Facebook page, which has led to a lawsuit.
Though aldermen and Mayor Lori Lightfoot have asked Gardiner to publicly apologize for his behavior, he has not done so aside from calls to Alds. Tom Tunney (44th) and Scott Waguespack (32nd) and a brief statement issued last week.
"I am sorry for my comments; they do not reflect my values. I have reached out to my colleagues and others to express my sincere regrets. I respect all people and apologize to those I may have offended," he said in the statement.
Ventresca said the recent news surrounding the alderman and other reported retaliation tactics surfacing are in line with the way she was targeted and his problematic behavior toward women.
"It's very frustrating and disappointing," she said. "I think he needs to resign and seek counseling. He is sexist, homophobic and an unstable person. It's gone too far.
"At what point as a neighborhood do we stand for this?"
RELATED ARTICLES
'Do Not Help Her': After Texts Show Ald. Jim Gardiner Called Constituent A 'C-nt,' Council Members Want Him Punished
Ald. Jim Gardiner Apologizes To Fellow Alderman He Called A 'B-tch' In Leaked Texts
Ald. Jim Gardiner Calls Constituent And Fellow Alderman A 'B-tch,' Rips His Critics In Leaked Text Messages
Police Internal Affairs Investigating Officers After Woman Allegedly Drove Over Neighbor's Lawn Because He Criticized Ald. Jim Gardiner
NW Siders Sue Ald. Gardiner For Blocking Them On Social Media, Saying He's Violating 1st Amendment By Silencing Critics
Screaming Woman Drives Into Jefferson Park Family's Garden — Because They Don't Support Ald. Jim Gardiner, Couple Says
After His Volunteers Tossed Blankets And Food Of Man Who Is Homeless, Ald. Gardiner Says It Was A 'Mistake'
NW Side Alderman Had Staffer Falsely Report Cellphone Stolen — Then Had A Constituent Arrested, Lawsuit Alleges
Candidate In 45th Ward Had Order Of Protection Issued Against Him Last Year By Ex-Girlfriend
Subscribe to Block Club Chicago, an independent, 501(c)(3), journalist-run newsroom. Every dime we make funds reporting from Chicago's neighborhoods.
Already subscribe? Click here to support Block Club with a tax-deductible donation. 
Listen to "It's All Good: A Block Club Chicago Podcast" here: