IRVING PARK — Only one gardener has ever fought Chicago and won.
Chicago is notorious for fining urban gardeners hundreds of dollars for having "weeds" in their yards — even when those weeds are actually insect- and environmentally friendly native plants. And though gardeners can try to fight the fines, Irving Park's Pete Czosnyka is the first to win such a battle.
A retired civil engineer, Czosnyka bought native plants through Chicago's now-defunct Department of Environment in 2011, using them to create a garden in his own front yard.
Over the years, Czosnyka's 0.1-acre lot has become filled with plants like a 10-foot cup plant, big bluestems, prairie spiderwort, Joe-Pye weed, Gray's sedge, black eyed Susans, hollyhocks, lemon balm and goldenrod.
Scientists and nature advocates say such native gardens are far better for local wildlife and insects than grass lawns, and they've been growing in popularity in Chicago.
But this September, Czosnyka was slapped with a $600 fine.
The violation notice said Czosnyka has failed to maintain the parkway, causing rodent problems, and had weeds taller than 10 inches. The inspector claimed he'd "left many notices to cute weeds and grass" since a June inspection, through Czosnyka and his wife said they never received any.
RELATED: Meet The West Ridge Neighbor Who Killed His Grass On Purpose, Creating a Pocket Prairie In Its Place
If he wanted to escape the fine, Czosnyka was going to have to prove he "managed and maintained" the small prairie in his front yard.
After an internet search about the ticket, Czosnyka knew he was going to need help: No native plant gardener, it seemed, had ever successfully gotten out of paying the $600 fine for "uncut weeds."
Even the award-winning gardener and environmentalist Kathy Cummings has been fined. When Cummings received a citation in 2012, she tried to make the case her yard was full of native plants — not weeds — and she carefully maintained all of them. But the administrative hearing judge considering her case looked over the photos and said, "In my experience, those are weeds," according to a Chicago Reader article.
Czosnyka went to the Center for Neighborhood Technology because the city occasionally contracts with the group to promote rain gardens. After talking to people there, Czosnyka got a slew of contacts, one of whom was Jeffrey P. Smith.
Smith, the former chief counsel of the Illinois Department of Natural Resources, agreed to take on his case.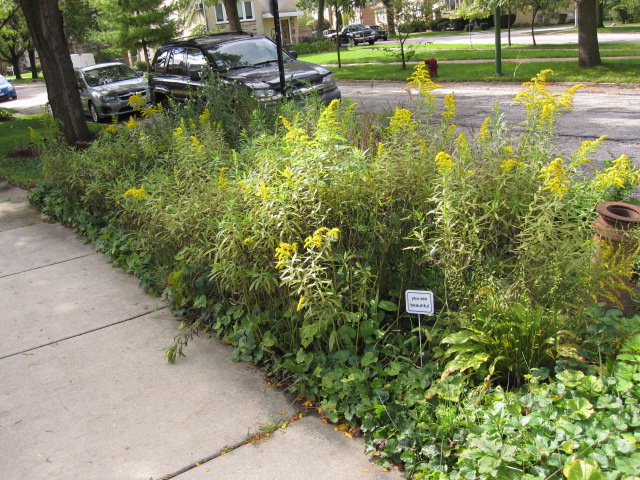 At the first court date, Czosnyka requested a continuance so he could provide exhibits and have a hearing. The judge agreed and the hearing date was set for December.
Other than Czosnyka and his wife, Noreen, there was just one other person who came to court that day — and that person pleaded guilty and didn't ask for a hearing. Czosnyka's lawyer, Smith, thinks most people do not contest these violations because of the time, expense and aggravation involved.
Smith had the Czosnykas testify about the small, front-yard oasis the couple works hard to maintain. Noreen Czosnyka prunes and deadheads flowers and has hired a neighbor to help. She also kept receipts of plants the couple purchased and said they knew exactly what was growing in their yard. 
Smith argued these purchased plants have monetary value and value as a habitat: The Czosnykas' yard is full of insects, such as monarch butterflies and grasshoppers, which their grandchildren like to hunt. Birds and bees are abundant — but rats are not, they said.
Czosynka had All-Over Pest Solutions inspect his property and they found no evidence of rats. They also showed the judge notes from the inspector, which said, "No rodent activity was noted on the entire property. … There is nothing to indicate an existing rodent issue on the property. No droppings or drag marks were noted in or around the vegetation either."
The hearing paused for lunch. They returned at 1 p.m. — and by 1:30 p.m. they were walking out the door with a finding the city hadn't proven its case, Czosnyka said.
Since the Czosnykas had shown their plants were desirable and maintained, the judge found they had not violated the weeds ordinance. 
Smith told the Mike Nowak show the judge gave an oral opinion before issuing her written order, saying the city established its case through the inspector's citation and, in most cases, that "carries the day."
But because the Czosnykas showed evidence their plants were not weeds, their garden was maintained and the pest inspector found no evidence of a "rodent problem," the city's case was disproven, Smith said.
Do stories like this matter to you? Subscribe to Block Club Chicago. Every dime we make funds reporting from Chicago's neighborhoods.
Already subscribe? Click here to support Block Club with a tax-deductible donation.