PORTAGE PARK — A week after James Suh threw a big 10-year anniversary bash with his wife, he threw a very different type of party — with an even bigger crowd – at Six Corners Friday evening.
More than 150 people, most of them Irving Park residents, showed up at 5 p.m. Friday with signs, megaphones and children in tow to protest Ald. Jim Gardiner's (45th) decision to oppose the $130 million The Point development planned for the Six Corners site.
Suh brought his party speaker and sported a unicorn floaty with a pink snorkel mask strapped to his head. Some of them were holding signs that read: "Greetings from Lake Gardiner: Where blight is alright."
"Start the construction!" they chanted. "Build The Point!"
The "lake" that forms in the massive hole at Six Corners has existed for three years, ever since the former Bank of America building was torn down in 2016. Clark Street Real Estate and Ryan Companies have been trying to develop the property since 2014. Their $130 million project, The Point at Six Corners, has seen a few revisions but was set to include an Aldi store adjoining a senior housing complex at the intersection of Cicero Avenue, Milwaukee Avenue and Irving Park Road.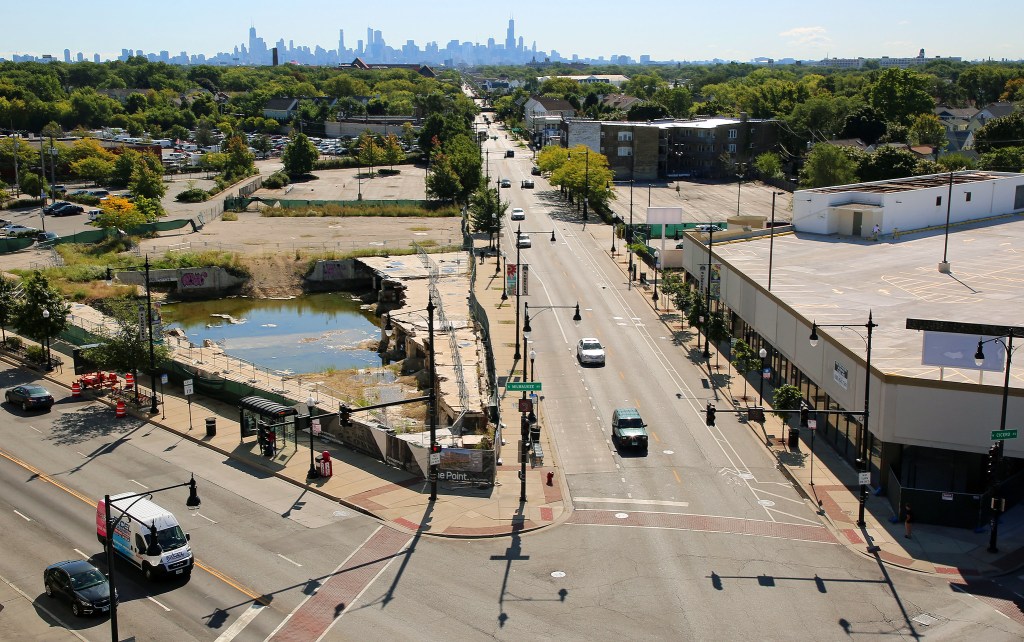 The Point is proposed at 10 stories, double the four to five story building recommended in the city's 2013 master plan for Six Corners. It was also designed to house 261 apartments — more than three times the 75 recommended in the master plan.
After the developer released their most recent proposal, which included the alderman's requested on-site affordable housing, Ald. Jim Gardiner (45th) announced at 5 p.m. Friday, Sept. 27, that he would not support it.
Protest organizer Suh, who lives and owns a car care business near Six Corners, was busy getting ready for his big 10-year anniversary when the news dropped that evening. When he finally saw the alderman's announcement on Monday, he was shocked.
"I knew there was opposition. I knew there was discussion," Suh said. "But I never really entertained the actual real possibility that the project was just going to get spiked and killed all together. I just couldn't believe it."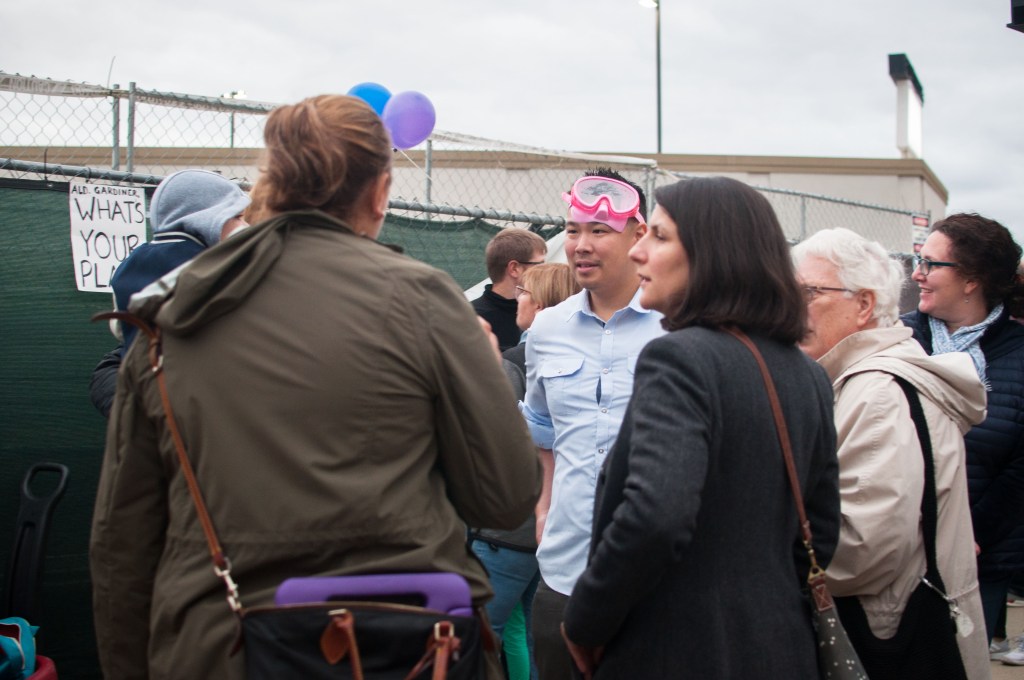 By Wednesday morning, he said he knew he needed to organize a protest. Some other neighbors helped connect him with Indivisible Chicago, a grassroots progressive group. Suh said the group was pivotal in helping him organize, lead chants and keep things moving at the protest.
"If the developer and the alderman met and they said, 'We're going to build a six story building here.' I don't think there's a person here tonight, who would come out marching and say, 'No, we want 10 stories.' We just want development. And it's very clear that from the onset, the alderman does not want this project with this developer," Suh said.
Suh said Friday's protest was the biggest — and only — protest many of the protestors had ever attended. 
"The thing that amazes me is people usually protest against buildings, but you've got all these people out here supporting a building," said Wade Johnston, an Irving Park resident.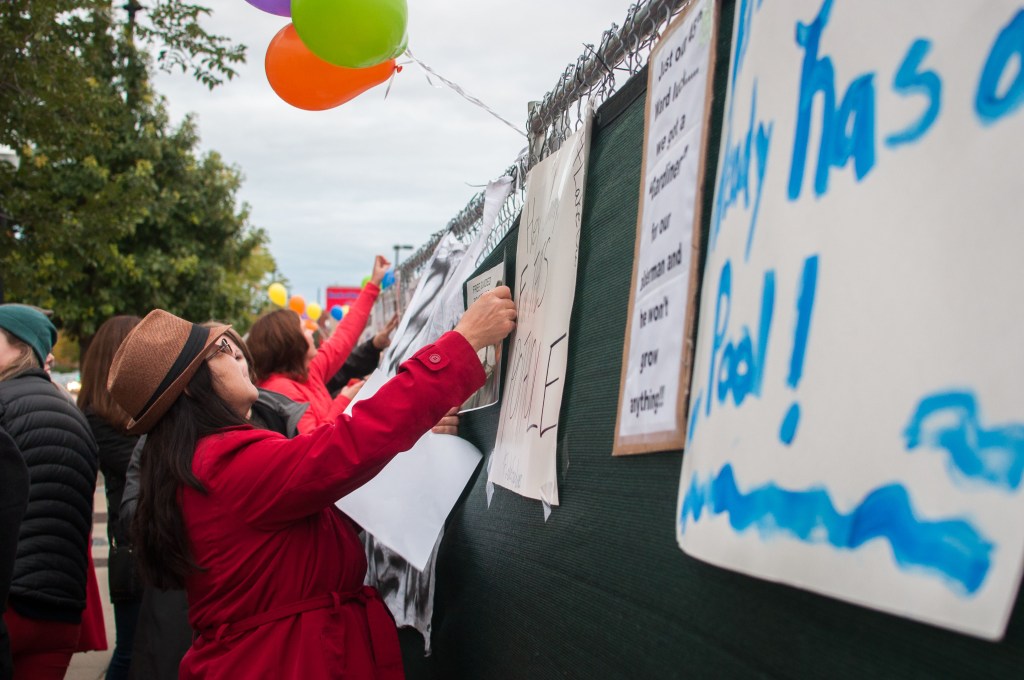 Tom Schraeder, who lives less than two blocks from Six Corners, was walking by and came over to talk to the protesters. 
Schraeder is in favor of developing, as most everyone is, but he thinks 10 stories is too tall for the site. The neighborhood master plan proposes a building height of four or five stories and Schraeder thinks that would fit better. He would even be ok with six or seven stories, he said.
"It went literally from one story with a rooftop to ten stories, Schraeder said. "How does that happen without some type of compromise? Go six or seven. But it's all about profits."
Gardiner responds
When asked if the developer is willing to reduce the plan from 10 stories, Gardiner said by phone Friday night: "I would love to tell you, but unfortunately, he canceled our appointment last week. And then when we asked to reschedule another appointment, he has not returned our emails."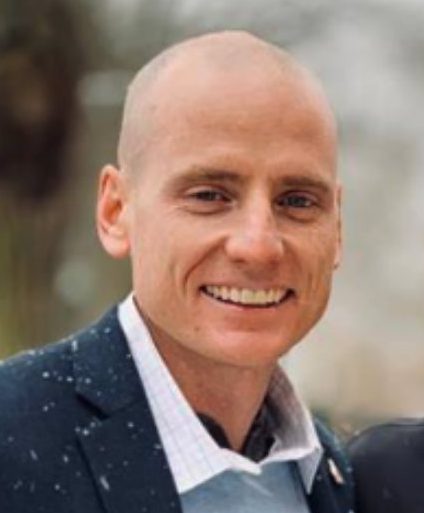 Since the developers canceled the meeting, Gardiner said he withdrew his support from the plan. 
"I don't think it's going back to the drawing board," Gardiner said. "I just think there was some concerns with regards to the height, due to the fact that there is a master plan in place that was signed off by the previous administration that says four to five stories."
Gardiner said he's willing to be flexible with the height, but doubling it?
"I think it's excessive and not in the best interest of the community," Gardiner said.
The developers couldn't immediately be reached Saturday.
Resident Lynn Ankney thinks this is an issue of aldermanic prerogative and hopes the protest sends a message past Gardiner to Mayor Lori Lightfoot. 
"I hope this gives [Lightfoot] the courage to stand up to the fight she's going to have with City Council. I just perceive that she has an opportunity to really turn the page into a new era of Chicago politics. And she could be a hero to our neighborhood in the process," Ankney said.
This week, Lightfoot said Gardiner "overstates his ability" to block The Point at Six Corners. Her remarks on the issue may signal that The Point controversy may become the latest flashpoint in Lightfoot's battle to roll back "aldermanic prerogative."
Suh hopes that's the case.
"I think it sounds like she is gonna intervene in some way," he said. "And if that's the case, then my work is done."
Do stories like this matter to you? Subscribe to Block Club Chicago. Every dime we make funds reporting from Chicago's neighborhoods.
RELATED COVERAGE
Ald. Gardiner 'Overstates His Ability' To Block Plans For Six Corners Development, Lightfoot Says (The Daily Line)
Fed Up Business Owner Calls On Six Corners Neighbors To Protest Gardiner's Point Decision: 'Enough Is Enough'
For Struggling Six Corners Businesses, Gardiner's Rejection Of The Point Development Hits Hard: 'That Corner Is Cursed'
Big Hole At Six Corners Is Sticking Around Awhile As Ald. Gardiner Rejects Latest Plan For Aldi Store, Senior Apartments
Latest Plans For The Point At Six Corners Revealed, But Alderman Still Undecided
The Point At Six Corners Keeps Aldi, Adds Affordable Housing As Neighbors Urge Action In Closed-Door Meetings With Ald. Gardiner
Plan For Aldi, Senior Housing At Six Corners Isn't Dead, Ald. Gardiner Tells Residents — But It's On Hold For Now
As Plans For Dreaded Hole At Six Corners Intersection Stall, Area Business Owners Plead: 'Just Put Something There'

Is The Point At Six Corners Dead? Neighbors Try Convincing New Alderman To Support Senior Center At Long-Vacant Intersection

Critics Of Current Plan For The Point at Six Corners Say Building Would Be Too Tall