WEST TOWN — A longtime West Town leader is being remembered as a trailblazer and "the heart of the neighborhood."
Kara Salgado died in December at 55. She ran the West Town Chamber of Commerce for 20 years, boosting businesses along Chicago Avenue, Division Street and other commercial corridors in the neighborhood.
Salgado launched popular street festivals like Do Division and West Fest and worked with business owners to open and promote shops, restaurants and art galleries. Along the way, she encouraged West Town's growth while respecting the neighborhood's indie culture and artistic focus, neighbor Michael Vandam said.
"Kara was a fierce advocate for our neighborhood, driving economic development while never losing sight of the character of the area," said VanDam, who has been involved in West Town community groups for many years.
Salgado died about a year and half after doctors discovered she had brain cancer in summer 2021, said her husband, Henry Salgado.
When the two met in the '90s, Kara Salgado was running an art gallery in Wicker Park called Idao Gallery, Henry Salgado said. She was an artist and had taught art in Maine after graduating from Skidmore College in the late '80s.
That creative spirit extended to Kara Salgado's business and ultimately, her work in the community, said Henry Salgado, who lives in Oak Park with his and Kara's son, Cole.
"She was always creating; she was always creating businesses. She always had ideas, you know, 'I want to work this, I want to start this event,'" he said.
While running the gallery, Salgado got involved with the Wicker Park Bucktown Chamber of Commerce in the late '90s and eventually became its director, according to a resume on a blog she kept.
While there, Salgado noticed a nearby organization called the Near Northwest Chamber was essentially defunct, said Susan Aldous, the interim director of the West Town chamber.
Salgado secured grant funding and rebranded it as the West Town Chamber of Commerce in 2002. She ran the organization for the next two decades, overseeing its growth in the neighborhood.
The initiative Salgado took to jumpstart the chamber is "the reason [it] exists today," Aldous said.
"She saw the potential in the neighborhood and brought the organization into good standing and got us to where we are today," said Aldous, who worked with Salgado at the Chamber for the last 15 years.
Two of Salgado's proudest accomplishments were launching West Fest and Do Division, Henry Salgado said. The popular street festivals shut down Chicago Avenue and Division Street every summer.
No festival promoter wanted to work in the area when Kara Salgado tried to start West Fest in 2004, Aldous said. She took on the work herself.
"She did the first West Fest by herself. She found a talent buyer to book all the talent locally. She rented stages and got stagehands and was here at midnight when the stages were delivered, was here in the morning, checking all the volunteer staff in and kind of did it all," Aldous said.
West Fest was followed by Do Division a few years later, along with other big events like the annual Dancing In The Streets festival.
The can-do attitude Salgado brought to that first iteration of West Fest was something she gave to all her work at the chamber, Aldous said.
"If she sees something that she sees as valuable or worthwhile, she'll find a way to make it happen. I've seen that in her work, in everything she does," Aldous said.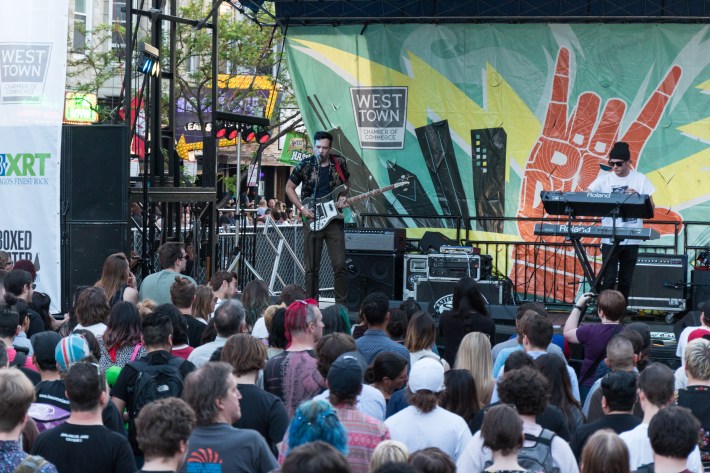 One example is the West Town Art Walk, which is an expansive weekend-long showcase of the neighborhood's galleries held every fall.
But when it launched more than a decade ago, the Art Walk was just an idea from two vintage store owners in the neighborhood: Seek Vintage's Christopher Hunt and Dovetail's Julie Ghatan.
The duo created the event to promote the neighborhood's galleries and small businesses and organized it themselves, Hunt said.
That's when they heard from Salgado.
"Kara contacted me was and was like, 'Why didn't you ask the chamber for help? We'll totally help you.' And we realized that the chamber and her running it was amazing, and they totally supported the Art Walk from there on," Hunt said.
The chamber's backing of the Art Walk "propelled the event to this level that we never probably would have been able to do, just two of us," said Ghatan, who later served as president of the chamber's board of directors.
Salgado made sure the chamber continued to support Art Walk and other community events, Ghatan said.
"Anything you threw at them, if it was feasible … she would be so into it. It was a fully collaborative organization under her direction," Ghatan said. "I think she did an amazing job of just balancing all the personalities while continuing forward with the mission and the vision of the chamber."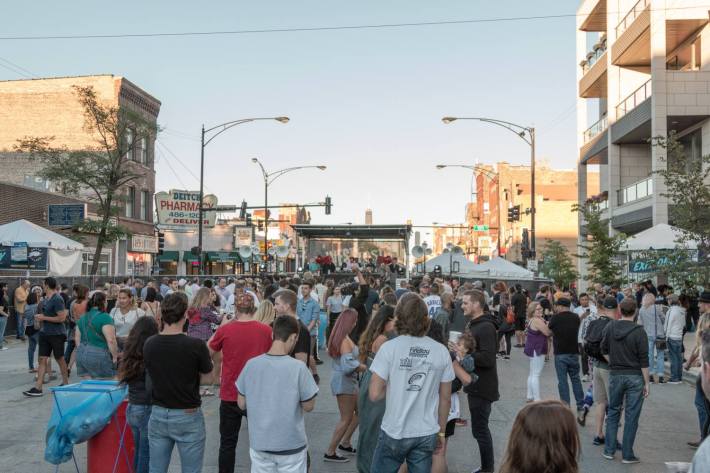 Salgado's work at the chamber extended to advocating for businesses to come to West Town, like Forbidden Root brewery's bid to open on Chicago Avenue, Aldous and Ghatan said.
The company was eyeing an old theater at 1746 W. Chicago Ave. for a brewery, taproom and restaurant in 2014 but ran into roadblocks — that portion of the neighborhood was under a longstanding liquor moratorium and would require a zoning change for the business to operate.
Salgado was instrumental in pushing for those changes, which helped pave the way for Forbidden Root to open in 2016, Aldous said.
"Kara wasn't going to let something like that stand in the way when she knew that the reality of the situation was that it would be a great fit for the neighborhood," Aldous said.
During the Forbidden Root situation and in general, Salgado "was really interested in concrete things we could do to help people right now. And I feel like she stayed very true to that in everything she did," Aldous said.
Throughout her work and then while receiving treatment for cancer, Salgado's creative spirit never left her, Henry Salgado said.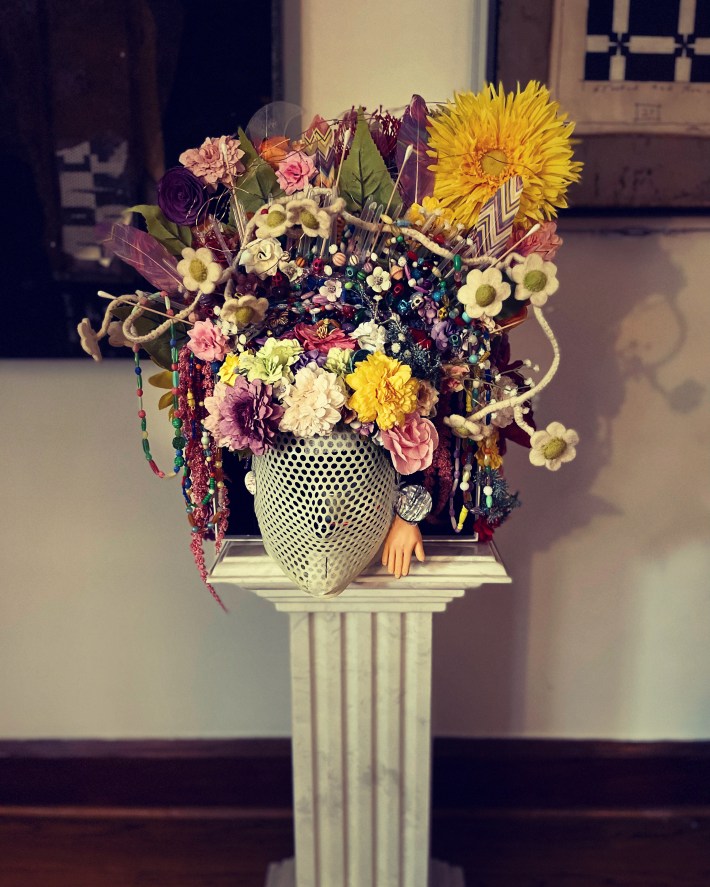 Last year, Salgado made what would become her final creation: an installation based around the radiation mask she had to use for cancer treatment.
The work includes other hospital items like needle covers, Q-tips and ID bracelets along with fake flowers and Mardi Gras beads, with a look inspired by Frida Kahlo.
"Inside of it is a Bluetooth speaker that has a recording of the sounds of the MRI and radiation machine along with the beeping of the hospital machines and the ringtones of the nurses' phones that drove her crazy," Henry Salgado wrote in a social media post shortly after Kara's death. "It's a masterpiece."
Salgado's death is a huge loss for the larger West Town community, but her spirit lives on throughout the neighborhood in every project, festival and initiative she took on, Aldous said.
"We have so many reminders of her around the neighborhood and her legacy. She's left the West Town chamber here for the neighborhood," Aldous said. "Her events are still up and running. And we hope to continue her passion for bringing people together."
Listen to "It's All Good: A Block Club Chicago Podcast":