JEFFERSON PARK — A longtime community activist, organizer and historian is entering the race for 45th Ward alderperson to unseat embattled alderman Jim Gardiner (45th).
Susanna Ernst, who has lived and worked in Jefferson Park for over 20 years, announced her candidacy Monday after mulling the idea over since last year.
Ernst is well-known in the community for her role in historic preservation. She is the co-founder of the Northwest Chicago Historical Society and was the co-founder of neighborhood groups Jefferson Park Neighborhood Association and Jefferson Park Forward.
Ernst was a 45th Ward Participatory Budgeting Committee member under former Ald. John Arena and orchestrated the inclusion of the city's Northwest Side historical buildings in Open House Chicago.
Most recently, Ernst led the charge in preserving and requesting landmark status for the Our Lady of Victory church building that closed its parish last year. She also spearheaded efforts in bringing the Jefferson Park plaza alley project to life at 4870 N. Milwaukee Ave. which was seven years in the making, along with Jefferson Park Forward. The plaza was completed earlier this month.
After years in community engagement work, Ernst said she is ready to use that experience for civic influence to try to unite a politically divided ward, increase community partnerships and offer a change in leadership.
"We are in a place where we have an opportunity to do a little bit better for ourselves," Ernst said. "A big thing that was the impetus for me is right now there is a lot of division in our community and there has been for many, many years. We have developed an 'us versus them' mentality and it's not a good way to get things accomplished."
The ward has historically been more progressive in Old Irving Park, Independence Park, and parts of Portage Park, and more conservative in Jefferson Park and Gladstone Park. The new 45th ward map that was adopted last month gives the ward more progressive Portage Park voters while cutting out parts of the Old Irving Park. It also gained more parts of the Edgebrook and Wildwood areas, which tend to lean more conservative.
Ernst is focusing her campaign on fair and equitable constituent services, better support of local businesses and chambers, public safety and inclusive communication that can unite the diverse ward.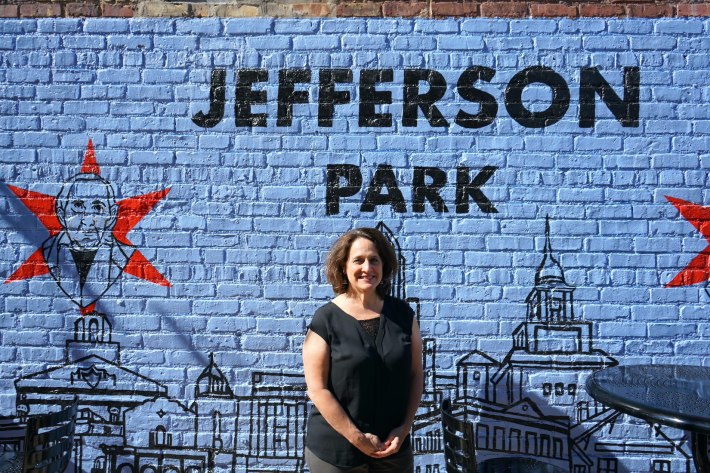 "If we work together as neighbors and community organizations, we can accomplish so much more," she said. "Everybody should be working together. Some groups have been stymied because they haven't been able to accomplish their goals, because they haven't necessarily been helped by the current leadership."
If elected alderperson, Ernst said one of the first things she will do is host weekly civic nights, where folks from the ward can meet one another, share ideas for neighborhood improvements and provide feedback on how to create lasting partnerships, she said.
In the past three weeks, Ernst has gathered more than 40 volunteers to help with canvassing, petitions, communications and outreach, she said.
Stephanie Livingston, who started the neighborhood's park pollinator garden this summer, is one of those volunteers. The Jefferson Park resident was impressed with Ernst's activism surrounding the proposed addition of turf fields to Jefferson Memorial and Wilson Parks, which Gardiner proposed in May and June of last year. Worried about losing too much green space, Ernst passed out flyers and posted about the issue on social media, which garnered neighbors to voice their opposition to the proposal.
"Green space is huge for us," Livingston said. "It was ridiculous that [the turf] was even proposed. I felt hopeless and wondered of the trajectory of the ward … Susanna's [organizing] was a much better way to use energy than being in disrepair. Her amicability and openness are friendly and warm — I think people that are working for people should have those qualities about them. It invited more feedback and communication."
Livingston appreciates Ernst's community involvement and plans to canvass for the candidate — the first local candidate she's ever volunteered for, she said.
Ernst joins Old Irving Park resident Megan Mathias in running against Gardiner. Mathias announced her run last year and was kicked out of the ward remap. If elected into office in 2023, she would need to move back into the ward in 2027 if she runs for re-election to meet the ward residency requirement, which is to live in the ward for one full year before Election Day.
Last month, Nadig Newspapers reported that Jefferson Park resident, Marija Tomic, plans to run against Gardiner, but she has not filed with the Illinois State Board of Elections or created a campaign yet.
Gardiner is facing multiple lawsuits and a series of allegations that include withholding ward services from his critics, using foul language to describe women and other potential misconduct. The FBI, the Chicago Board of Ethics, the Circuit Court Clerk's Office and the Office of the Inspector General have launched investigations into Gardiner's conduct in office. Some constituents and his council members have called on him to resign amid the controversies.
He is seeking reelection and has $210,647 in his campaign coffers, according to the most recent campaign disclosure report filed with the Board of Elections.
Listen to "It's All Good: A Block Club Chicago Podcast":