JEFFERSON PARK — Although the next aldermanic election is more than a year away, a resident is already looking to unseat embattled Ald. Jim Gardiner (45th).
Megan Mathias, an Old Irving Park resident, officially announced her campaign for 45 Ward alderperson Tuesday at her kickoff party at Galvin's Public House, 5901 W. Lawrence Ave.
"I have been preparing for a year — right after Gardiner was elected, people started asking me if I would run, so part of it is answering the call," Mathias said. "I think the need in my ward is to be heard. What I bring is the ability to have broad support, advocate for and listen to voices even if they don't agree with me. But I want to be able to listen and incorporate community voice into what I am doing."
Mathias said she knows it's early to launch a campaign and ward redistricting is not yet final, but she wants to connect with residents. She said her campaign has raised $50,000.
Mathias has lived in the ward since 2014 but has called Chicago home since 2000. Originally from Michigan, the single mother of three owns her own law firm in Old Irving Park called Lopp Mathias Law.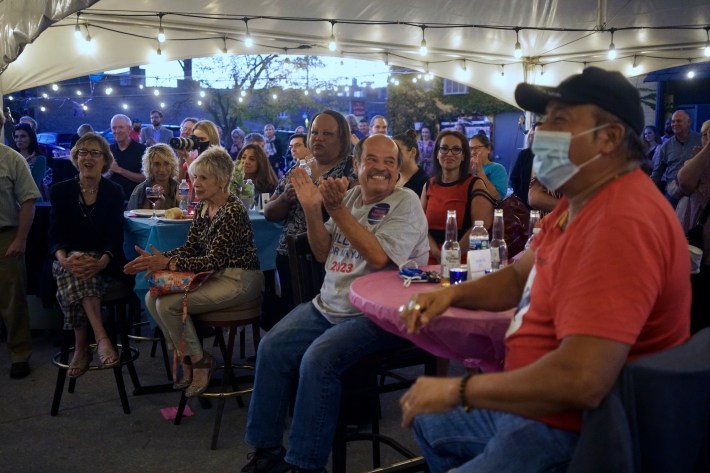 The ward, home to large numbers of police officers and firefighters, has traditionally been more conservative; but in recent years, its progressive population has boomed, with more residents advocating for policies like increased affordable housing. That's created political divisions that make it difficult to determine who will win in local races.
Gardiner, a former substitute teacher and member of the Fire Department, was elected in 2019, beating out incumbent John Arena. Arena — who, like Mathias, favored more progressive policies — had faced pushback from some residents for his moves, like supporting affordable housing developments.
But Gardiner has become embroiled in scandals after leaked texts showed he tried to get revenge on residents who criticized him, called a constituent a "c-nt" and tried to deny her city services and called a fellow alderman and a City Hall staffer a "b-tch," among other things. He is reportedly being investigated by the FBI, Mayor Lori Lightfoot said he should be investigated by the city watchdog and the city's Board of Ethics has said his actions should be investigated by the inspector general.
Mathias said she wants to find common ground and focus on economic revitalization and supporting working families, leadership, public safety and educational support.
Speaking to a crowd of more than 100 people, Mathias was cheered on as she talked about the importance of having affordable housing in the community and creating more opportunities for small businesses to thrive and having good-paying union jobs for residents.
"We want leaders who listen and show up — those are skills you need and have a vision for the community," she said. "This is the work I have done for nearly two decades. From that experience, I know we can build common ground and restore the trust between the residents and our elected officials."
Kara Wagner Sherer, a 45th Ward resident of 16 years and a local pastor, said she supports Mathias for her commitment to treating everyone in the ward with respect and bringing the community together, no matter their political background.
"I want an alderman who listens when I speak about unpopular things like affordable housing, like small business development … things that we know will change the lives of my neighbors and parishioners," Wagner Sherer said.
Robert Van Hook, a 10-year Jefferson Park resident, attended the kickoff party to learn more about Mathias and "hear from any alternatives to the current alderman."
Although Van Hook said he's hesitant to formally support any candidate before ward redistricting maps are published, Mathias' platform is more in line with his values.
"I am happy to have someone that is professional, intelligent, articulate, competent, organized … all these words describe Megan, and they are desperately lacking in our ward right now," he said.
For Gladstone Park resident JC Strzalka-Steil, who used to work for Northwest Side state Sen. Rob Martwick, Mathias' leadership experience and her understanding of business development needs in the neighborhood make her a worthy candidate.
"I live two blocks away from Jim Gardiner and I drive up and down Milwaukee Avenue — I know he sees all those empty storefronts just like I do, just like Megan does," Strzalka-Steil said. "I don't believe that her lack of political experience is a problem. This is a local office where local and community engagement is what matters."
Mathias said she does not want to be seen as the candidate running against Gardiner solely because of recent allegations, but she said retaliation tactics and withholding city services from residents is unacceptable from any elected official.
"The basic expectation of a public official is everybody is going to be served," she said. "My office will be committed to helping everyone with no exceptions, whether you vote for me or not, whether you support me, criticize me or you knock doors for a political opponent … none of that matters. We have a wonderful community with diverse opinions."
Subscribe to Block Club Chicago, an independent, 501(c)(3), journalist-run newsroom. Every dime we make funds reporting from Chicago's neighborhoods.
Already subscribe? Click here to support Block Club with a tax-deductible donation. 
Listen to "It's All Good: A Block Club Chicago Podcast" here: