CHICAGO — Chance the Snapper may be gone, but the beloved gator lives on across the arms and legs of Chicagoans.
The gator's presence at the Humboldt Park lagoon earlier this month caught national attention, with hundreds of Chicagoans flocking to the park for a chance to see the crocodilian. Chance was caught last week and shipped off to Florida, where he's living a life of luxury.
But Chance has now been immortalized in tattoo form on at least four people.
Zack Triveline, who lives in Tri-Taylor but spent six years in Humboldt Park, got his Chance tattoo on Friday. He's got about 16 tattoos, he said, and honored Chance by getting another because he thought the gator was part of a "cool story."
In fact, Triveline was one of the many who went to the lagoon for a shot at seeing Chance. He didn't spot the gator, he said, but he thought it was "pretty crazy" how quickly word spread of the alligator and how many people were paying attention to Chance.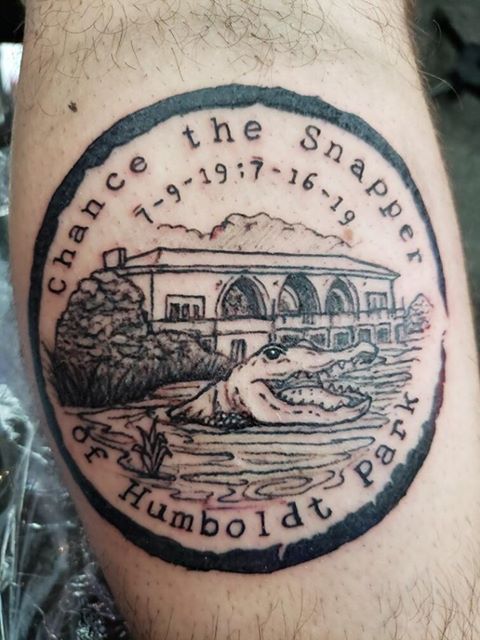 "I've wanted to get an alligator tattoo for a while, and then after seeing everything about this alligator in Humboldt Park … I thought it was cool," Triveline said. "I have a friend who does tattoos so I ran the idea past her. She was really excited about it so we decided just to go for it."
The 5-inch, round tattoo shows a gator, its mouth open wide, coming out of the water in front of the Humboldt Park boathouse. "Chance the Snapper of Humboldt Park, 7-9-19;7-16-19" encircles the tattoo, noting the dates when Chance was first seen and then captured.
Triveline's friend drew up the design based on his idea and he "loved" it, he said. It took three and a half hours to tattoo the side of his leg, and he hopes to return soon to add color.
"Everybody has loved it so far. I've had a lot of people say, 'I want the same one,'" Triveline said. "Everybody who sees it knows exactly [who Chance is]. I'm sure in a couple months when everybody forgets about it then I'll get a couple questions, but for now everybody loves it."
Danielle Call, who lives in Las Vegas but grew up in Bridgeport, got homesick while following all the Chance the Snapper news. She eagerly kept up with updates on the gator, sharing stories and photos.
So once Chance was caught, it just seemed natural for Call to celebrate by getting a tattoo of the gator.
The small tattoo, which is on Call's ankle, shows Chance with his iconic bow tie and a curled-up tail. Call's friend, who also moved to Las Vegas from Chicago, got her own Chance tattoo on her fingers, too.
"We were just absolutely in love with the whole spectacle and story. It was kind of like this nice little piece of home," Call said. "Not being there, it was cool watching everybody coming together and having fun over this completely joyful, kind of silly situation."
The day Chance was caught, Call called around tattoo parlors seeing if they'd take walk-ins. She tried to explain that she wanted a "small but hilarious" tattoo of Chance the Snapper, but not everyone in Vegas understood who Chance was.
"I swear the first tattoo shop just thought I was f—ing with them," she said, laughing. "It's a Chicago thing at this point."
Once Call did find a place to go, she showed an artist a photo of Chance, clad in a bow tie, at his news conference for inspiration. The resulting tattoo is "perfect," she said.
The tattoo has earned high praise online, Call said, and made her and her friend feel a little closer to Chicago.
"The whole thing made us a little homesick," Call said. "And it's perfect. I could not have asked for anything better."
A fourth Chance tattoo was shared on Twitter:
Do stories like this matter to you? Subscribe to Block Club Chicago. Every dime we make funds reporting from Chicago's neighborhoods.
GATOR WATCH 2019 COVERAGE
The Guy Who Caught Chance The Snapper Is Blown Away By All The Chicago Love (And He's Single)
In Humboldt Park, Residents Say Gator Fever Was Good For Business: 'This Showed Our Beautiful Neighborhood In A Different Light'
Chance The Snapper, Humboldt Park's Beloved Alligator, Wore A Dashing Bow Tie To His Press Conference
Captured Humboldt Park Alligator Is 5-Foot-3, Healthy And Pretty Tired
With No New Humboldt Park Alligator Sightings In 24 Hours, Concern For Reptile's Health Rises
The Humboldt Park Gator Has A Name Thanks To Thousands Of Voters: Chance The Snapper
10 Things Alligator Bob Taught Us About Gators, Life And Everything In Between
As Humboldt Park Gator Watch Enters Day 3, Alligator Bob Says The Creature Is Getting Comfortable
Chicago's Alligator Search Highlights Illegal Pet Dilemma, But Experts Urge: Please Don't Just Dump Them
It's GatorWatch In Humboldt Park As Chicago Comes Together To Search For A Scared Alligator
How Did A Gator End Up In The Humboldt Park Lagoon? Here's How Experts Rescue Exotic Animals in the City
Yes, There's An Alligator Living In The Humboldt Park Lagoon … And Chicago Is Cheering It On