This story was originally published by DNAinfo Chicago in 2015. It has been updated to fit our recent gator needs.
HUMBOLDT PARK — You've heard of alligators in New York's sewers, but what about on Chicago's streets?
The Windy City has been home to all kinds of non-indigenous reptiles and amphibians — including alligators and ball pythons — but it's not supposed to be, experts said. Now, a 4-to-5-foot-long alligator has been spotted in the Humboldt Park Lagoon, and officials are working to remove the reptile.
The gator (whose name we're trying to decide) isn't the first exotic animal spotted in Chicago.
A thin, injured alligator was found in the middle of a street on the South Side in October 2015, ball pythons have been discovered on golf courses and venomous snakes get dropped off in trash cans.
The Chicago Herpetological Society is often called in to help find homes for exotic animals when they are abandoned or surrendered.
"We find animals like that, venomous reptiles thrown away in trash cans, in the back seat of cars," then-society President John Archer said in 2015.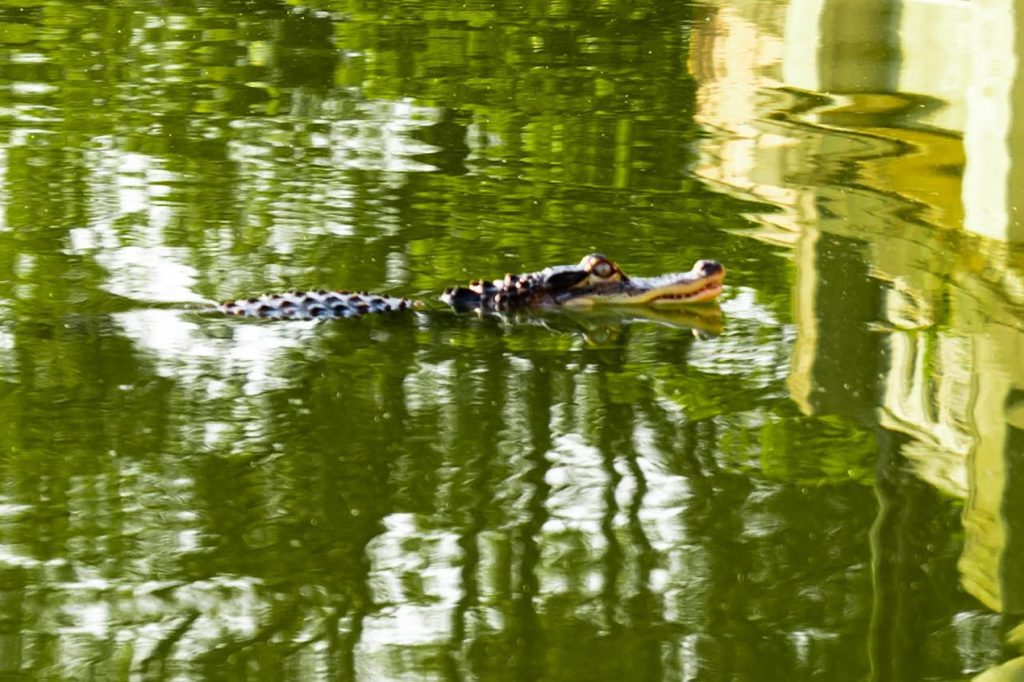 Abandonment is "probably a death sentence for the animal," Archer said. That's frustrating for people like Erica Mede, the president of Friends of Scales in 2015. The organization is not involved in the Humboldt Park rescue, but the Evanston-based group helps find homes for amphibians, reptiles and invertebrates that are voluntarily surrendered or abandoned, among other services.
Mede said alligators like the one found on the South Side a few years back are typically kept in bath tubs or fish tanks and are 2½ to 3 feet long when they're abandoned.
Most people who surrender their pets to Friends of Scales do so because they can't take care of them anymore, can't afford the pet's health costs or didn't think the animal would live as long as it has, Mede said. Far fewer people just abandon their pets, Mede said, but it does happen.
"There's a whole lot of turtles in the Chicago River that shouldn't be there," Mede said.
Instead of abandoning them, pet owners should try to rehome their, er, non-traditional friends (but give the alligators to experts — they're illegal to own in Illinois). There are "very few quick turnarounds," Mede said, but it's better for the pet and the environment than abandoning non-indigenous animals. They can contact experts like Friends of Scales, the Herpetological Society or even the Chicago Exotics Animal Hospital, she said.
Chicago Animal Care and Control accepts all animals surrendered to it, including alligators, turtles and snakes, said then-Deputy Director Ivan Capifali in 2015. The city agency gets help finding new homes for those animals from groups like the Herpetological Society and Friends of Scales. Animal Control can be reached by calling 312-747-1406.
But, Animal Care and Control "does not have the capability to handle these exotic animals," Capifali said.
Mede said Friends of Scales rescues and receives 300-400 animals per year, many of them from the suburbs. The all-volunteer group is trying to build a standalone facility so it can better help animals. It accepts donations online, with half of the donated money going to vet care and the other half going to savings for the facility.
Archer said Herpetological Society members get about a dozen animals per month from Animal Care and Control, not all of them exotic, and members also take in animals that don't come from Animal Control. They refuse to take animals from their owners until they have a new home set up for them, Archer said.
Crocodilians are sent out of state to special facilities: They're never set loose "because that's a really bad idea, plus it's illegal," Archer added.
"Fortunately, that's dropped off in the last few years. We used to get a lot more than we do now," Archer said. "We like to think it's because we're educating people. … It could be because they're enforcing the laws a little bit more, but I'm not sure that's the case."
What to think about before getting an "exotic pet":
• Is it legal to keep the animal as a pet? Do you need a permit?
• How much will the pet's food, health care, etc. cost? Are you able to afford the costs?
• Can you provide adequate housing for the pet as it grows? It's a myth that animals don't grow larger than their habitat, Mede said.
• How long will the pet live? If you're adopting, say, a turtle, are you prepared to care for it for more than 50 years?
• If you need to rehome the pet at some point, do you understand that there are "very few quick turnarounds" and it could be a while before your pet gets a new home?
• Have you done research and reached out to experts and area groups to learn about how to care for your pet?
• Will the animal fulfill what you want in a pet? Snakes and turtles provide very different forms of companionship than cats and dogs do.
Do stories like this matter to you? Subscribe to Block Club Chicago, a nonprofit newsroom covering Chicago's neighbrhoods. Every dime we make funds our reporting.