HUMBOLDT PARK — Chance the Snapper is no longer a wanted man … er, gator.
The alligator, who's fascinated Chicago since he first popped up at the Humboldt Park lagoon last week, was "taken into custody" at 1:30 a.m. Tuesday near the lagoon's northern shoreline.
And after at least a week of eluding capture, he was the star of a press conference at the park as the man who captured him posed for photos with the alligator before a sea of cameras and admirers. The alligator even sported a red plaid bow on his head.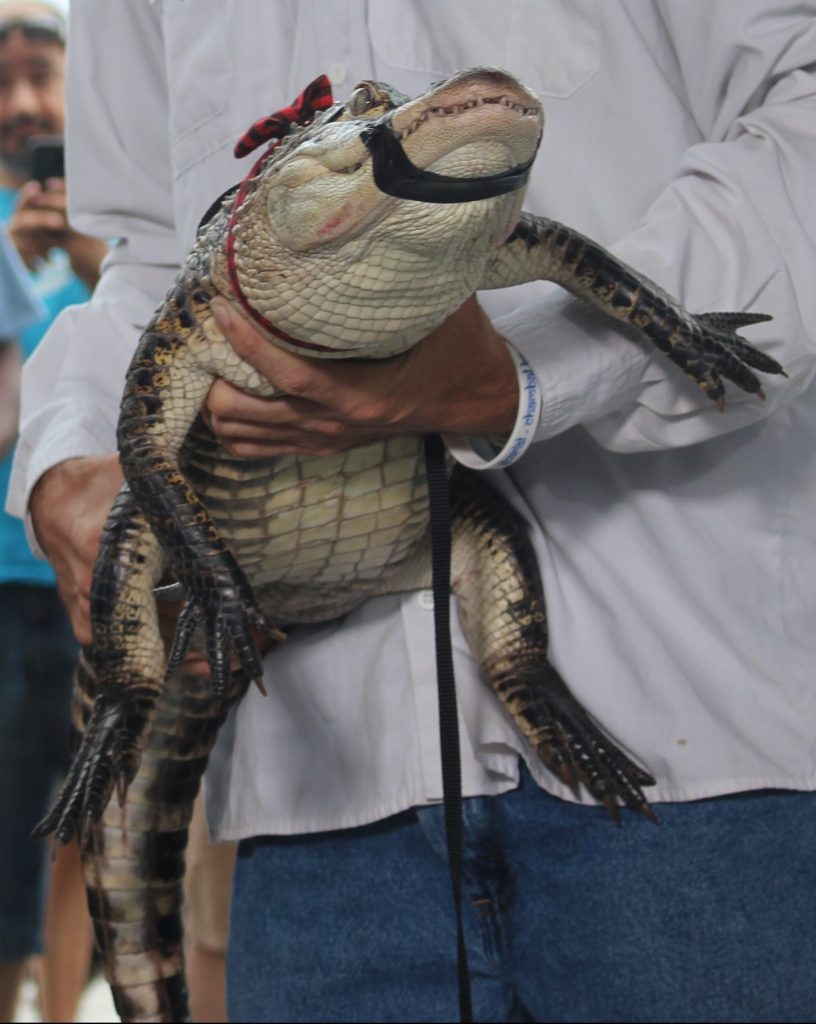 The alligator — a male — is 5 foot 3 inches and about 30 pounds, said Frank Robb, the reptile expert brought in Sunday to catch the rogue gator.
"Wherever he came from, he's a very healthy alligator," Robb said.
Robb, awake for the past 36 hours as he tracked the gator, said he caught him with a hook on the tail. Chance put up a bit of a fight, but he was tired, too.
"People ask ya how you catch an alligator. 'Just barely' is the answer," Robb said.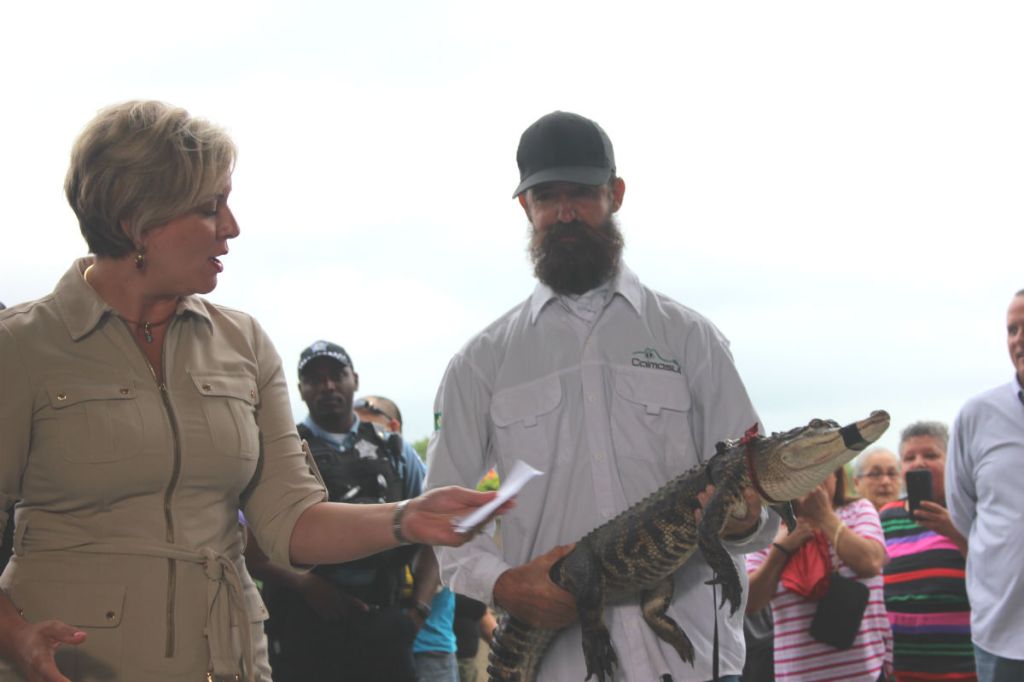 Robb credited a quiet park for helping calm the gator. The City of Chicago closed off a large section of the park Sunday night, saying crowds of excited Chicagoans probably scared the gator and kept him away for six days as another expert tried to catch him.
"We needed quiet," Robb said. "We needed the place shut down for the animal so he could relax."
Kelley Gandurski, the city's Animal Care and Control executive director, admired the reptile.
"It's a beautiful, beautiful alligator. He appears to be healthy in nature," Gandurski said.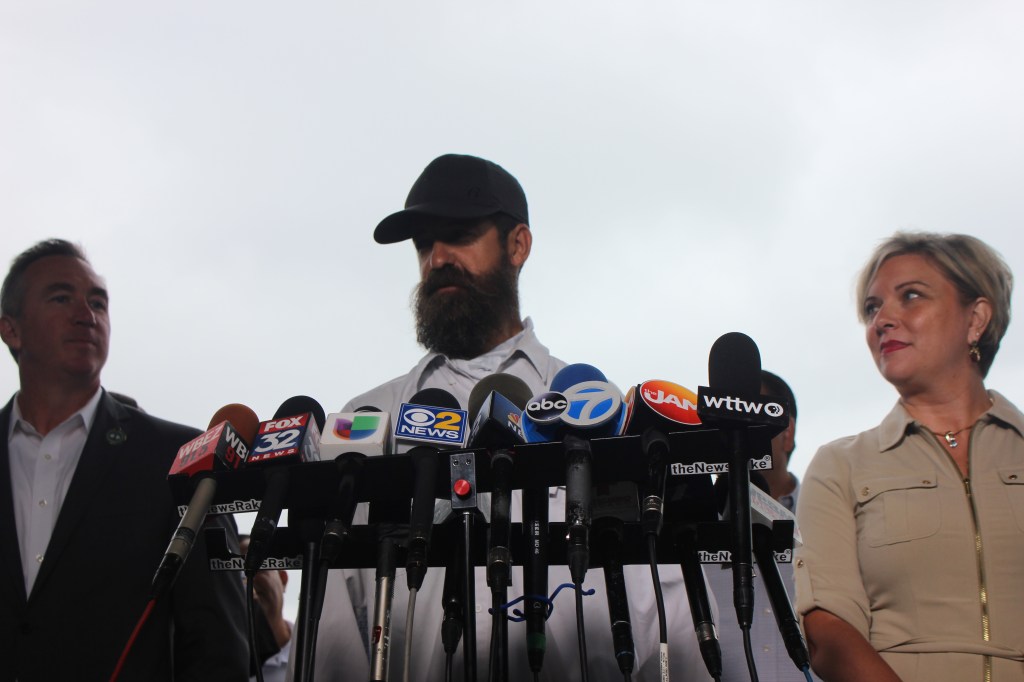 She also praised the city for the way it rallied around the gator — and came together.
"This is the city of big shoulders, but it's also the city of big hearts, and especially big hearts for animals," she said.
Chance was caught just one day after the city brought in Robb from Florida to handle the matter.
Before that, a local man known as "Alligator Bob" was leading the hunt (with "help" from Chicagoans, who did things like dangle chicken in the water). Chance was first seen on July 9, as first reported by Block Club Chicago.
The gator — and his nemesis, Alligator Bob — quickly became stars.
RELATED: Chicago's Alligator Search Highlights Illegal Pet Dilemma, But Experts Urge: Please Don't Just Dump Them
Hundreds headed to the lagoon as people hoped to catch sight of Chance and, in the meantime, enjoyed the sun, ate, listened to music and met their neighbors or had family time. The city's love for Chance and crowding of the lagoon — even as the gator evaded capture again and again — made headlines around the United States.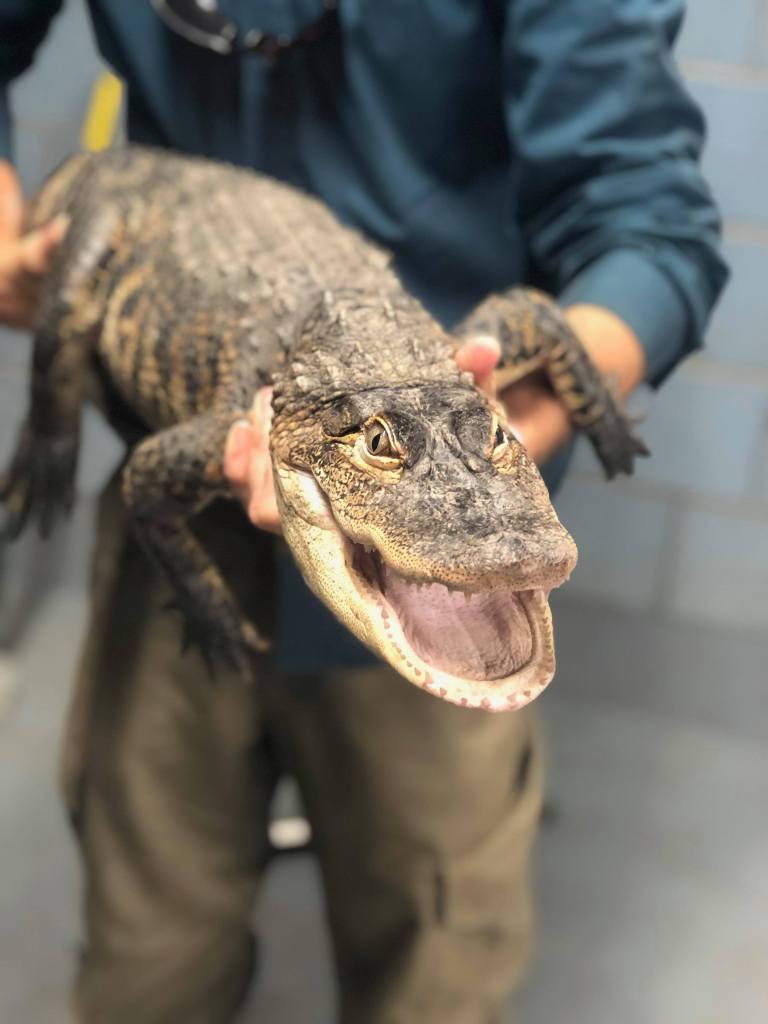 Shouts would erupt every time the gator's snout was spotted on the surface of the lagoon. At one point, there were more than 24 hours between sightings and Chicagoans worried their new scaly friend had taken a turn for the worse.
"This is a perfect night to be part of this Humboldt Park history going on," fisherman Jason May said while watching for Chance on July 9. "It's a beautiful park regardless, so on top of that if I can see a gator, awesome."
Alligator Bob warned it could take a week or more to catch Chance because the alligator might not be hungry and was adjusting to new surroundings.
The gator made its debut on social media amid the hubbub, with Twitter parody accounts like @ParkGator and @ChanceDaSnapper claiming to speak for the wily crocodilian.
Thousands of people even took part in a Block Club poll to name the gator, with Chance the Snapper winning out over Frank Lloyd Bite, Ruth Gator Ginsburg and Croc Obama.
Gov. JB Pritzker weighed in on the gator, suggesting in a tweet the creature be named Croc Obama.
"It's going to be a piece of Chicago's history, I think," said Harper Dotzel, 28, of Humboldt Park, while standing at the lagoon Sunday. "Feels cool to be here for it."
Officials worried the large crowds could be scaring off the gator, though, and eventually put up fencing to keep people away from the lagoon while the hunt was on.
Experts estimated Chance was 4 to 5 feet long and think he might have been someone's pet before being dumped in the lagoon, though keeping a gator as a pet is illegal in Illinois.
BTW: Gators Are Illegal Here
While all eyes were on the gator, the city doesn't want anyone to get any ideas — owning an alligator is illegal in the state of Illinois. Dumping exotic pets comes with stiff penalties, from high fines all the way to jail time.
"If you have an animal that you shouldn't own, don't dump it," said Cherie Travis, the former director of Chicago Animal Care and Control. Experts "would much rather you bring it in and surrender it."
Alligator Bob agreed with Travis and said the best thing someone can do is call Animal Control and surrender the animal. The agency's main number is 312-747-1406.
Bob said if an individual dumped the gator in the Humboldt Park Lagoon, they are in a much worse spot now than if they had turned the gator in.
"If this guy would have walked into Chicago Animal Care and Control they would have taken it from him and said 'thank you very much' and sent him on his way," he said.
Do stories like this matter to you? Subscribe to Block Club Chicago. Every dime we make funds reporting from Chicago's neighborhoods.
GATOR WATCH 2019 COVERAGE
With No New Humboldt Park Alligator Sightings In 24 Hours, Concern For Reptile's Health Rises
The Humboldt Park Gator Has A Name Thanks To Thousands Of Voters: Chance The Snapper
10 Things Alligator Bob Taught Us About Gators, Life And Everything In Between
As Humboldt Park Gator Watch Enters Day 3, Alligator Bob Says The Creature Is Getting Comfortable
Chicago's Alligator Search Highlights Illegal Pet Dilemma, But Experts Urge: Please Don't Just Dump Them
It's GatorWatch In Humboldt Park As Chicago Comes Together To Search For A Scared Alligator
How Did A Gator End Up In The Humboldt Park Lagoon? Here's How Experts Rescue Exotic Animals in the City
Yes, There's An Alligator Living In The Humboldt Park Lagoon … And Chicago Is Cheering It On
Yes, we made shirts to commemorate this very Chicago news story. Designed by local artist Ryan Duggan, get your limited-edition tote and t-shirt here while supplies last.\
GATOR WATCH SWAG
All proceeds will benefit Block Club Chicago, an independent, nonprofit neighborhood newsroom.