HUMBOLDT PARK — The alligator sightings started Tuesday morning. A long gator was cruising along the calm waters of the Humboldt Park Lagoon.
Witnesses didn't quite believe their eyes and there was some initial skepticism. But a local photographer had her camera with her and snapped away, catching the reptile moving near the Chicago park's boathouse.
Tuesday evening, Chicago Police confirmed an official sighting and announced that plans are in place to catch it and give it a checkup.
"We've independently confirmed the alligator is in the lagoon and state reptile specialists say it's between 4 and 5 feet long," Chicago police spokesman Anthony Guglielmi said. "The reptile will be humanely trapped tonight and relocated to a zoo for veterinary evaluation."
Block Club Chicago first reported the gator sightings Tuesday morning after witnesses said they saw a four- to five-foot-long alligator or crocodile in the Humboldt Park Lagoon.
Social media soon lit up with alligator hashtags — #HumboldtGator #Gatorwatch — and name suggestions. Someone started an "HP Gator" Twitter account.
Chicago Police and Animal Care and Control officers arrived on the scene Tuesday afternoon, alongside a member of the Chicago Herpetological Society, which often gets involved in reptile rescues.
Photographer Ren Horst-Ruiz was in the park early Tuesday for a photo shoot, and was stunned when she saw what was in the water.
At 6:30 a.m., Horst-Ruiz was at the Humboldt Park lagoon for a Sweet Sixteen photoshoot with a client when a man came by, declaring that there was an alligator in the lagoon. 
"We thought: no way, we thought it would be a toy or something," Horst-Ruiz said. 
Then she looked into the water, and saw what she described as an alligator for herself, wading close to the pier. 
"It was close to the pier at first" then went further into the middle of the lagoon, she said. 
"It had to have been four feet at least," she said.
Horst-Ruiz, who grew up in Humboldt Park, quickly sprung into action, snapping a photo of the alligator in the lagoon with the boathouse's signature columns in the background. 
"It looks like someone dumped in there," she said. 
Charlie Rizzo, the owner of Skyline Design glass studio, was out on a morning walk in the park when another man pointed to the lagoon.
"'Check that out. It's an alligator,'" the man told him, Rizzo said.
"So I looked at it and you could clearly see it. Essentially what I saw was a four- or five-foot body streaming through the water," Rizzo said. "You could see his eyes raised above the water, his snout and his long tail pushing him along.
"The guy said he'd been watching it for hours. I'm worried about the kids."
Rizzo alerted a Chicago Park District worker at the park, he said.
"She said, 'Oh my god,'" he said.
Rizzo said he figures someone just recently dumped the reptile in the lagoon.
"I thought somebody obviously came to park and in the last evening and let this thing out," he said. "Why they would do that, I don't know. Was it a sense of giving the animal freedom? Or just plain crazy? I don't know what would motivate someone to do something like that. I don't know if it was diabolical or naiveté."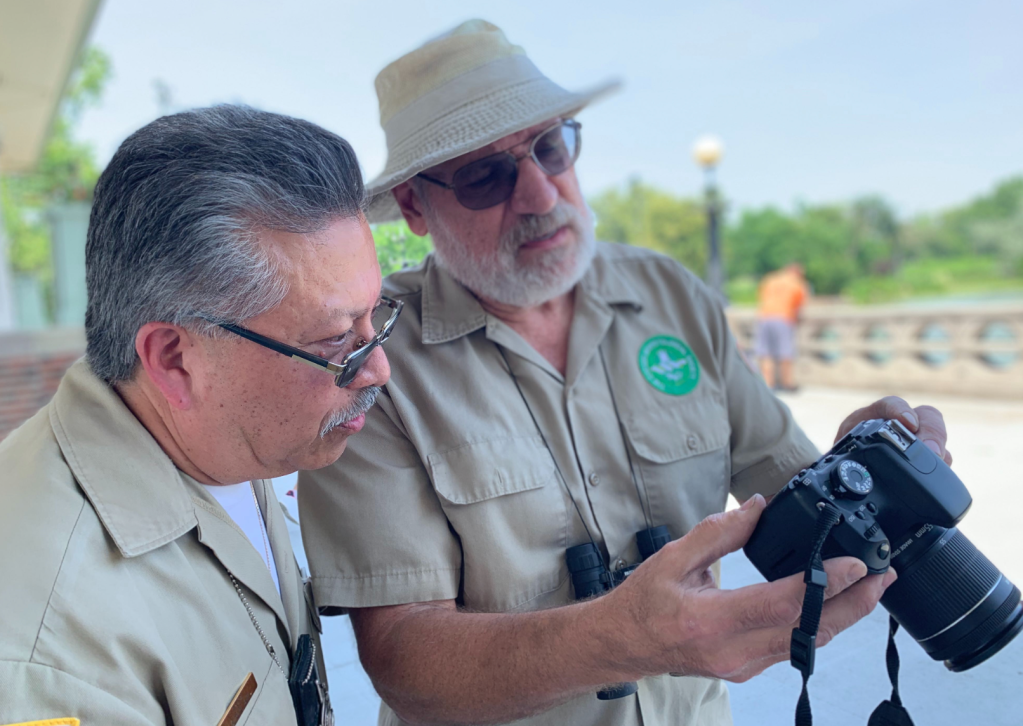 Neighbors and passersby were shocked to hear a reptile had made its way into the lagoon.
Monique Mason, 29, was walking with her young children to the field house Tuesday afternoon.
When a Block Club reporter told Mason that an alligator or crocodile was spotted in the lagoon, her face twisted in horror.
"I hope not to see it because I'll be terrified," Mason said.
"It is kind of scary, but who knows how many other types of animals are at the beach. Gotta walk by faith."
Leon Bass, 69, has been fishing at the lagoon since the '80s and said he's never once seen an an alligator or crocodile in the water.
"I never heard of that. They got geese out here and ducks — no alligators," Bass said.
Julia Rivers, 34, who was out in the park with her young children Tuesday afternoon, was equally shocked.
"Pets get loose in the park. There was guinea pigs for a while. They've been random canaries. But alligator is something completely different because it's kind of predatory," Rivers said.
On the search for the reptile was a member of the Chicago Herpetological Society who only identified himself as Alligator "Bob."
"If it is an alligator, it's likely been kept as an illegal pet before it was dumped," he said. Alligators and crocodiles are not native to this area, and they don't belong here, he said.
"It's going to be scared out of its wits," Bob said.
He said Chicago's weather actually is perfect for reptiles to thrive right now.
"It's perfect weather. 80-90 degrees and sunny skies. Just what you get in Florida," he said. "Right now he'd have a good time."
If it is an alligator or crocodile, it will be scared of humans, he said.
"Don't worry about it, don't be nervous about it, there's nothing here to be scared of," he said.
"Even if we do see it, it may take a couple of days to catch it."
Do stories like this matter to you? Subscribe to Block Club Chicago. Every dime we make funds reporting from Chicago's neighborhoods.