HUMBOLDT PARK — Humboldt Park's new resident alligator is sticking around.
At least that was the vibe Wednesday night as onlookers packed up and went home and the park was cleared of media.
The now-famous "Alligator Bob," a reptile expert with the Chicago Herpetological Society, was in and out of his canoe throughout the day Wednesday as crowds gathered and squealed when the gator would poke its head out from the lagoon.
But the gator, dubbed Chance the Snapper by Block Club readers in our gator naming contest, is getting bolder.
"He's comfortable and he's starting to explore," Bob said.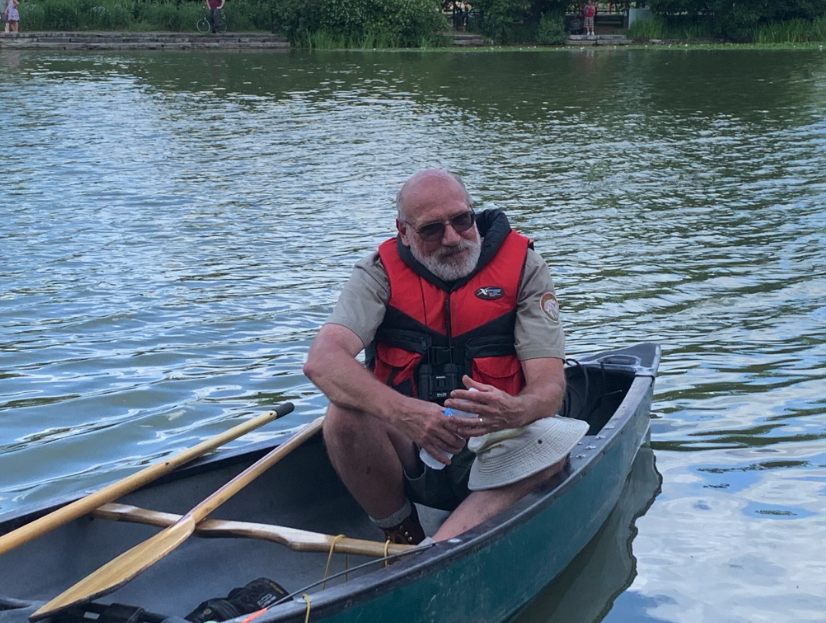 Bob said the gator, which was probably someone's illegal pet before it was let loose into the lagoon, was likely dropped off alongside the Humboldt Park boathouse, 1301 N. Humboldt Blvd., since it stayed close to the boathouse when it was first spotted Tuesday.
But on Wednesday, as salsa music played and crowds gathered in the boathouse, the reptile had made its way all the way to the easternmost side of the lagoon. Bob said the animal is getting more comfortable in the lagoon or it's scared of the commotion.
"Before he was only in that corner," he said. "Because of all the commotion, he moved around and is looking for a place to climb out and sun himself."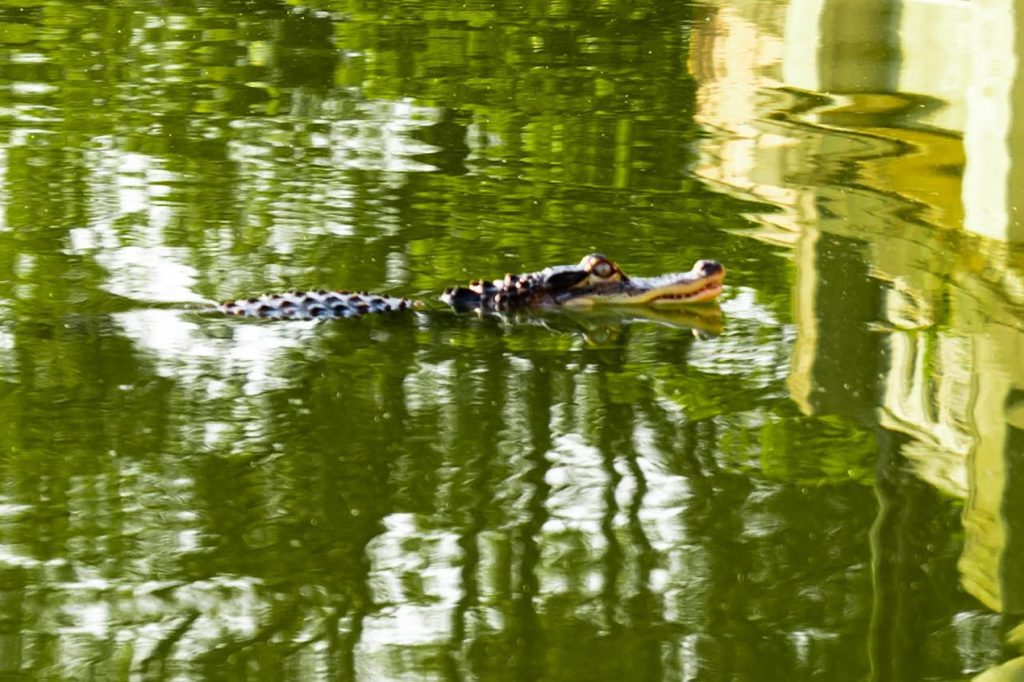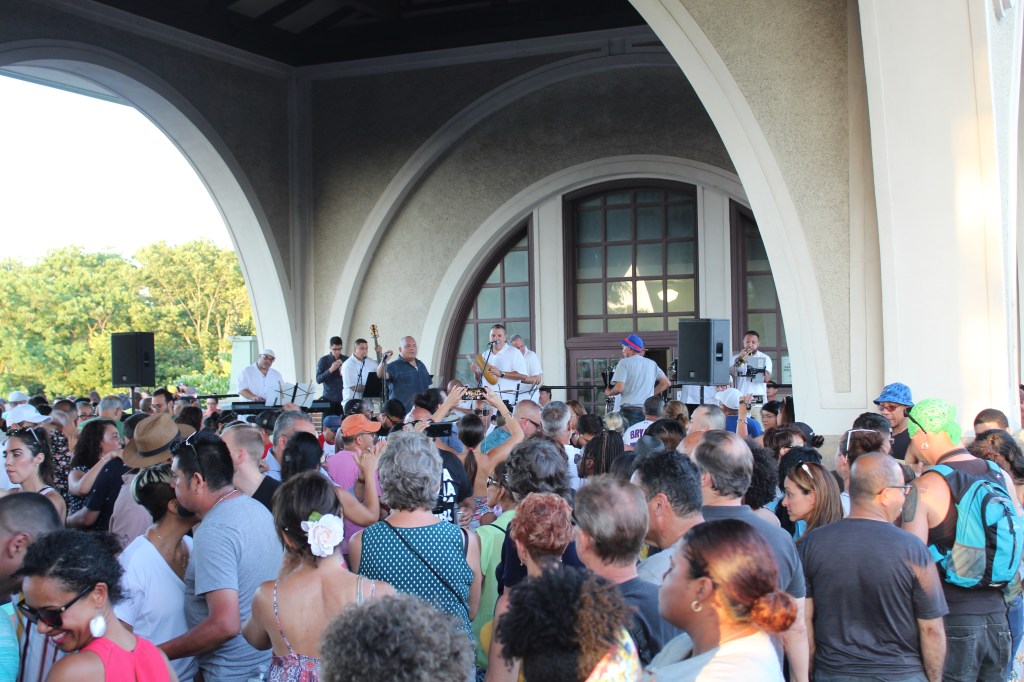 Several humane traps have been set since officials from Animal Care and Control and Bob showed up on the scene, but Bob said the bait (chicken drumsticks Wednesday) might be ignored if the gator is spooked and has eaten recently.
Gators can go up to two weeks without getting hungry, he said.
"It's still a hunt and fish and it's a perfect body of water for him," Bob said. "Baits aren't going to do any good until we know he's eating them."
While the day was hot and long, Bob, who has done this work for 40 years, was confident he'd catch the gator.
"It's not a line of work — it's a passion," Bob said of his work with reptiles. As a kid growing up in Bridgeport, he used to bring home the reptiles he'd catch in Florida on vacation. He's been hooked ever since.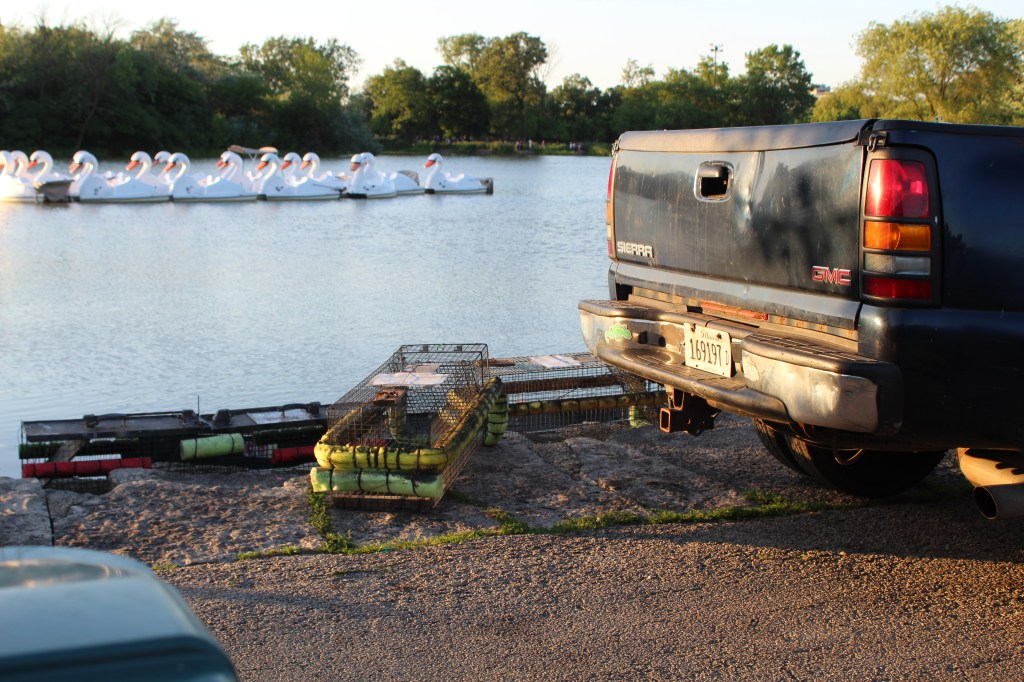 He also has a great track record: Of the 18 gator rescues he's participated in, he's successfully captured 17 of them.
Bob said there are several ways he could trap Chance the Snapper: First, he could jump into the water if the gator starts sunning in a shallow, gravely portion of the lagoon.
"You take two hands and you grab it by the throat and you just have to be faster" than it, Bob said. It's "no different than grabbing your dog if it's being rambunctious." 
The lagoon gets as deep as 9 feet, however. And muddy portions would be easy for the gator to navigate, but not for Bob. Using a net or a noose would be ideal, Bob said. If the gator got close enough to the 10-foot-long net, he could snag it and tow it to shore. But so far, the gator is apprehensive and hasn't come within 20 feet of Bob's canoe.
He thinks nighttime, when things are more quiet and gators think "they're invisible," will be his be best bet for capturing the creature.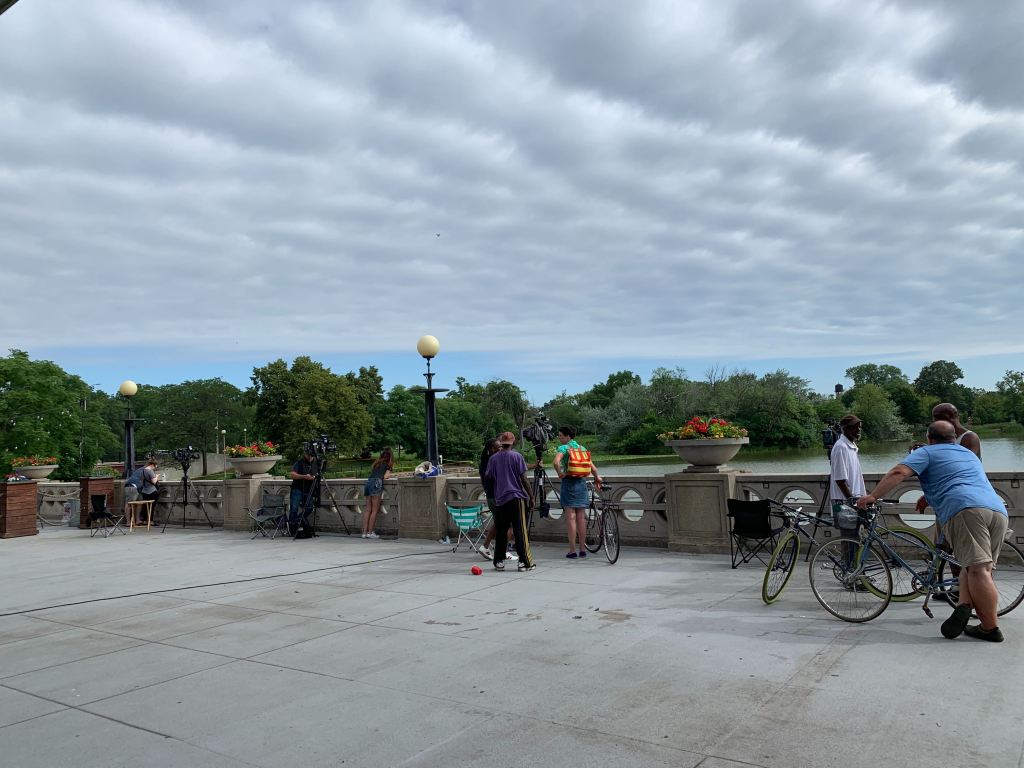 A Neighborhood Watches
While Chance the Snapper hasn't been caught, the gator was spotted several times by curious neighbors Tuesday and Wednesday.
Shouts erupted as his snout would surface over the water for mere seconds. At one point, the gator was spotted hanging out with ducks.
On Tuesday night, about 100 people gathered on the boathouse overlook, lagoon shoreline and bridges to try and get a glimpse of the animal. On Wednesday night the crowd was smaller, but at least two dozen people applauded Bob as he set his traps.
Someone brought out a giant stuffed animal of an alligator, declaring the reptile caught. At one point, a Chicago Police officer started blasting the "Jaws" theme song from his squad car, eliciting laughs. Others argued over what to name the animal. Some cooled off with shaved ice from a local cart vendor.
"This is a perfect night to be part of this Humboldt Park history going on," fisherman Jason May said Tuesday. "It's a beautiful park regardless, so on top of that if I can see a gator, awesome."
The gator's become a city mascot of sorts, an innocent animal graciously announcing himself in the middle of a quiet lagoon in the middle of a Chicago summer.
Gov. JB Pritzker tweeted about the gator Wednesday afternoon, suggesting the creature be named Croc Obama. More than 400 people weighed in on what to name the gator Wednesday.
BTW: Gators Are Illegal Here
While all eyes are on the gator, the city doesn't want anyone to get any ideas — owning an alligator is illegal in the state of Illinois. And dumping your exotic pet comes with stiff penalties, from high fines all the way to jail time.
"If you have an animal that you shouldn't own, don't dump it," said Cherie Travis, the former director of Chicago Animal Care and Control. Experts "would much rather you bring it in and surrender it."
Alligator Bob agreed with Travis and said the best thing someone can do is call Animal Control and surrender the animal. The agency's main number is 312-747-1406.
He said if an individual dumped the gator in the Humboldt Park Lagoon, they are in a much worse spot now than if they had turned the gator in.
"If this guy would have walked into Chicago Animal Care and Control they would have taken it from him and said 'thank you very much' and sent him on his way," he said.
Do stories like this matter to you? Subscribe to Block Club Chicago. Every dime we make funds reporting from Chicago's neighborhoods.
GATOR WATCH 2019 COVERAGE
Chicago's Alligator Search Highlights Illegal Pet Dilemma, But Experts Urge: Please Don't Just Dump Them
It's GatorWatch In Humboldt Park As Chicago Comes Together To Search For A Scared Alligator
How Did A Gator End Up In The Humboldt Park Lagoon? Here's How Experts Rescue Exotic Animals in the City
Yes, There's An Alligator Living In The Humboldt Park Lagoon … And Chicago Is Cheering It On
---
GATOR WATCH SWAG
Yes, we made shirts to commemorate this very Chicago news story. Designed by local artist Ryan Duggan, get your limited-edition tote and t-shirt here while supplies last.
All proceeds will benefit Block Club Chicago, an independent, nonprofit neighborhood newsroom.