AUBURN GRESHAM — Ald. David Moore has endorsed Ald. Sophia King in the 2023 mayoral race with hopes she will bring a "collaborative spirit" to a sometimes combative City Hall. 
Crains announced the endorsement Friday. Moore (17th), who is running unopposed for a third term in City Council, worked closely with Mayor Lori Lightfoot to spearhead Auburn Gresham Apartments, a $43 million affordable housing project in Lightfoot's Invest South/West portfolio. 
The process was fraught with conflict. City departments hosted more than a year of community meetings as neighbors pushed for more resources in the community and local officials touted the promise of the development.  
Lightfoot and Moore also clashed when the alderman advocated for the renaming of Lake Shore Drive to Jean Baptiste Point DuSable Drive in honor of the first non-Indigenous settler of Chicago. 
Moore, who introduced the renaming ordinance in 2019, fought alongside members of Black Heroes Matter for the change. But Lightfoot pushed back against the renaming, proposing a $40 million project to rename a portion of the Riverwalk and a festival after du Sable. 
City officials voted to rename the 17-mile stretch after the city's founder in June 2021, officially changing it to Jean Baptiste DuSable Lake Shore Drive after months of heated debates. Moore and Lightfoot unveiled the signs together in October 2021. King — an advocate for the renaming — was also in attendance. 
The Invest South/West and Lake Shore Drive debacles are two reasons why Moore won't support Lightfoot in her reelection efforts, he told Block Club. 
"I tell people — and I don't run away from this — to me, the mayor has done a lot in this city on both the West and South sides of Chicago," Moore said. "But we could've gotten more done with collaboration with the City Council. It's important that we do that in order for this city to thrive. If people are not willing to collaborate, the aldermen don't lose, the people lose out, and that's what's important — the people."
A "clear example" of Lightfoot refusing to collaborate with alderpeople is the months-long back-and-forth about the Auburn Gresham Apartments, Moore said. 
More than 130 neighbors attended an April 2021 meeting to discuss the affordable housing development after a notice about the proposed plan circled the ward. The flyer accused local officials of keeping residents in the dark about the project. 
For more than a year, developers, community officials and neighbors attended meetings about the project as neighbors demanded more transparency and resources.
The Auburn Gresham Invest South/West project "ended up blowing up," and Moore had to "clean it up" because Lightfoot's administration tried to first communicate with community organizations but would not "effectively communicate with the alderman," Moore said. 
Lightfoot chose to "give more power to community organizations" to make decisions about the ward, Moore said. 
"When [alderpeople] do things, we're incorporating our whole community. When organizations do anything, they're incorporating the people they deal with, and many of the residents get left out," Moore said. "Initially, I said, 'Let's have all the community members involved in this.' [Lightfoot's administration] just wanted the stakeholders. You can't just have stakeholders because they don't always represent all the residents. The residents' voices always have to be included."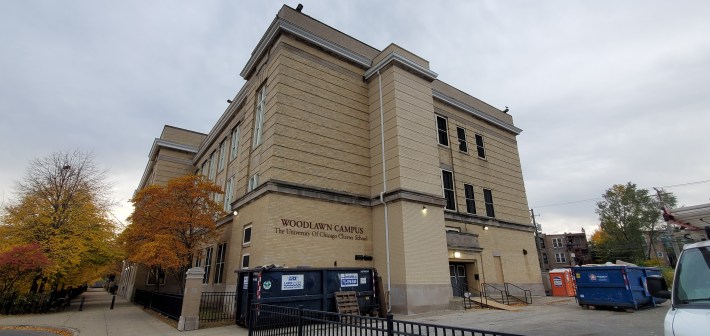 The transformation of the former Wadsworth elementary school into a shelter for migrants is another example of Lightfoot's inability to collaborate effectively, Moore said. 
Ald. Jeanette Taylor (20th), whose ward includes the school, announced in October the school would be used to house people but said the decision "made no sense."  At the time, Ryan Johnson, a spokesperson for Lightfoot, denied the news, saying there were "no plans" to use the vacant school.
But Lightfoot's administration changed its tune in a December meeting and announced the Woodlawn school would house migrants. 
Taylor blasted Lightfoot's administration for its "lack of transparency and unwillingness to address community demands" after 100 people, mostly asylum seekers, were moved into the school Feb. 2. 
"There was no communication with Taylor," Moore said.  "And then her constituents are beating her up saying, 'Hey, what's going on?' And she has no clue. They're looking and saying, 'Wait, you're an alderman, and you don't have any clue?' And no, you don't have a clue when the administration is not communicating with you. That's a problem."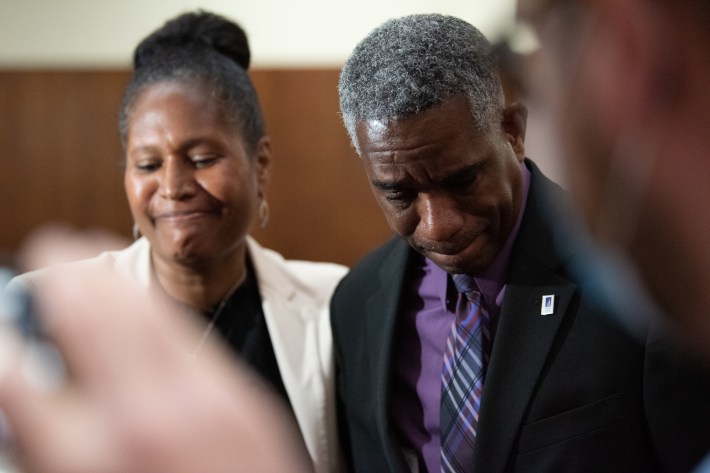 As an alderperson, King (4th) has been pivotal in "bringing over everybody to work together," Moore said. 
King's efforts led to the ward remap passing, Moore said. King "kept the lines of communication open" and the "different groups" talking, Moore said.
King also led the charge for the Fight for 15, an ordinance to raise the minimum wage to $15 per hour in Chicago. 
King is a "leader," Moore said. 
"I think one of the things that she'll be able to do that none of the other candidates would be able to achieve is, first and foremost, bringing the people together that need to be at the table to solve these ills that we have in Chicago," Moore said. "No one person can do it alone. Not one mayor and not one alderman. It has to be a collaborative effort."
King also won't bring dissension to City Hall, unlike candidates Brandon Johnson, Chuy Garcia and Paul Vallas, Moore said. 
"People have not forgotten about Renaissance 2010 that helped destroy communities," Moore said. "People remember that this community has helped Chuy, but Chuy hasn't reciprocated that to our community. People recognize that Brandon Johnson is a nice guy, but their concern is who is he answering to — the people or the Chicago Teacher's Union. 
"Sophia King doesn't carry that baggage. She comes in with a spirit of collaboration, and that's what she's going to do that others can't."
Moore joins a list of alderpeople who have shifted their allegiance from Lightfoot to her challengers. He is the first to endorse King. 
King has the "ability to collaborate and get things done collectively," Moore said.
"The mayor has done some great work, probably more than any other mayor that I can recall," Moore said. "Harold Washington laid the foundation. He did a lot of great work. But we could have gotten a lot more things done under this administration if there was more collaboration." 
Subscribe to Block Club Chicago, an independent, 501(c)(3), journalist-run newsroom. Every dime we make funds reporting from Chicago's neighborhoods.
Click here to support Block Club with a tax-deductible donation. 
Thanks for subscribing to Block Club Chicago, an independent, 501(c)(3), journalist-run newsroom. Every dime we make funds reporting from Chicago's neighborhoods. Click here to support Block Club with a tax-deductible donation.
Listen to "The Ballot: A Block Club Chicago Podcast":