AUBURN GRESHAM — Tensions were high and discussions were heated as Auburn Gresham community members and city officials gathered Tuesday night at Leo High School to discuss the future of a multi-million affordable housing project in the community. 
More than a dozen neighbors joined community leaders to push back against the idea of Auburn Gardens, a $20 million retail and residential space slated to be built on vacant land at 838-58 W. 79th St. The meeting was the first of four planned this month by the Department of Planning and Development to gauge community interest in the development. 
The complex is part of the INVEST South/West plan, an initiative created by Mayor Lori Lightfoot to bring new development to Chicago's West and South Side neighborhoods.
Evergreen Imagine JV, LLC, a joint venture between the Imagine Group and Evergreen Redevelopment, was the only bidder for the site and got the green light to move forward in March.
As the floor opened for questions at Tuesday's meeting, residents continued to push back against the idea of bringing the complex to their neighborhood. 
Residents questioned city officials about their lack of transparency throughout the bidding process, citing a flyer that anonymously appeared around the neighborhood warning them about the proposed plan. Other neighbors mentioned an uptick in crime in the area and the lack of parking spaces for residents who call the neighborhood home.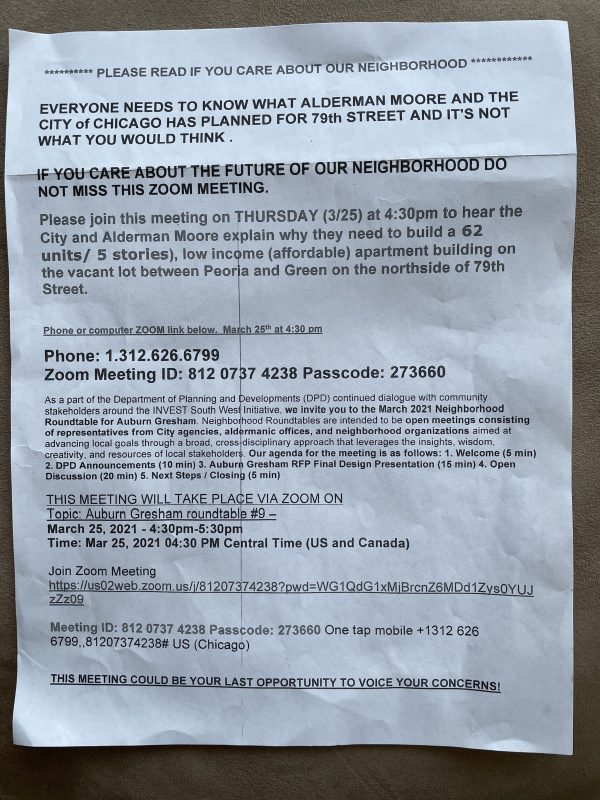 But many residents agreed that the absence of a grocery store, bank or pharmacy in the area should have been a top priority for local officials. 
Tim Thomas, an Auburn Gresham resident since 1962, called the neighborhood the "donut hole" of the city.
"All around us, developments are going up," Thomas said. "We can go all around and see stores and commercial real estate, but then you get to the 17th Ward and there's nothing. We're the hole of the donut is how we feel."
Thomas said he wished the city considered what residents who already live in the area need rather than bringing more people into the community. 
"Politics aside, we're talking quality of life, financial development and resources to the community," Thomas said. "You don't bring that kind of development to a community that doesn't have things in place for the residents. You're just exacerbating the situation." 
Rhea Steele, an Auburn Gresham resident since 1964, said the city should have invested in current homeowners instead of bringing affordable housing into the community.
"When I first heard about [the affordable housing project], the first thing that came to my mind is that it's easy to do," Steele said. "It takes work to reach out to commercial real estate. What about doing incentives to make people homeowners and make a neighborhood buyable and sustainable?"
She added that if the project were to proceed, leaving the neighborhood might be her next best option.
"I would consider leaving if this apartment is built," Steele said. "I've spoken with several people who said if they put it here, we're gone. Even longtime homeowners. I'm really disappointed in the alderman. I feel like he sold us out."
Ald. David Moore (17th) said without community approval, the affordable housing project would not go forward. He said the project is currently at a standstill.
"There are things that have to go through city council, financing, zoning," Moore said. Nothing moves in my ward without my approval, and I'm not approving anything unless the community says go."
Moore added that he supports the community's wants and needs, but a lack of knowledge regarding the development process creates a barrier between what community members want and what can be done.
"When someone says 'I want a flower store,' I have someone right now that can build a space for a flower store, but where is my flower store operator?" Moore said. "If I don't have a flower store operator, then I have a problem. I can't just go out there and magically create one. There's a lot of different things. We have to find those entrepreneurs that want to do it. Everything that everybody wants … they may not get everything, but they'll get something if we get those investors to come in."
In a 20-minute breakout session, residents wrote what they would like to see built around their neighborhood on a notecard and stuck their responses to a map of Auburn Gresham.
A bookstore, new restaurants and a skate park were a few additions neighbors requested.
Sharon McCoy, a resident in Auburn Gresham for 50 years, said she plans to become as involved in the decision process as possible to stop the affordable housing from coming to her neighbor.
Change, she said, begins with the residents who live in a neighborhood.
"We need to throw out ideas and make sure that residents are involved in the process and put down what we want to see," McCoy said. "Residents are so used to city hall doing what they want to do. But they don't have the final say, residents do. We have to live here."
Subscribe to Block Club Chicago. Every dime we make funds reporting from Chicago's neighborhoods.
Already subscribe? Click here to support Block Club with a tax-deductible donation.