LITTLE VILLAGE — The state's first La Michoacana Plus opened on West 26th Street earlier this month, offering paletas, mangonadas, michelaguas and more.
Husband and wife Edith Galvan and Angelo Villagomez are the duo behind the latest franchise outpost at 3701 W. 26th St. They opened the store this month and held a grand opening Saturday.
There are dozens of ice cream shops and paleterías in Chicago bearing Michocana in the name, but they aren't all part of a singular franchise. La Michoacana Plus is its own franchise; it has roots in California and is known for its bright and colorful interiors.
Most La Michoacana Pluses are on the West Coast, but more locations are popping up as its popularity grows, Villagomez said. He said the reception from the Little Village and greater Chicago community has been great — one group of customers said they drove 45 minutes to come by.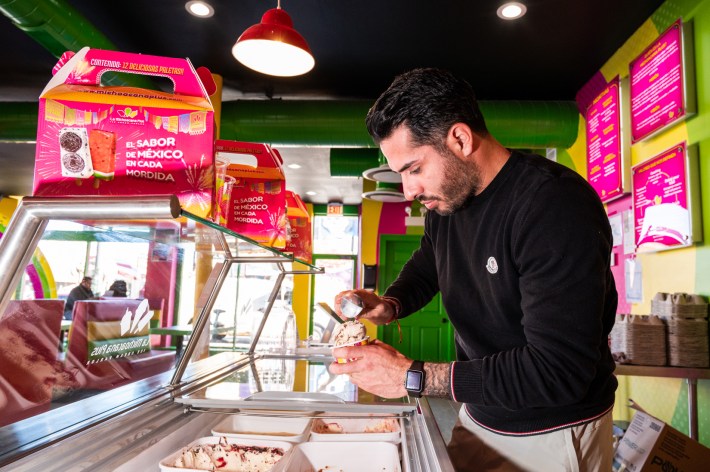 Villagomez, who grew up in Little Village, said it feels "nostalgic" to open a business on 26th Street. He said students have already stopped by to hang out and do homework after classes.
"You couldn't hang out in a place like this before," he said. "It just feels cool because, not be cliche, but it's like we're giving back to the community. It feels like a homey, inviting place."
The shop offers dozens of ice cream and paleta flavors: arroz con leche, abuelita chocolate, tres leches, mango con chile, just to name a few. There are also agua frescas with fruit and chamoy — called a michelagua — and nieve flotante, which is agua fresca with a scoop of ice cream, and a handful of other colorful and fruity treats to people to try.
Villagomez, who has a background in general contracting and construction, said he'd thought about opening a restaurant for a couple years and leased the space in 2021. He ended up pursuing a La Michoacana Plus since he knew people who operated one on the West Coast, he said.
"I feel like it's a guilty pleasure," Villagomez said. "Doesn't matter if you're a kid or an adult, you're gonna want sweets, right? Everybody loves this stuff."
Villagomez and Galvan said they're planning to roll out a student discount for the young folks who have been coming by.
La Michoacana Plus is open 10 a.m.-10 p.m. Monday-Sunday.
More photos of the shop: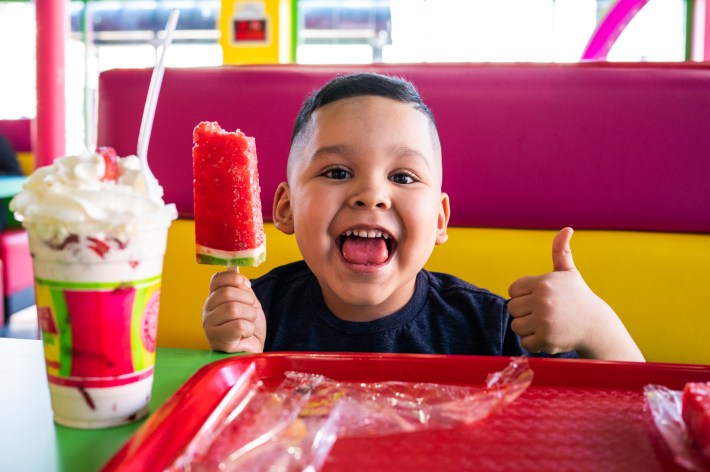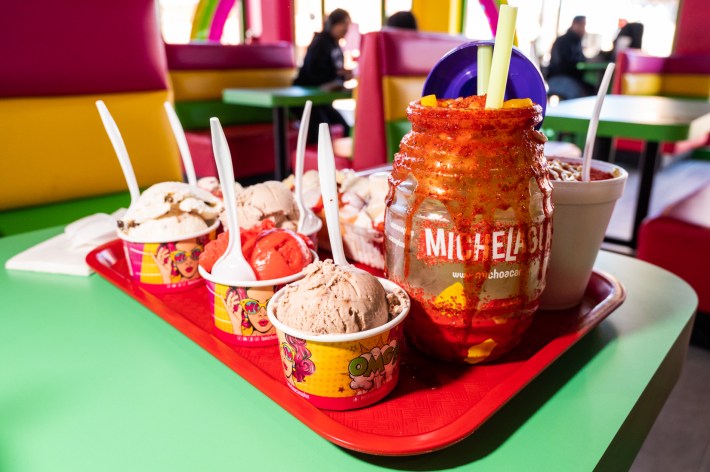 Listen to "It's All Good: A Block Club Chicago Podcast":