AUBURN GRESHAM — With growing pushback on one of her signature programs, Mayor Lori Lightfoot joined a recent South Side community meeting to help promote an Auburn Gresham affordable housing project many residents oppose. 
Auburn Gardens, a $20 million retail and residential space with 62 affordable apartments, is slated to be built on vacant land at 838-58 W. 79th St. The complex is part of the INVEST South/West plan, an initiative created by Lightfoot to bring new development to Chicago's West and South Side neighborhoods. 
In Auburn Gresham, the city is focusing on work to rejuvenate the 79th Street Corridor.
Many neighbors, however, want elected officials to bring a new idea to the table. They've opposed the project because of a lack of retail and parking spaces in the area, and fears about crime. Many also say they were never informed about the project — the city awarded the contract to the sole developer who submitted a bid.
At a Thursday night meeting, the second about the Auburn Gresham project since it was finalized, Lightfoot said she wanted residents to hear directly from her why she thought the affordable housing complex was important for the community. 
"For us, this isn't just about bringing retail and brick-and-mortar, it's about working with you to co-curate a new future for your community to provide the kind of assets and opportunities that many of you have wanted for so long," Lightfoot said at the meeting. "But what's been missing is a partner in City Hall that could unite with the alderman, with community members, to get something done. And that is fundamentally the crux of Invest South/West."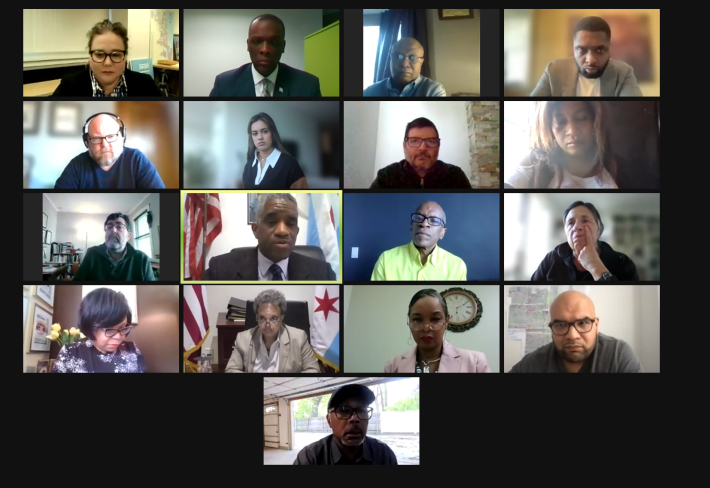 More than 130 people joined the community roundtable hosted by the Department of Planning and Development to discuss the future of the project. Lightfoot, Commissioner Maurice Cox, Ald. David Moore (17th) and other city leaders spent the majority of the time presenting details of the project, leaving 15 minutes for a city staffer to read questions submitted by community members.
Lightfoot described the new developments in Auburn Gresham as catalytic. All investments in INVEST South/West, she said, were strategically made based on conversations with the people who live in the neighborhoods.
"Our commitment to this community is solid, not only today but tomorrow and into the future," Lightfoot said. "We will be here with you to support you on initiatives that I know are important to you, and I wanted you to hear that directly from me. We must unite together. We must come together to build strong, healthy, vibrant communities. We must draw on and attract private capital to realize the dreams of Auburn Gresham and other communities across the South Side and West Side."
Residents questioned city officials about transparency around the bidding process, making the space accessible to senior citizens and scrapping the project altogether. Some also asked if the approval could move forward without community endorsement. Moore said no, though he did not give specifics as to how that would work, since the bid already has been awarded.
The alderman also said the development team is willing to work with and listen to the residents.
More community meetings will take place throughout summer, with the next planned for June 24th. Lightfoot said she is determined to make INVEST South/West a community-led effort. 
"We may not all agree on every issue, but it is certainly my hope and expectation that people are going to come to these conversations with a listening ear, an open heart and good faith," Lightfoot said.
The Auburn Gardens project is among three the city awarded in the first round of Invest South/West, which promises to invest $750 million in public funding. The city also gave a green light to redevelop a century-old firehouse in Englewood into a culinary center and to overhaul Laramie State Bank in Austin.
Both of those projects have had some community resistance, as well. Reception to the Englewood project was mostly positive but residents have said they were concerned about how transparent the city would be in its selection process. Some West Side groups said they didn't have as much input as they wanted in deciding what happens to the Laramie bank building.
With that and the development of the Silver Shovel dumps on tap, community leaders launched events of their own to give residents opportunities to share their opinions on how they want to transform their neighborhoods.
Subscribe to Block Club Chicago. Every dime we make funds reporting from Chicago's neighborhoods.
Already subscribe? Click here to support Block Club with a tax-deductible donation.
Listen to "It's All Good: A Block Club Chicago Podcast" here: