AUSTIN — When city leaders announced a massive redevelopment for the historic Laramie State bank on the West Side, they said their plan was the result of unprecedented public engagement with the community it will impact.
The $37.5 million conversion will transform the 92-year-old building into a museum, café and incubator. The project is being brought to life by Austin United Alliance, a team of developers, architects and designers led by Oak Park Regional Housing, Heartland Alliance and Latent Design. Their winning proposal was one of the first projects given the green light under the city's INVEST South/West plan earlier this month.
Mayor Lori Lightfoot said at the time it's important there be real community buy-in to the proposals that are selected.
"This is not a circumstance where the fifth floor conceives of an idea, we check the boxes on community engagement, and then we do what we were planning to do in the first place," Lightfoot said.
But some community leaders say West Siders didn't have as much of a role as the city suggests.
Neighborhood groups and rival bidders contend the turnaround time to submit a proposal to redevelop the bank was too short and favored experienced developers over ambitious community organizations. There weren't enough public meetings for residents to weigh in nor enough time to complete surveys the city sent out, they argue. And by the time neighbors were invited to participate, some say it felt like many of the details already had been decided for them.
About 50 people completed the survey on the bank project, according to the city. Austin is the city's second most populous neighborhood, with over 97,000 residents living there according to 2015 census data.
Community members were "invited to the table to help make the decision, but not to develop the process," said Darnell Shields, executive director of Austin Coming Together.
The result has left some feeling ambivalent about the project meant to rejuvenate the long-closed building and kickstart more development in Austin. Though many praised the project itself, some neighbors worry they won't have a say as developers move forward with the project's construction.
"This project was sold as a community project, but it wound up being sold out from the community," said Morris Reed, executive director of Westside Health Authority, one of the groups that bid to redevelop the bank.
'You just didn't have the time'
The INVEST South/West program launched in late 2019, pledging $750 million in public funds over three years to support development projects in key commercials areas in 10 South and West Side neighborhoods. In Austin, city officials are focusing on a 1.5-mile stretch of Chicago Avenue.
The first project chosen was the Laramie Bank Building, 5200 W. Chicago Ave., which has been vacant since its foreclosure in 2012.
The city's public engagement process allowed community input to guide the locations where the city would focus its INVEST South/West planning efforts, planning department spokesman Peter Strazzabosco said. It's the first time the city has worked with residents to determine the community's goals in its call for project proposals and the evaluation of developers, he said.
For the Laramie State Bank project, the city hosted two community meetings where competing developers presented their plans for the site. Residents were invited to give feedback through a survey afterwards. More than 350 people registered for the two meetings, Strazzabosco said.
But some think the two meetings weren't enough "to let people know they had an opportunity to voice their concerns," Reed said.

The Westside Health Authority project scored the highest of all proposed redevelopment plans in the community survey, according to city figures, but only slightly ahead of the winning bid. Officials said there was no specific breakdown of how the community feedback scores would weigh into the final decision.
"They didn't feel invited. They weren't aware. They weren't informed," Reed said of Austin residents.
The city opened its request for proposals in August, giving developers three months to submit their plans. A quality pitch required bidders to submit preliminary designs, identify contractors, engage with community partners and get letters of intent from retail partners pledging to rent space in the finished buildings, Reed said.
That short turnaround favored larger developers with more established connections, Reed said. Westside Health Authority, which was working with Brinshore Development, wasn't able to nail down a general contractor, and other teams also had incomplete proposals.
"When you rush this process, you don't really give enough time for solid proposals from neighborhood developers," Reed said.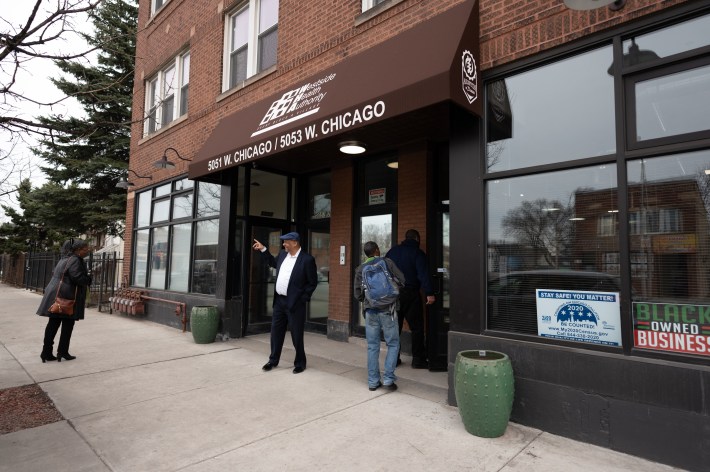 Shields, of Austin Coming Together, agreed. He noted that another investment program designed to benefit the South and West sides, the $10 million Chicago Prize funded by the Pritzker Traubert Foundation, gave community groups more than twice as much time to develop project proposals.
The tight timeline for the city's redevelopment plan made it harder for neighborhood groups to collaborate, and the competitive process "pitted folks in the community against each other," Shields said.
"Even if we wanted to unite and formalize a way where we weren't competing against each other … you just didn't have the time," Shields said.
Leaders of the winning team agreed the timeline was tight but they did not feel it was unfair or unusually short.
Heartland Alliance's Executive Director Earl Chase said the pace of the process was in line with other competitive planning efforts that Heartland has participated in. And since INVEST South/West began months long before the city officially called for proposals, the timeline wasn't unreasonable, Chase said.
"A lot of mobilization was happening before that. A lot of people were talking about prospective teams," Chase said," There was a lot of pre-work."
Athena Williams, executive director of Oak Park Regional Housing Center, said the timing was aggressive, "but we committed ourselves to the project, we committed ourselves to the community to get it done."
The tight deadline and the scale of the redevelopment didn't exclude local organizations from competing, Williams said. It instead required local organizations to join with more experienced developers, she said.
"I knew that I couldn't go into that project by myself," Williams said. "We have to be realistic about this. To do a project of this nature will require partnering with a community developer and pairing with a developer that has experience."
The selection process prioritized developers who worked closely with neighborhood groups, Strazzabosco said. But since the Laramie State Bank redevelopment is meant to anchor future INVEST South/West opportunities in Austin, the scope of the call for proposals was "intentionally large in order to maximize the initial impact of INVEST South/West after decades of neighborhood disinvestment," Strazzabosco said.
Maurice Cox, Commissioner of the Planning and Development department, said during the bid announcement the project ideas were very encouraging and the city wants bidders who lost out this time to participate in projects down the road.
"To enhance opportunities for smaller developers and independent partners, the city will be issuing additional development opportunities for sites in Austin and elsewhere that will be commensurate with their smaller size, capacity and turn-around time," Strazzabosco said.
The city is also exploring ways to improve community outreach and engagement efforts so that as the pandemic lets up, there can be more in-person participation and more opportunity for "inclusivity and transparency," Strazzabosco said.
The Oak Park Regional Housing, Heartland Alliance and Latent Design team design will maintain the exterior of the bank building and continue to house a bank in a community badly lacking financial institutions. The interior will be overhauled, and the surrounding lots will be transformed into a multi-use complex with 72-units of housing, a community plaza, a business incubator and a Chicago blues museum.
Pastor John Abercrombie of Truth and Deliverance Missionary Baptist Church is glad the old bank building will finally be turned into an asset for the neighborhood after being vacant for so long. But Abercrombie wishes there had been more transparency and community participation since the development will set the pace for future INVEST South/West projects in Austin.
"When the project is rushed like that, one of the issues you have is getting it out and giving everyone an opportunity to prepare and put together a proposal. … huge developers probably have the upper hand," he said.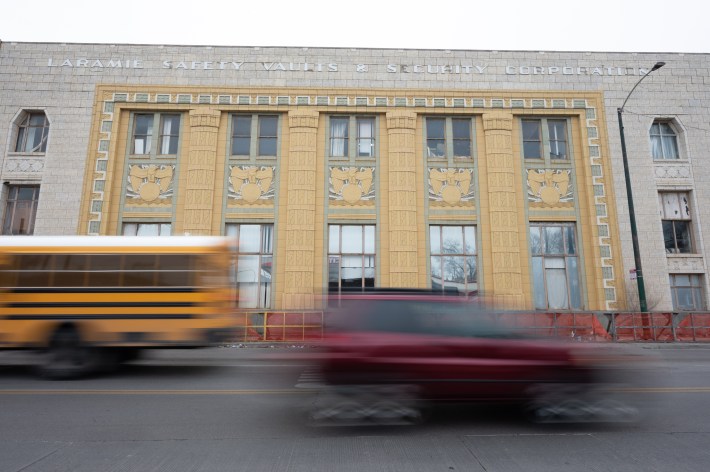 Williams of Oak Park Regional Housing Center stressed that the project isn't about who does the development, but rather about maximizing the benefits to the community.
"We should be trying to figure out how we can all do this together," Williams said. "If they really had concerns about the community engagement process, they should have figured out a way to picket and protest and stop it before it was all the way through."
Pascal Sabino is a Report for America corps member covering Austin, North Lawndale and Garfield Park for Block Club Chicago.
Subscribe to Block Club Chicago. Every dime we make funds reporting from Chicago's neighborhoods.
Already subscribe? Click here to support Block Club with a tax-deductible donation.