AUBURN GRESHAM — A $43 million affordable apartment complex on 79th Street got underway Wednesday after more than a year of back-and-forth between neighbors and city leaders.
Mayor Lori Lightfoot, Ald. David Moore (17th) and other local leaders gathered for a ceremonial groundbreaking for Auburn Gresham Apartments, a two-building, mixed-use complex with 58 apartments slated for long-vacant land.
The three-story building at 838 W. 79th St. will include 28 one- to three-bedroom apartments, 28 parking spots and a commercial space operated by AYO Foods, a West African food producer. The five-story building at 757 W. 79th St. will have 30 one- to three-bedroom units and 14 parking spaces. The Park Supper Club and KLEO Community Center will operate commercial space on the ground level, officials said.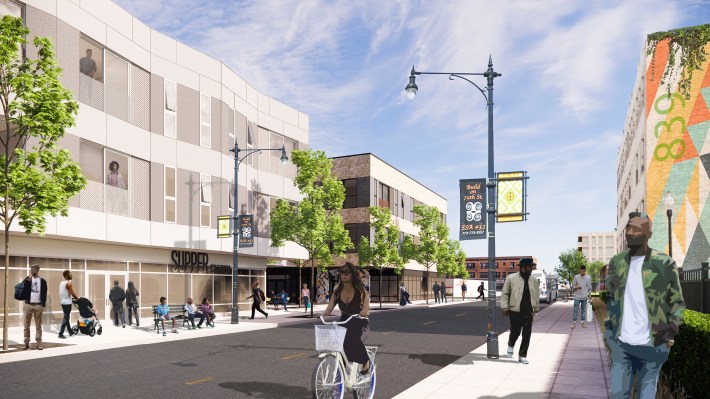 Rent for the apartments will be $925-$1,250 per month, according to a news release from the city. 
Construction is expected to begin this year and could take about 18 months, city officials said.
Evergreen Imagine, a joint venture between the Imagine Group and Evergreen Redevelopment, is leading the project.
The city is supporting the project with $18 million in tax increment financing, $18 million in Low-Income Housing Tax Credits, a $2.5 million loan and a $180,000 discount on the land, city officials said.
"Since the onset of administration, one of my highest priorities has been bringing exactly the kind of transformative, catalytic work and investment — real dollars — into historically underserved communities on the South and the West sides," Lightfoot said Wednesday. 
Neighbors have debated the fate of Auburn Gresham Apartments — previously called Auburn Gardens — since Evergreen Imagine secured the lone bid for the site in March 2021. It was among the first three projects launched under Invest South/West, the mayor's effort to spark major developments in underserved neighborhoods.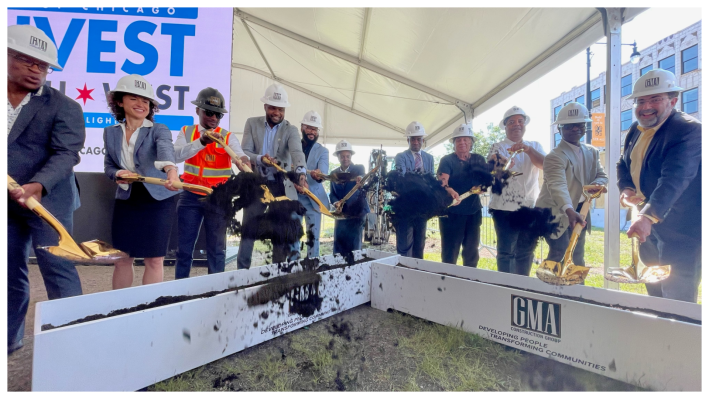 Several residents immediately pushed back against the project, saying they were not told of the developers' plans before the city awarded a contract for what was then a $20 million proposal.
Longtime neighbors criticized the developers and city for seeking to add more housing to an area one resident called the "doughnut hole of the city," meaning it lacked key businesses and amenities like grocery stores or pharmacies.
Other neighbors questioned the density of the housing. In its initial proposal, Evergreen Imagine pitched a 61-unit building on vacant land at 838-58 79th St. 
Local officials, including Lightfoot, argued the community needs the housing to encourage more commercial investments in the area — although some experts said new homes do not always spur commercial development in predominately nonwhite, underserved neighborhoods. City officials also warned residents opposing the development could mean the community ends up with nothing on the vacant lot.
RELATED: In Auburn Gresham, A Community Debates What Should Come First: Affordable Housing Or Grocery Store?
After pushback, Nia Architects and Ross Barney Architects redesigned the building to include two buildings with parking and ground-level retail.
Lightfoot said the approach to building the apartment complexes was a feat that "no one else has ever done" because it involved working alongside the community and elected officials to "get things done."
"We don't come with a top-down solution. We work at the community level," Lightfoot said. "Sometimes doing the people's work ain't easy. Sometimes you go into a community and you get a beating, but you stand back up because it's the right thing to do. … You've got to prove to people who have been lied to or misled for decades that you're speaking the truth."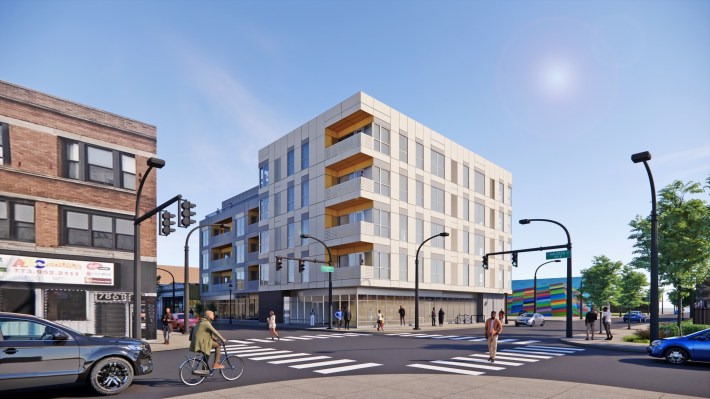 Neighbors who demanded a grocery store in the area will have those needs met, Lightfoot said.
Yellow Banana, a Black-owned business, will buy and revitalize six Save A Lot grocery stores, including an Auburn Gresham location, with a $13.5 million community development grant awarded by the city. 
"It's not one and done," Lightfoot said. "We will be here for the long term. We want to make sure that this community is as vibrant as the residents can dream." 
Auburn Gresham Apartments will be steps away from two major developments coming to 79th Street. 
A healthy lifestyle hub operated by the Greater Auburn Gresham Development Corporation will open across the street Sept. 29 with restaurants, a bank, a pharmacy and more. The $35 million Auburn Park Metra station at 79th Street and Lowe Avenue could be completed as soon as 2024. 
Moore, whose ward includes the developments, commended Lightfoot for bringing investment to the South Side. 
"I appreciate this mayor for having a vision to not just focus on having the cranes Downtown, but keeping her promise … to make sure she focused on the West and South sides of Chicago," he said. 
Listen to "It's All Good: A Block Club Chicago Podcast":