CHICAGO — Community leaders and advocates are cautiously optimistic about a new city plan to support programs preventing sex trafficking and intimate-partner violence, saying it's the first time they've seen City Hall show interest in the issue.
But the plan lacks specificity, and experts who have been doing this work for years worry it won't change the way victims are treated by cops. The plan also doesn't offer solutions to a key problem local leaders long have overlooked: What is the city doing to find dozens of its missing Black women?
Rev. Robin Hood, who runs Mothers Opposed To Violence Everywhere with his wife, Louvenia, has worked to keep the spotlight on the more than 50 cases of missing or murdered Black women that have not been solved.
"I think $25 million is a good start, but it has to reach the right groups, especially the youth who are affected most," Hood said. "I applaud [Mayor Lori Lightfoot] for opening the door to these conversations, but we need more."
Lightfoot unveiled her plan at a roundtable Monday, inviting select reporters, community organizers and city leaders. Earlier this year, the mayor formed a Gender-Based Violence Advisory Council to examine partner violence and sex trafficking's impact on the city.
The mayor's budget proposal, which is being debated in City Council this week, would allocate $25 million toward programs supporting survivors, while city agencies provide emergency financial assistance, legal services, housing and prevention education. It's a significant jump in funding; in 2021, the city earmarked $2.5 million to help victims of intimate partner violence.
The city's plan calls for multiple-agency approach to: 
Increase capacity and expertise within city departments and sister agencies to address gender- based violence and human trafficking;
Build coordination of prevention and intervention efforts among city departments and with key stakeholders; 
Improve law enforcement response to gender-based violence; 
Shift cultural norms on what constitutes gender-based violence and human trafficking;
Collect, analyze and use data and research about gender-based violence and human trafficking;
Create alternate responses to gender-based violence and human trafficking outside of the criminal justice system;
Analyze and reform policy that perpetuates gender-based violence.
The city will be announcing a request for proposals from community organizations in the coming weeks, according to the mayor's office.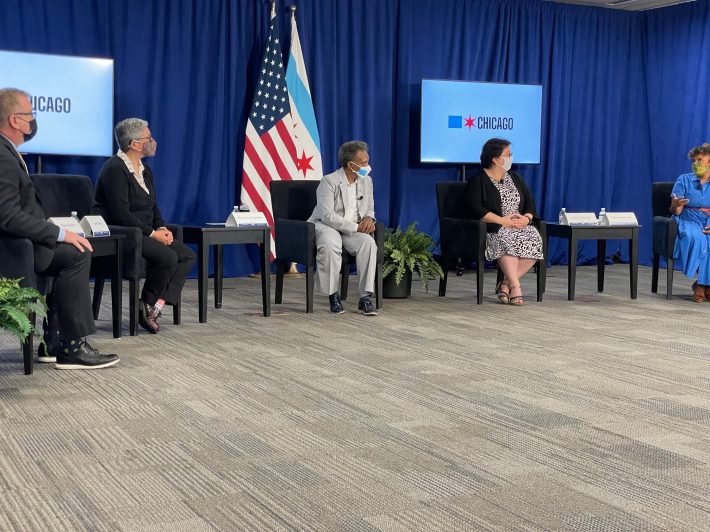 The mayor's move comes amid high-profile cases of human trafficking and intimate partner violence. Later Monday, just hours after Lightfoot's roundtable, a federal jury in New York found singer Chicago native R. Kelly guilty of sex trafficking. Many of his victims are girls and young women of color. After Gabby Petito was found dead inside a Wyoming campground last week, more scrutiny is being focused on the police officers who responded to complaints her boyfriend was assaulting her before she was killed.
Meanwhile, advocates like Hood have struggled to drum up the same type of attention for 51 women — mostly Black and from the South and West sides — who were murdered or have gone missing in the past two decades. The mayor's office did not answer questions about how this plan helps the families of those women get answers.
"We need to know more [about the plan]," Hood said.
'Every Day, Girls Are In The Throes Of Survival'
According to a recent report from the National Domestic Violence Hotline, 67 percent of Illinois residents calling their organization for help are intimate partner violence victims or survivors, with 30 percent of callers identifying as Black. Black women and girls are overrepresented in human trafficking as well; nationally, 40 percent of victims and survivors are Black.
According to a city report, there were 11,161 calls to the Illinois Domestic Violence Hotline from Chicago residents in 2020, with the Chicago Police Department reporting 46,547 domestic violence case reports, 71 percent of which were intimate-partner related.
From marches and vigils to student journalism projects and congressional efforts, Black Chicagoans have been sounding the alarm about missing and murdered Black women and girls for years. And recently, the Cook County Sheriff's Office announced its plan to tackle missing persons cases, prioritizing missing women.
Rep. Bobby Rush, who recently called for federal task force to be created to bring missing girls and women of color home, said the city didn't reach out to him about their plan, but he told Block Club it's a "step in the right direction."
"I strongly support additional financial assistance to help victims of gender-based violence and human trafficking access housing, legal services, and other critical resources," Rush said.
But the longtime leader remains concerned about the backlog of unsolved missing person and murder cases in Chicago and across the country — "a disproportionate number of which of pertain to Black women and girls."
"I will continue to push for federal action to address these backlogs," Rush said.
LaKeisha Gray-Sewell, founder of the Girls Like Me Project, which helps Black girls ages 11-17 critically examine social, cultural and political ideologies in media, shares Rush's concern. Earlier this week, Gray-Sewell said she helped a young girl who was left stranded by her boyfriend and his mother, who took her money and identification. The police dispatched to the scene didn't seem interested in helping her, Gray-Sewell said.
"If I were to go down my street, I'd run into at least three to four situations just like that one. I don't know if what the mayor has planned speaks to that because we only want to deal with the sensational [stories], but every day girls are in the throes of survival," she said.
To be successful, Lightfoot's plan must involve people from the community, particularly those doing the work, Gray-Sewell said.
Lightfoot also rebuffed a question about how the plan would avoid ensnaring sex workers who do that work voluntarily, recalling her experience dealing with cases of women forced into sex work when she was a prosecutor. Panelist Kim Fountain, COO of Center On Halsted, gently pushed back.
"I work with a number of folks who are in sex work, and are happy to be there. They're empowered, strong and have a great sort of political analysis about what they do and why they do it," Fountain said. "There has to be something that protects them from getting ensnared. … We have to be able to make that distinction."
With Black trans women being disproportionately attacked locally and nationally, the police department has recently implemented policies addressing misgendering and "deadnaming" trans people. CPD is reviewing and revising their training on gender-based violence per their Consent Decree and through the Office for Violence Against Women grant, the mayor's office said.
Cultural Biases A Factor For Black And Brown Victims
Scheherazade Tillet, co-founder and executive director of A Long Walk Home, and Cristina Rodriguez, a member of The Network's Youth Advisory Board, were among the organizers invited to the mayor's roundtable. 
Tillet said Monday was the first time she'd been invited to City Hall to talk about the issue. Besides R. Kelly and Petito, she noted this week marks two years since Christine Blasey-Ford testified about Justice Brent Kavanaugh, and 30 years since Anita Hill testified about Justice Clarence Thomas.
"Gender-based violence is never seen as community violence and yet there are huge intersections of all the different forms that we have to start talking about," Tillet said.
Still, she and Rodriguez said they are concerned about the plan's law enforcement component given the missteps police officers can make in responding to intimate partner violence and sex trafficking calls.
For Black and Brown victims, cultural biases add another layer of frustration. Tillet recalled how law enforcement and first responders treated a young trafficking victim rescued from a motel, and the lack of care she received after.
"She wasn't taken to the hospital, and nothing happened to the perpetrators. … It was the adultification of another Black girl," Tillet said. "Why wasn't she seen as a victim?"
Housing insecurity is another a huge factor contributing to this exploitation and violence, exacerbated during the pandemic.
Incidents of intimate-partner violence have risen steadily in the past year, where many victims had no place to go and were often at the mercy of their abusers.
Rodriguez said hopes the city will make good on its promise to help those in need.
"The pandemic was sort of a resurgence for a lot of violence that was being swept under the rug," Rodriguez said. "I really have hope that there's going to be more resources for those people, because it feels as though there's nothing for them to rely on."
Subscribe to Block Club Chicago, an independent, 501(c)(3), journalist-run newsroom. Every dime we make funds reporting from Chicago's neighborhoods.
Already subscribe? Click here to support Block Club with a tax-deductible donation. 
Listen to "It's All Good: A Block Club Chicago Podcast" here: