NORTHALSTED — Black drag performers and other LGBTQ leaders of color took over the streets of Northalsted on Sunday during the second Drag March for Change, a protest that drew thousands to demand equality for Black queer people, especially those who are transgender.
With each step up North Halsted Street, activists chanted "Black trans lives matter" and waved trans pride flags and held up protest signs. They called for racial equality, justice for victims of police brutality and defunding the Police Department.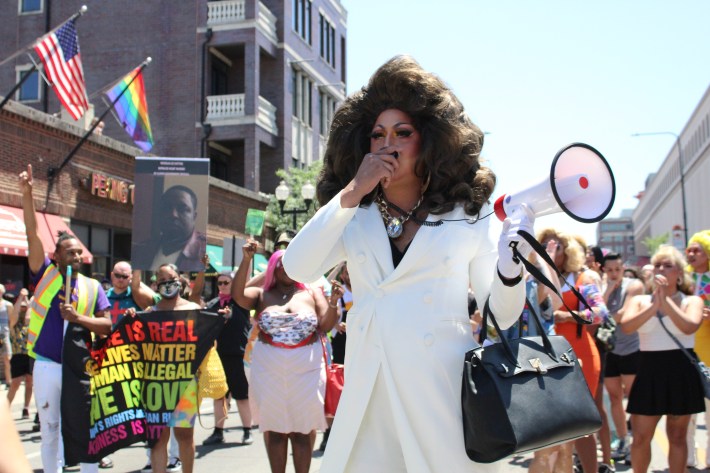 Their leader was drag queen Jo MaMa. MaMa, who many know as longtime Northalsted bartender Joe Lewis, organized the Drag March with a dozen other drag queens and kings, as well as transgender people from across Chicago.
The march started at the corner of Belmont Avenue and Halsted Street and culminated with a two-and-a-half hour rally at the corner of Belmont and Grace Street, where the protest's leaders decried racism and transphobia across the United States and Chicago, especially within the city's LGBTQ community.
"I'm gonna be f–king damned if I'm going to go back into a world that we were in before the pandemic," MaMa said
It's been one year since the drag performers led the first Drag March for Change through Chicago's LGBTQ neighborhood — formerly known as Boystown — to call for a reckoning of the city's queer community. And they said Sunday that although much progress toward achieving equality along Northalsted has been made, more work needs to be done.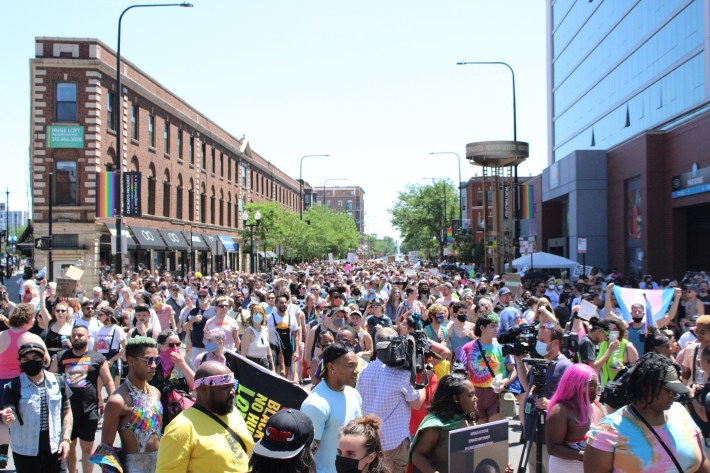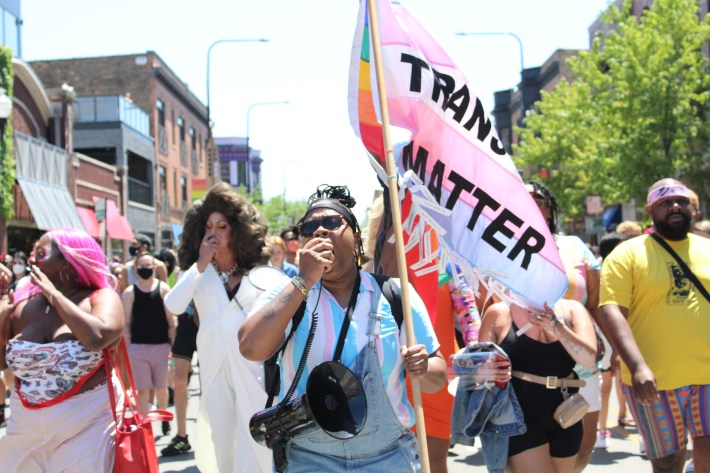 "I told you last year that Boystown — I'm sorry, Northalsted, because a name change apparently eradicates all the racial oppression that's been going on — was one of the most oppressive neighborhoods for Black trans people. That still exists, and s— has not changed," said Jae Rice, a trans-masculine DJ and communications director for the Brave Space Alliance, Chicago's first Black- and trans-led organization.
"But when I talk about how oppressive Boystown is, I don't want you all to forget how oppressive the rest of this city is to Black trans people."
Rice reminded the crowd that at least four transgender women of color have been murdered in Chicago since the start of 2020: Tiara Banks, a 24-year-old woman who was killed in April; Tyianna Alexander and Courtney Eshay Key, two friends who were killed within two weeks of each other on the South Side; and Selena Reyes-Hernandez, a 37-year-old woman who was killed in May 2020.
The protest's organizers called on the city to reduce its police budget by 75 percent and redirect that funding to social services and community programs, such as the Brave Space Alliance, to improve conditions for transgender people of color across Chicago.
"It takes organizations like Brave Space Alliance to do the work that you and your allies have failed to do or that the city and state are failing to do," Rice said.
In addition to demanding police be banned from marching in Chicago's Pride Parade, which is scheduled for Oct. 3, the protesters echoed last year's demands of justice for George Floyd, Breonna Taylor, Tony McDade and other victims of police violence.
"And when we say justice, I'm not talking about the court system that keeps failing us," MaMa said. "I'm talking about the abolishment of the system that took these lives and that restorative systems grow in their stead."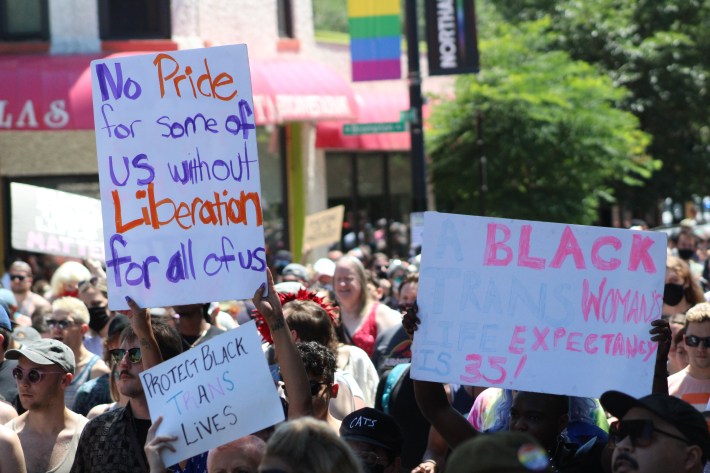 Last year's Drag March for Change sparked a neighborhood-wide reckoning within Northalsted that included the ousting of a top drag producer accused of racism and the formation of the Chicago Black Drag Council, which brought more than 30 North Side LGBTQ bar managers together for a town hall last year to discuss racism within their spaces.
During that call, MaMa said, the bar managers made a verbal promise to implement a zero-tolerance policy for racism, transphobia and ableism within their venues and to diversify their programs so it wasn't mostly white drag queens being booked in shows.
"I don't know if you've been out recently, but that's been happening which is kind of nice, but we still need more equity because I'm not seeing enough Black and Brown bodies on these boards making decisions in the neighborhood," MaMa said.
The protesters praised these changes but stressed constant work needs to be done to ensure the neighborhood doesn't fall back into old patterns of discrimination like racism, sexism and anti-transness.
"I'm tired of these bars on North Halsted dragging their feet on things Joe and [drag queen Lucy Stoole] have told them they need to improve on to make their businesses better for everyone," said Taty Chante, a trans activist and drag king known as Prince Nikki. "There have been some positive changes, but most of it still feels like the same old Boystown."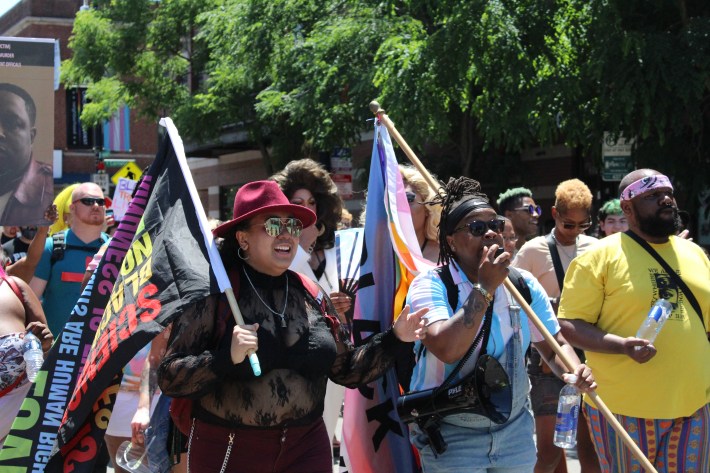 Jake Wittich is a Report for America corps member covering Lakeview, Lincoln Park and LGBTQ communities across the city for Block Club Chicago.
Subscribe to Block Club Chicago, an independent, 501(c)(3), journalist-run newsroom. Every dime we make funds reporting from Chicago's neighborhoods.
Already subscribe? Click here to support Block Club with a tax-deductible donation. 
Listen to "It's All Good: A Block Club Chicago Podcast" here: