ENGLEWOOD — Samantha Latson had never read an article or seen a news segment about the dozens of women who were slain on the South and West sides in the past two decades until she joined the Unforgotten 51 project at Roosevelt University.
Latson, a Matteson native, learned of the missing and slain women when professor John Fountain pitched the idea of doing profiles on many of them for the project. Latson joined the Unforgotten 51 project as a senior at Roosevelt.
For Latson, it wasn't just about chasing a story; it was about restoring the humanity of the women and shining a light on how they lived, rather than simply how they died.
"When this goes unnoticed and people aren't talking about it, you're basically saying that they didn't matter, that their lives weren't important. But it's important that we humanize these women and tell these stories because they were loved," said Latson, who graduates next month.
The women's cases have been shrouded in controversy.
The Chicago Tribune detailed the massive number of women strangled on the South and West sides in a January 2018 investigation. More than 75 percent of the victims were Black women. The cases date back two decades.
Of the 75 women killed, 51 of the cases were unsolved, according to the Tribune.
The Murder Accountability Project, which uses data to investigate possible links between unsolved crimes, determined in 2019 the collection of killings had "characteristics suggestive of serial murder."
Activists — and some of the victims' families — say the women have have ignored and written off as prostitutes or people struggling with addiction, leading to their cases being forgotten.
Sixteen student journalists at Roosevelt worked through the spring and fall semesters in 2020 to create Unforgotten 51, which includes profiles of many of the women and podcasts and posts from the reporters about their experiences. They were guided by Fountain, a former New York Times national correspondent and crime reporter for the Tribune.
"We hope that what we present here makes some small difference, perhaps inspires or compels the solving of these cases, maybe brings some measure of solace for their loved ones deeply wounded over the deaths of their sisters, mothers, aunts, daughters, and the way in which their lives were stolen, their bodies and their memories desecrated," Fountain wrote on the project's website.
Nancie Carolyn Walker was an "inquisitive soul" who loved to dance and once dreamed of becoming an entrepreneur, the Roosevelt team wrote. Her body was found in March 2003, several weeks after her family reported her missing. They recalled having to convince police officers to file a missing person's report days after her disappearance, a reoccurring theme for the families of many of the women, according to the project.
Telling stories like Walker's meant reaching out to families still in the grips of grief and looking for answers. Latson and her classmates pored over newspaper clippings and data from the Murder Accountability Project, often turning to shoe-leather reporting to track down relatives. Latson said Fountain advised them to proceed with caution.
"These families had been rubbed the wrong way by journalists, so with us being students, this gave us an opportunity to prove ourselves, like, 'Hey, we're not like these other journalists who just want to use you for a temporary story. We actually care, and we're willing to take the time,'" Latson said.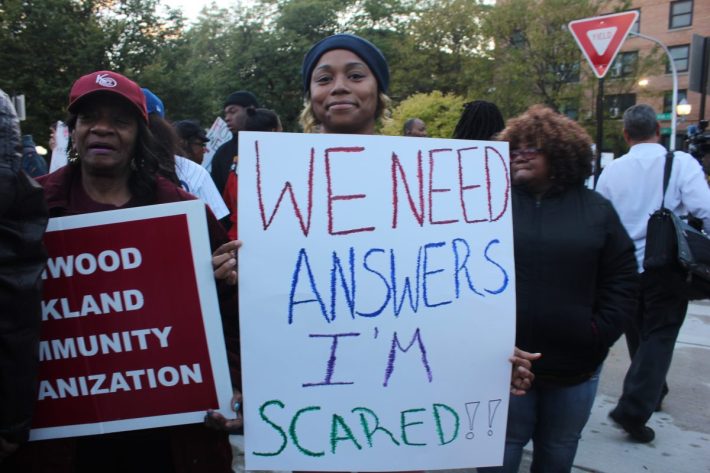 Mohammed Samra, another student who worked on the project, said the opportunity to effect change through storytelling was equally important. While the graduating senior had his reservations about taking on something so daunting as the profiles, he knew it had to be done.
"The first few weeks were pretty rough, hearing the stories of these women. I was entrenching myself into the project 24/7, spending every waking moment trying to figure out what we can do to either get these stories, or what we could do to make this presentation raise as much awareness as possible," said Samra, who grew up Cicero. "When you do a project on something that heavy, it becomes real draining, really fast."
'Blaming Them For Their Own Demise'
Beyond the frustrating lack of progress in the cases, families, friends and community organizers must constantly battle for public visibility around the issue.
In 2019, the Police Department and the FBI created a task force after years of pressure from South and West side activists who thought there wasn't enough being done to find those responsible. Rep. Bobby Rush (D-Chicago) has convened town halls to get answers — but they remain elusive.
Last year, West Side leaders launched the Stop Taking Our Girls campaign, pushing police and prosecutors to prioritize bringing people to account for violent crimes against Black women.
"As far back as slavery, Black women have never got the proper respect or due when it comes to what people care about," Rosie Dawson, of the Westside Health Authority, said at the time. "Black women are always being marginalized in every form. … We just feel like some of the elected officials and the police are not putting as much effort into [stopping] this."
For Latson, seeing women who looked like her cast aside made her even more determined to see the project through. Latson recalled a Zoom interview with the family of a slain woman. They were eager to share who their sister truly was: a fantastic cook who was fiercely protective of her loved ones.
"She had been labeled a prostitute, but her family said it wasn't true. That's how they stigmatize these women, by blaming them for their own demise," Latson said. "Even if she was, so what? She was still a human being."
You can read the Unforgotten 51 project online.
Do stories like this matter to you? Subscribe to Block Club Chicago. Every dime we make funds reporting from Chicago's neighborhoods.
Already subscribe? Click here to support Block Club with a tax-deductible donation.