WOODLAWN — Theresa Smith just wants her mother back.
It's been over a year since the man accused of murdering 66 year-old Daisy Hayes — her boyfriend, James Jackson — was arrested. He's currently awaiting trial, but Hayes' body has not been found, even though police and family members are almost certain about where it is.
Hayes vanished in May of 2018. Security footage showed her enter her Woodlawn apartment and never emerge, the Sun-Times reports. Her family spent months searching for her, until surveillance footage obtained by police spelled out the answer: Jackson entered her apartment with a large, empty suitcase and moments later dragged a bulging suitcase to the dumpster.
Prosecutors believe Hayes' body was in the suitcase and subsequently taken to an Indiana landfill.
Smith said she's been begging authorities to recover her mother's body from the landfill, but her pleas have been ignored.
"It's been crazy. We can't even put her in her final resting place," Smith said. "They say it costs millions and millions of dollars to go over to the landfill and search for her. I guess she's trash. I don't understand why there has to be a dollar amount on someone's life."
Smith, who held a vigil last week on what would have been her mother's 67th birthday, was joined by friends, relatives, and Revs. Robin and Gloria Hood. The Hoods run M.O.V.E. (Mothers Opposed to Violence Everywhere), and have been one of several organizations calling for justice on behalf of the 55 missing and murdered women from the South and West sides of the city.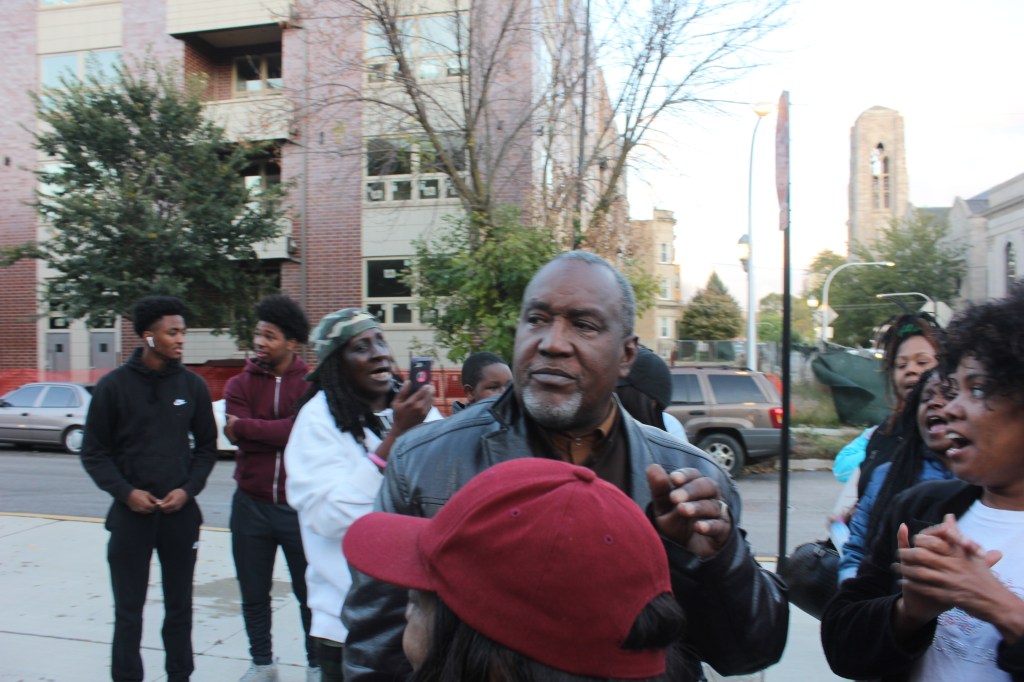 "It's been 17 months since Ms. Hayes's body was carried out of this building inside of a suitcase," Hood said. "They're no further than they were, except they arrested someone. She's a black woman, so she's not worth it to them."
From the moment she was reported missing until now, Hayes' family said they've received little support from authorities and stated that they were knocking on doors interviewing people and trying to figure our what really happened.
"I told them from the beginning that [Jackson] should've been the first person of interest but they didn't pay me any mind. They let this man go to Memphis before extraditing him back to Chicago," Smith said. "We did the footwork, we did the research, we were walking up and down these streets talking to people."
When Smith called the detectives working the case for updates, she said she was told that all of them were on vacation.
"They treated me like I as if I was the suspect, as if I had done something to my mom," she recalled. "It was terrible."
Smith said she reached out to the Cook County State's Attorney's Office for help bringing her mother home, but was told that recovering the body would cost too much.
According to the Cook County State's Attorney's office, recovering Hayes's remains is a matter for the CPD, not the county.
"Jimmy Jackson has been charged with first degree murder and is in custody awaiting trial. As this case is pending litigation, we have no comment. Any questions regarding the investigation should be directed to the Chicago Police Department," the Cook County State's Attorney's Office said in a statement.
CPD is sympathetic to Smith and her family, but said retrieving the body would be an impossible task.
"Our primary objective throughout the investigation was to identify, locate and deliver Ms. Hayes' murderer to justice before the State's Attorney, who approved first-degree murder charges based on the strength of the case put together by our detectives," said police spokesperson Luis Agostini.
"While CPD explored the possibility and costs/resources associated with a landfill excavation to recover the body of Daisy Hayes, after consulting with subject matter experts, including the FBI, it was ultimately determined that the successful recovery of Daisy Hayes from a landfill would have been impossible, as no general landfill search had ever resulted in the recovery of a body."
Maybe not in Chicago, but law enforcement agencies in other parts of the country have recovered bodies from landfills.
During an exploratory landfill dig last month in Columbia, Mo., police recovered the possible remains of a woman who had been missing for 13 years after her husband confessed to murdering her.
"There's a saying: The squeaky wheel gets the oil. The only way Daisy's body will be searched for is if the feds get involved, or we get shovels and do it ourselves," Hood said.
For Smith, who remembers her mother being so full of life and love, giving her a proper homegoing is the only thing that matters now. She won't rest until she does.
"Hopefully we can get through to some people now. If not, we just have to keep her name out here until people join our side," said Smith.
Do stories like this matter to you? Subscribe to Block Club Chicago. Every dime we make funds reporting from Chicago's neighborhoods.