BRONZEVILLE — When Aziyah Roberts took to Facebook to share her idea for what would become the We Walk For Her March, she had no idea how much of an impact it would have. All she knew is she wanted to channel her anger into action.
Four years later, the teen, a rising junior at Dyett High School, is proud of what she's accomplished. The fourth annual march was held Tuesday, bringing together scores of activists and residents to honor Black women who have gone missing or been murdered in Chicago — and to call for police to be accountable and transparent with investigations.
"I wanted to bring awareness, and I did that," said the 17-year-old activist. "But we still have to hold the police accountable. They have to do their jobs."
On Tuesday, youth demonstrators from the South and West sides made their way down Martin Luther King Drive, demanding police solve the cases of missing and murdered Black women. They also want strategies put in place to prevent more Black women from being harmed and policies that would ensure detectives are more open about investigations with victims' families.
The march was organized by Roberts and other teen activists with the Kenwood Oakland Community Organization and Mothers Opposed To Violence Everywhere, known as M.O.V.E.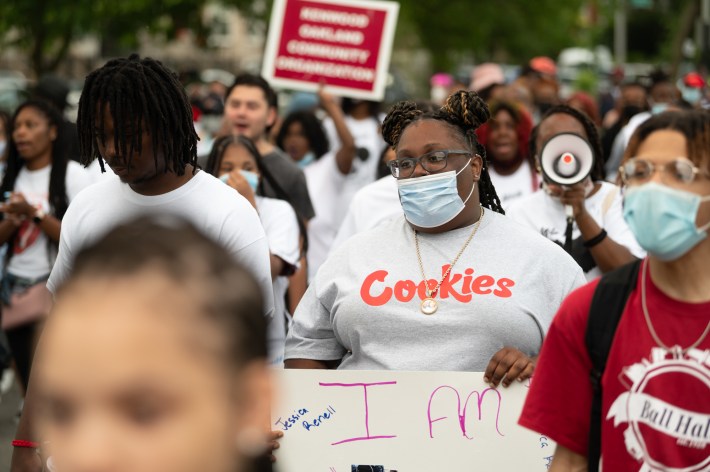 Though the FBI and Chicago Police Department formed a task force in spring 2019 to solve the cases of the missing and murdered Black women, it is unclear what progress has been made. A bill introduced to the Illinois General Assembly by Rep. Kam Buckner, a Democrat representing parts of the South Side, called for the formation of a legislative task force to look into the matter. But it failed to pass in December.
Kristina Hopkins, speaking at the march, recalled all the days she spent trying to get the Police Department to take seriously the disappearance of her cousin, Shantieya Smith. She and Smith's mother, Latanya Moore, would call the police station daily, leaving messages for the detectives working the case, she said. Calls were rarely returned, and when they were the detectives treated them like an inconvenience, she said.
Smith's body was later discovered in a Lawndale garage.
Now, Hopkins and other relatives are working to ensure the man who allegedly killed Smith is held accountable. Smith's 9-year-old daughter is still grieving her loss, Hopkins said.
Marchers also called for police to take more measures to protect Black women and work with their families if something happens to them.
Hopkins feels detectives lost precious time because she had to convince law enforcement Smith was in danger and they didn't listen to her tips, she said.
"All we've been asking for his transparency, and for them to let us know what's going on," said Hopkins, who has attended the past three marches.
Like Roberts, the West Side mom and M.O.V.E. activist is calling for police to do a better job of keeping families informed, and for officials to provide preventative measures.
Miracle Boyd, an organizer with anti-violence youth group GoodKids MadCity, said preventative measures should include the installation of a "minimum of four cameras on every city block."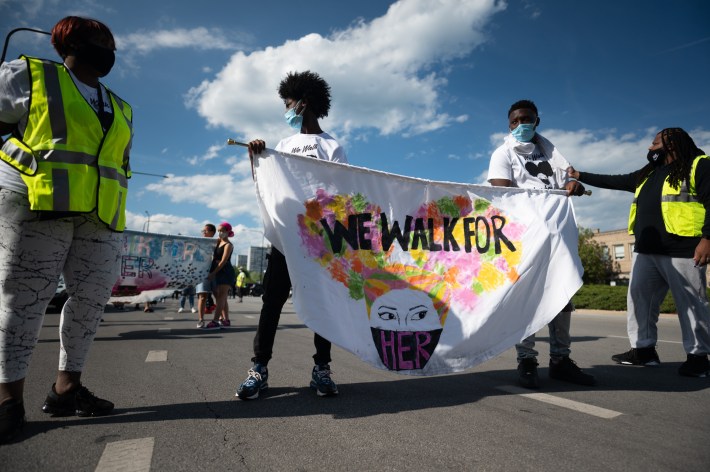 "Black residents make up a third of the city's population but 70 percent of missing persons cases. That ain't right. We don't see the urgency in protecting our Black women and girls from our police and city officials, including Mayor Lori Lightfoot," said Boyd, who led the marchers with chants calling for the mayor's departure.
Later, as the youth demonstrators gathered for a celebratory cookout in front of Dyett High, Roberts said Tuesday's turnout — and the turnout of marches past — is a sign she's on the right track in calling for justice for Black women.
"We don't have the power to find the girls ourselves, so we have to get our voices heard," Roberts said.
Subscribe to Block Club Chicago. Every dime we make funds reporting from Chicago's neighborhoods.
Already subscribe? Click here to support Block Club with a tax-deductible donation.